by Aude
Are you the kind of person to have role models? I am! But my role models aren't famous people, I'm more into people who I personally know and find inspiring because of what they have achieved in their personal or professional life. One of them is
Diane Younes
, Founder of Sponge, whom I first met around 4 years ago. The way she led her business definitely is inspiring to me. And following her on Instagram, I couldn't help on noticing the regular shout-outs to Beth, her fitness, nutrition and lifestyle coach. Then, few weeks ago, I stumbled upon Diane at an event and was totally amazed by her physical transformation. This girl, who was already absolutely beautiful before, now has the perfect healthy and athletic body I'm aiming at having too somedays. That was it, I had to ask her to connect me with hat Beth Wright she always mentioned as her coach and confidant.
So here I am, few days later, having coffee with Beth, discovering that not only is she a nutrition, fitness and lifestyle coach but also a lawyer and understanding perfectly why her and Diane goes along that well: Beth is another crazy inspiring woman.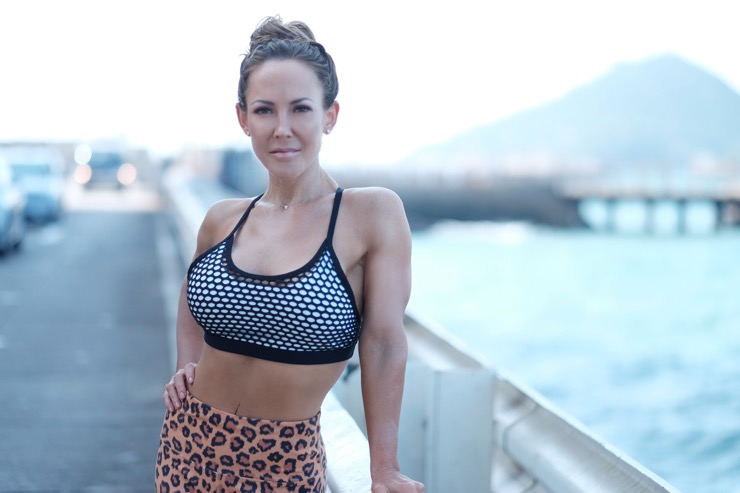 (c): @divyaraophotography
Hey Beth, so nice to meet you! Can you tell me a bit more about you and your background? How did you end up here in Hong Kong working as both a lawyer and a nutrition, fitness and lifestyle coach?
I first came to Hong Kong in 2007 on a 2 month' secondment for a US bank. I was a lawyer based in London and the opportunity to visit Asia was too good to pass up. The last thing my Manager said to me was "Don't get any ideas… you are coming back to London after!" I didn't know what he meant at the time but as soon as the plane hit the tarmac, I felt the energy of HK and I knew within days that I never wanted to leave! I moved out permanently in 2008 and haven't looked back. I fell in love with the people, the culture, the food and even the weather – I find it hard to remember I am British sometimes as I love being in a warm climate so much.
I had always wanted to be a lawyer and I had always done a lot of sport. When I went to University, I worked for a gym, part time, and trained to be a PT and a group fitness instructor. It provided me with 'pocket money' but more importantly I loved the balance of using both my mind and my body and still do! I have taken this philosophy through every part of my life… I still enjoy being a lawyer and now the balance for me is more about helping and educating other women to get fit and healthy and lead a balanced life. That is not easy in a city like Hong Kong but with the right guidance and knowledge it is definitely possible!
I believe you can never stop learning and I spend a huge amount of time on self-education. I read constantly, participate in on-line courses, travel the world to join week' long internships, attend weekend workshops and have an incredible network of people who are experts in their own fields and to whom I refer where necessary and who are equally passionate about exercise, nutrition and overall wellness. Currently I am enrolled in a Functional Medicine course, training to be a Pilates instructor and planning a trip to Ireland to the Irish Strength Institute to spend a week learning about female hormones, supplementation and nutrition specifically targeted at female fitness and fat loss.
Can you tell me more about your activity as a Nutrition, Fitness and Lifestyle coach?
I take on a few roles from coach, to advisor, to confidante and most importantly (and more recently) I act as their accountability touch point.
Being an accountability coach is about helping your clients achieve their goals by checking in with them daily to remind, to encourage and to motivate. It's one thing to have a program written for you, it's another thing to do it. I don't see people struggling to make an appointment with a PT or decide that they want to lose weight or achieve a certain body shape. The bitwe all struggle with is the follow through. Life gets in the way and the goal suddenly becomes much harder to attain.
For a busy person outsourcing the responsibility to someone else to check up on you / make sure you are doing what you should be doing and to guide you through difficult choices (for example, what to do at a client dinner or how to maintain weight on holiday) is incredibly liberating. It frees up head-space and quite literally time. It also ensures that you don't feel lost in the process – there is always someone there to help you.
I work with my clients to help them lose weight, look fabulous for a special day, prep for a competition or create a strong and athletic body without limiting their enjoyment of food. I combine one on one coaching and flexible dieting (i.e. counting macros) so that my clients can continue to enjoy food, within reason, while also achieving the desired results. I really believe that life is all about balance and nothing should be "banned" but enjoyed in moderation.
What do you find the most challenging running your own business in Hong Kong?
I actually think (compared to other cities) that Hong Kong has one of the most open and supportive environments to set up new businesses. I have only come across people being encouraging and excited for new opportunities and ideas. The challenge is probably a personal one – finding something that you are passionate about enough to be willing to give up your spare time / evenings / weekends. The best part however is that when it is your passion – it doesn't feel like work!
And the most rewarding?
I love helping and educating people to become the very best versions of themselves. There is nothing more empowering than feeling fit and healthy and in control of your life. There is no reason why we can't all have that… eat well, share good meals, drink good wine and train our bodies and our mind. It is all (honestly) about finding that balance and I really believe that comes from education. Not the latest fad diets or protocols or wellness trends based on nothing more than imagination – but solid, science-based knowledge.
What does a typical day in your life look life those days?
I get up around 5 am… fall out of bed straight into my trainers. I have an espresso and I am out the door on my daily walk up to the peak. I live on Macdonnell Road so I can walk straight up the hill and it is the best part of my day. I use the time to respond to my clients and catch up on
b_fitnfabulous
work. This includes everything from advising clients for upcoming social or work events, posting on social media, planning for events or talks etc. It is also a great time to listen to audio books and podcasts!
I am home by 7.30 am and in the office by 8.30/9 am and then I am wearing my lawyer hat for the rest of the day.
Evenings (depending on when I finish at the office) I will try and fit in a workout / yoga or pilates or catch up with friends. Last thing before bed I check in with each of my clients, make any adjustments to their plans if necessary (maybe sneak in a Netflix episode or two) before falling into bed!
What are your fav places for:
A lunch w/ friends: Grassroots Pantry for something delicious but healthy, Kim & Co just across the road for their amazing coffee and the always smiling Kim herself
A fancy dinner: So many options to choose from! I am a huge fan of the venues from Black Sheep Restaurants (in particular Carbone or Buenos Aires Polo Club). La Petite Maison has also become a favorite for their cocktails and simple but amazing food. For a delicious (but more casual dinner) I simply love Francis in Wanchai for their authentic Israeli food (incredible little black book of special wines) and also 121BC in Soho (one of the best Italians for regional food and wine list).
A weekend brunch: Maybe the outdoor brunch at the Grand Hyatt (editor's note: The Grill), Zuma champagne brunch is always fun and the new Sunday brunch at Gough's on Gough!
Drinks

:
Sitting at the bar at
La Petite Maison
(the cocktails are amazing),
The Upper House
for the view,
LQV
for the incredible wine list and truffle cheese toasties
A weekend getaway
: Bangkok – I love staying at the Sukhothai for old school understated elegance and great service. I also love their gym!
A long holiday
:
One of the best trips I have ever taken was to Cuba a couple of years ago with a group of girlfriends…. The most amazing place where it feels as if time has stood still. Beautiful yet chaotic, a mix of washed out buildings, music on every corner and vibrant art scene being painted by local artists… incredible. Or Tel Aviv for the food, people and vibe…. All this talk of holidays makes me want to plan my next one!