by Gayatri Bhaumik
I've managed to take three trips to Canada without ever setting foot on the country's west coast; yet this area is renowned for its spectacular natural scenery and unique experiences. So on my fourth and most recent trip to Canada, I decide to spend a week exploring all the landscapes and adventures the country's wild west has to offer. One thing's for sure – I was not in Hong Kong's concrete jungle anymore.
Day 1
My journey begins at the
Four Seasons Hotel Vancouver
, a posh retreat in the heart of the city. Fresh off a red-eye flight, it's a relief to check into my Deluxe Executive Suite. The spacious bolthole has a well-thought-out lounge, French windows that open into a plush bedroom dominated by a luxurious king-sized bed, and views of downtown Vancouver backdropped by mountains.
I'm boarding the
Rocky Mountaineer
train tomorrow morning, and as part of the train's seamless service, I can "check in" at the hotel lobby this evening.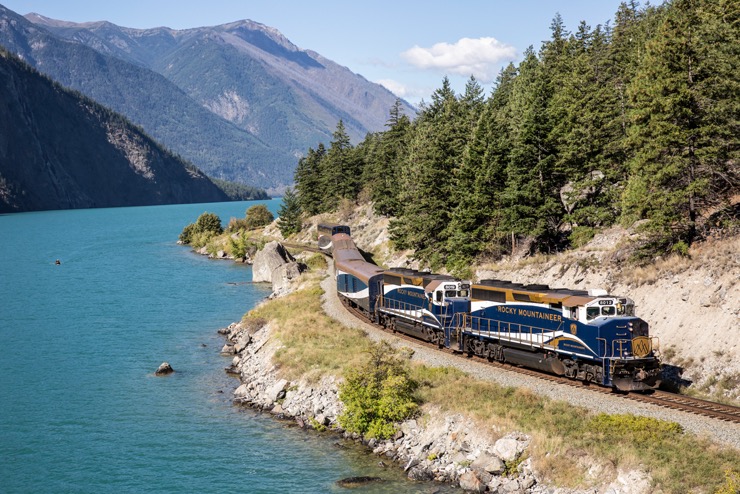 It's a quick, painless process that lasts no more than five minutes. The representative locates my file, hands over my boarding passes and luggage tags, and sends me on my way with a commemorative pin.
Day 2
A real Canadian icon, the Rocky Mountaineer is a luxurious passenger train that plies several routes through the Canadian Rockies and pairs fun, indulgent experiences with jaw-dropping views. I'm on the two-day
First Passage to the West
journey that'll take me from Vancouver to Banff.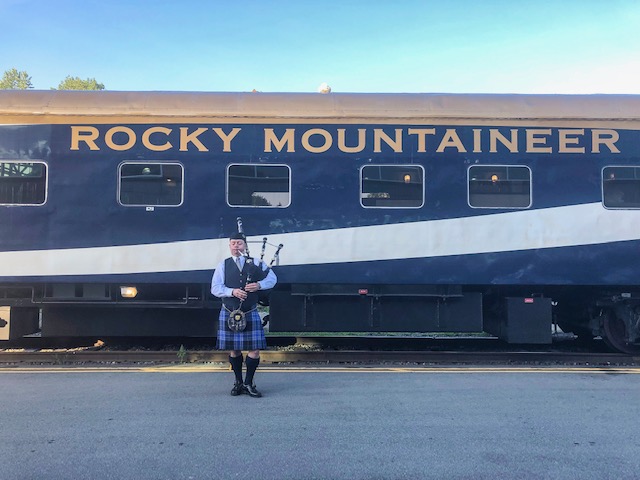 This morning, passengers gather at the Rocky Mountaineer's Vancouver Depot, the soft dawn light filtering through the windows adding a touch of magic to the moment. A palpable excitement fills the air as travellers chatter animatedly, enjoying pastries, tea and coffee and the jaunty tunes being played on a grand piano. Soon, a ceremonial "all aboard" call blasts through the waiting area, and guests are boarded onto the train with the sound of bagpipes filling the crisp morning air.

I'm travelling on the train's elevated Goldleaf service, which means our carriage has a duplex configuration.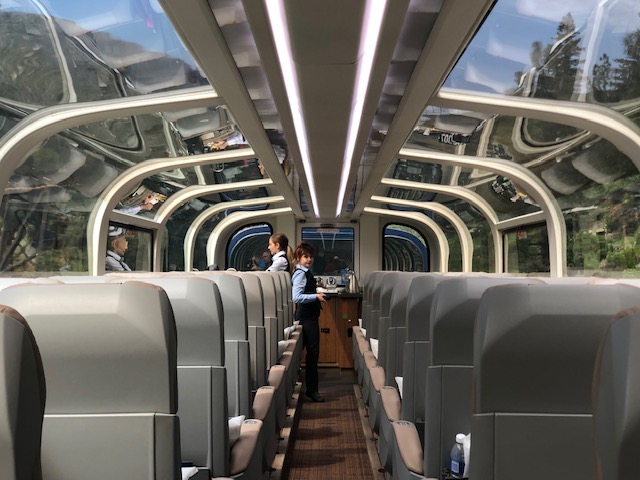 Passengers are seated upstairs under a panoramic glass dome – which offers fantastic views over the landscapes we'll pass – and take meals in the downstairs restaurant, which gives us the chance to meet and swap stories with fellow travellers.

Food is a big part of the experience, and you certainly won't go hungry aboard the Rocky Mountaineer. In Goldleaf, the breakfast service includes a lavish pastry basket, fruits, and a selection of mains – the eggs benedict is excellent. Just a few hours later, lunch begins with soup or salad, moves on to a choice of dishes built around local produce like Pacific salmon and Alberta striploin, and finishes with a decadent chocolate cake for dessert. Should that not keep you full, snacks and drinks are served to seats throughout the entire journey.

We spend the day hurtling through landmarks like the crevasse-like Hell's Gate and Cisco Crossing, where the Canada Pacific and Canadian National Railway bridges overlap; seeing dramatic natural phenomena like Black Canyon and Hoodoos, towering rock formations which are said to be able to turn people to stone through witchcraft; and passing historic towns that look like they've been lifted from a storybook, like Craigellachie, where railways from Canada's east and west coasts finally connected in 1885.

The Rocky Mountaineer is the only passenger train allowed on this route, and it's this that makes a train journey here so special. Passengers get the rare chance to see parts of Canada that are otherwise inaccessible since no other mode of transport can get to these truly off-the-radar regions.



Day 3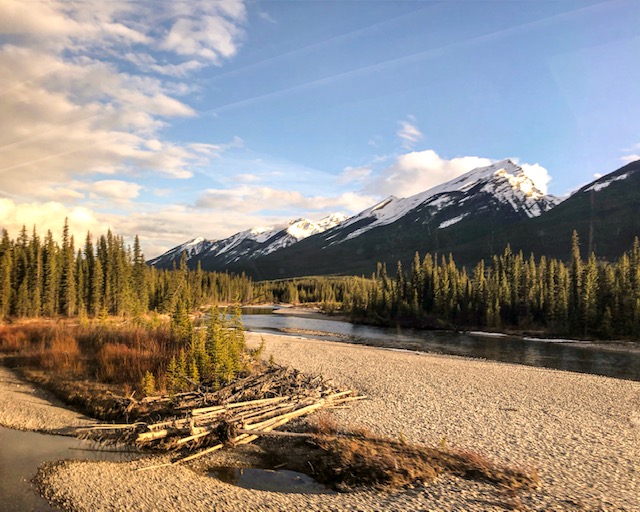 After overnighting in the transportation hub of Kamloops, we re-board the Rocky Mountaineer and begin our ascent into the Rockies. Once again, we're treated to jovial, attentive service and fed enough food to fill a hungry hippo. As the day wears on, a chill pervades the carriage and the scenery becomes definitively alpine; tall, spindly trees form a deep green swathe of forest high along the mountainsides that suddenly give way to cloud-topped peaks.
For most travellers, today is the highlight of their Rocky Mountaineer experience. Passengers call excitedly to each other when they spot wildlife like elks and bears frolicking right by the train tracks; the carriages ring with loud exclamations as we sweep past blue and emerald hued lakes that are just starting to thaw their winter frost; and for a few moments, we're plunged into total darkness as the we wind through the famous Spiral Tunnels, a remarkable feat of engineering that allows the train to make the steep ascent through the mountain passes.
It's 8pm by the time we pull into Banff station. My Rocky Mountaineer journey has come to an end all too quickly, but I'm impressed with the warm yet efficient send-off. Each passenger is farewelled with a card signed by their carriage hosts and a freshly baked cookie. It's a send-off that's characteristic of the train's friendly service where hosts cater to guests' every need, whether it's adapting food for allergies or providing witty, knowledgeable commentary about the passing sights.
Day 4
Since I've only got a few days in Banff, I decide to make the most of my time by exploring the area with people who know it well. Now part of
Pursuit's Banff Jasper Collection
, Brewster Sightseeing has been showing visitors the sights since the 1800s, so they know all the best places. This morning, I'm on their
Mountain Lakes & Waterfalls
tour to experience Banff's greatest hits. I've been to more than a few picturesque places in my time, but I'm absolutely captivated by the monumentally stunning vistas around here.
Our first stop is the Iconic Lake Louise. It's just beginning to thaw so while crystal clear waters lap the shores in front of us, the further reaches are still blanketed in ice, blending into the snow-capped mountains in the distance. Our locally-sourced lunch – elk meatballs are on the menu – is taken at the appropriately-named Emerald Lake.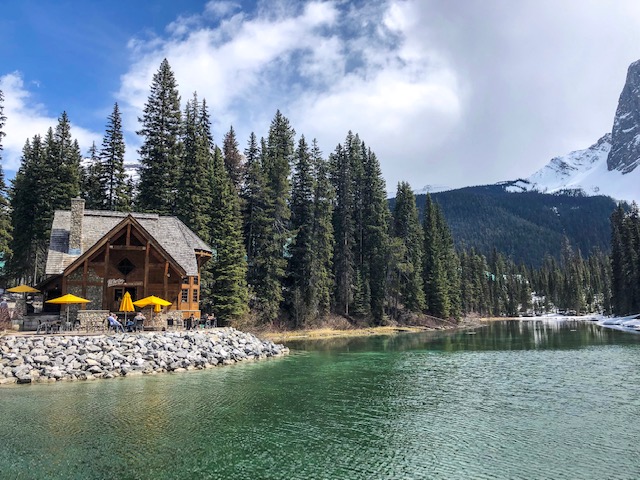 An expanse of green-hued water fringed by dense foliage and towering peaks, this this is a tranquil escape from the world. If you want to go off the grid, this is the place to do it.
This evening, I make a last-minute decision to catch the
Banff Gondola
to the top of Sulphur Mountain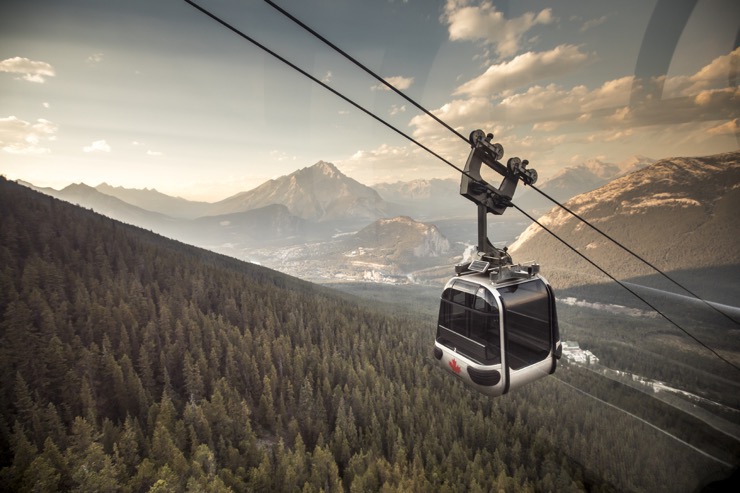 It's skin-numbingly cold at the peak - about 0°and lightly snowing – and as the sun sets, light glints off the snow-covered mountains, basking the whole area in an ethereal glow. There are few other people around at this time of the day, and there's a real peace about having these epic views to yourself.
Day 5
This morning I'm on another long day-trip with Pursuit-Brewster Sightseeing. Our mission today on the
Columbia Icefield Discovery
tour is to explore the icefields and glaciers near Jasper National Park. It's a long day with lots of driving, but with the Icefields Parkway being one of the most scenic drives in the world, there's plenty to see. I almost feel like I'm checking off the greatest hits of Canada's national parks – over there is Castle Mountain; here, the Vermillion Lakes.
Our real destination, though, is the Athabasca Glacier.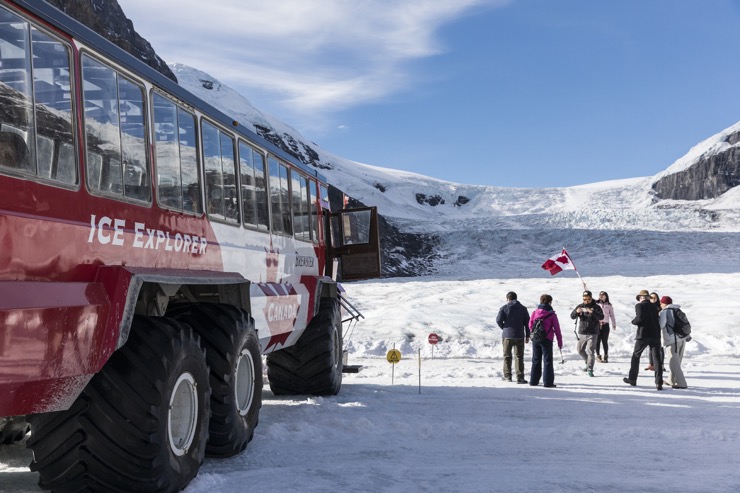 Transport here is limited to huge purpose-built vehicles – behemoth people-movers with six-feet-fall tyres and a cabin that fits over 50 people. We make the steep, bumpy descent into the glacier to enjoy some time on the ice, and for me, the ride down is the best part of the experience. I'm definitely biased, though – having recently gone glacier hiking in Iceland, I can't help but be a little underwhelmed at the comparatively limited scope of the experience.
Luckily, the next stop gets the pulse racing. The
Columbia Icefields Skywalk
is a cliffside walkway where visitors walk on a glass and metal contraption suspended nearly 1,000ft over the Sunwapta Valley. The experience is not for the faint-hearted - views are decidedly vertiginous. But you'll be well rewarded – there's bird's-eye view of tree-flanked rivers snaking between mountains, and the eagle-eyed may even spot some sure-footed mountain goats.
Day 6
To get a real sense of the scale of the Rockies, you have to take to the air. So this morning, I drive over to Canmore for a helicopter flight with
Alpine Helicopters
.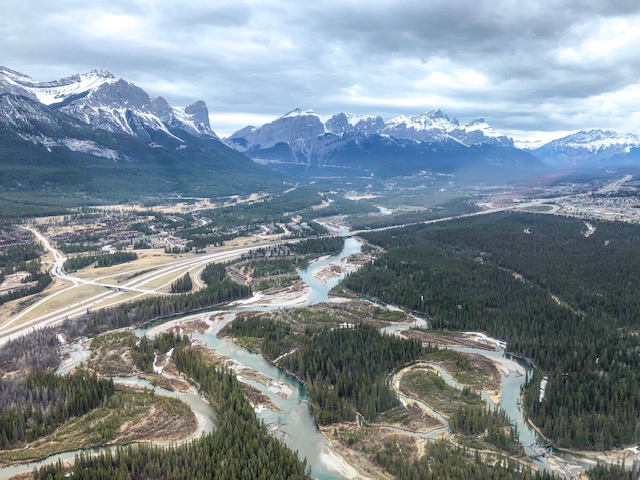 I'm on the 15-minute
Three Sisters Peaks
flight, and after a quick safety briefing, I'm riding shotgun on a helicopter as our pilot, Tom, flies us through the snow-dusted peaks of the Three Sisters mountains, over the top of the Goat Range Provincial Park, and low over Spray Valley and its vibrantly-coloured lakes. There's a real sense of wonder at seeing the vastness of this region – we really are just a tiny part of a greater whole.
This afternoon I make my way over to Calgary, from where I'll fly out tomorrow morning. Knowing I'd have a night here, a few weeks before my trip, I'd made a dinner reservation at
Shokunin
.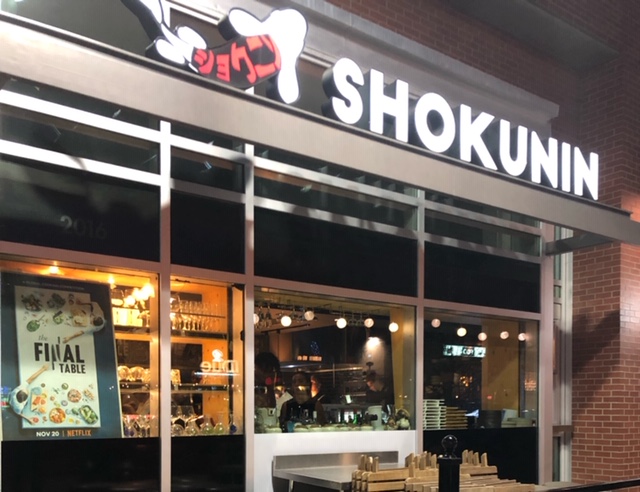 This Japanese izakaya-style restaurant grabbed international attention in recent months when its owner and chef, Darren Maclean, made an appearance on Netflix's big-production cooking competition, The Final Table. Having interviewed fellow competitors Shane Osborn and Esdras Ochoa earlier in the year, I felt compelled to check it out.

What I found was a menu of clever, well-executed dishes that showcases the best Canadian produce in fun, flavourful Japanese dishes like tataki made with local bison, along with smaller bites like skewers made with daily-butchered chicken, and delicately prepared sushi.



Day 7
Waiting for my flight out of Calgary airport this morning, I take a moment to reflect on a week of incredible experiences. A trip into Canada's wild west is all about immersing yourself the area's stunning natural bounty, and to get the most of it, you'll need to explore in different ways.

Whether you take a luxury train through untouched wilderness; weave through mountain tops and valleys on a helicopter flight; drive around to explore the mountains, glaciers, waterfalls and lakes; or just eat your way through the region's natural produce, it'll be a trip you won't soon forget.





The author was a guest of the Four Seasons Hotel Vancouver, the Rocky Mountaineer, Pursuit Banff Jasper Collection, and Shokunin. All other experiences were paid for and reviewed without the knowledge of the service provider.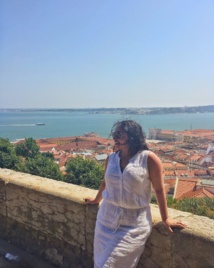 About Gayatri Bhaumik

Always ready for her next adventure, Gayatri Bhaumik took her first flight at 10 days old and hasn't looked back since. After long stints in Bangkok, Melbourne and London, she's now based in Hong Kong when she isn't globetrotting. She contributes travel and lifestyle content to titles like The Loop HK, Buro 24/7 Singapore, Elite Traveler, Forbes Travel Guide, RBS ContentLive and Destination Deluxe.