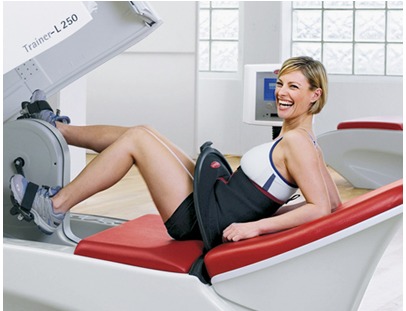 Perfection doesn't really exist in this world ! Seriously, even the Victoria's Secret "angels" have a few body issues (let's think so ladies !). So for a helping hand to fight against cellulite and any other little imperfections, then try HYPOXI®! In addition to a good balanced diet, this natural therapy enables you to target the parts of your body you want to shape and tone. Yes, of course we tried it out for you first! Our verdict? We're totally sold! Basically the technology does the work for your body and you get the benefits! Pay attention, and we'll explain how it works...
What's HYPOXI® ?
HYPOXI® is a unique therapy proven to combat stubborn fat and cellulite. It is the perfect alternative for those who don't want to resort to liposuction. A series of machines produce over and under pressure on different parts of your body and give them a 'work out' while you are actually moderatly exercising! The machines work well because they gently attack the fat cells in your target area. Let's give them a real hard time ! The fact is that good circulation is a contributing factor to achieve targeted fat loss. So by stimulating the blood flow (which is what the machines do !) you can achieve spot reduction. HYPOXI® is also available to both men and women!
A typical session:
It begins with 20 minutes of HYPOXI®-Dermology which comes in the form of a lymphatic massage. You'll experience something like wearing a special breathable suit as the machine gets to work with 400 chambers, training your skin and detox the body ! It is a bit surprising; it's like spending 20 minutes in the arms (or rather the tentacles!) of an octopus! But if you're squeamish, don't worry - it doesn't hurt at all!
After the massage you can choose between 3 different machines depending on your body type or the areas you want to focus on (buttocks, hips, thighs, stomach). The first machine is a high- tech bike called a Trainer S120, the second, Trainer L250, is also a bike -a horizontal one- but it looks more like an ancient tomb!; the third machine is a type of treadmill which combines with a tailor-made wet suit (Vacunaut). We opted for the high- tech bike which targets everything underneath the chest. It puts pressure on the lower body (alternating over and under pressure) as you cycle. After putting on the harness which is attached to the bike (and feels a bit like wearing a kind of Jean-Paul Gaultier corset!) we got pedalling... and the battle against body lumps and bumps begins!
What it does:
It helps achieve a flatter stomach as well as more toned legs and thighs! First results are to be seen after approx. 6 sessions (but some lucky people see results before !) and 12 sessions are necessary if you want to see the full effects.
What you should know:
HYPOXI® offers a free trial including a free consultation! On a practical note, each centre has two changing rooms (male & female) with a shower and even L'Occitane products if you want to spruce yourselves up before heading back to the office!
The prices:
From $3,288 for 12 sessions of HYPOXI®-Dermology (the octopus style as mentioned above!) / from $7,988 for 12 sessions of HYPOXI®-Training/ from $9,876 for 12 sessions of HYPOXI®-Dermology & 12 sessions of HYPOXI®-Training.
Where to go:
8/F, EuBank Plaza, 9 Chiu Lung Street, Central, +852 2537 6637
The Hong Kong Madame promotion:
To be in with the chance of winning a package of six HYPOXI®-Training sessions worth $3,994.00, all you have to do is like our Hypoxi Facebook post (which has just been posted today!). You have until 9th November to participate in this new competition. A lucky draw will take place on 12th November. Hurry !
Or check out the website: