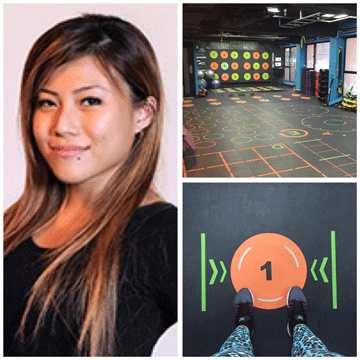 By Vanessa, our Fitness Editor
The motto of Optimum Performance Studio (OPS) tells a lot about the concept and vibe there: "Train the way you play".
This philosophy is the reason why they do everything to keep your workouts fun and dynamic yet innovative and challenging. How? Basic movement patterns with innovative technology to adapt the intensity to work at your own fitness level: move and feel better, faster, stronger!

To do so, OPS offers different classes:

Pavigym Cardio Circuit (unique innovative workout using light, music, pressure sensitive panels)
High Intensity Pilates (fast tempo mat Pilates)
Mobility 30 (30 min mobility work focused class)
Train Like an Athlete (more intense, strength challenged sessions)
TRX Pilates Circuit (focus on core strength and flexibility for a full body workout)
TRX Burn (endurance, strength, balance, flexibility and core strength)
TRX + Power Plate (combination to maximize core stability)
After trying the Pavigym Cardio Circuit (PCC), I can confirm; you definitely train the way you play at OPS! Imagine a giant Twister game, with also light and music… The technology is named Pavigym PRAMA and OPS is one of the first PRAMA gyms.
This pressure-sensitive floors and walls system, with integrated LED lighting and sound, guides exercise in a whole new training environment. As color patches light up for you to hit them with hands or feet in a given timeframe, you end up working out hard, without even realizing it.
A PRAMA session trains all major muscle groups through nonstop movement, building endurance, strength, balance, speed, agility, reaction time, and overall fitness. The 45 min high intensity, circuit-based workout burns up to 1,000 calories while having so much fun!
Now I'm sure you've heard about Emily Tan, one of the great fitness figures of the city, their Training Manager. If not, let me fix that! Emily is one of Hong Kong's top fitness educators and has so many talents and skills that it's hard to introduce her in a few words…
With 11 years of experience in the fitness industry, she's constantly striving for more. Aerialist who performs and instructs aerial silks, she also conducts certification courses for TRX Training, International Pole Dance Fitness Association, Pavigym and soon facilitating NASM courses at OPS. Coach, personal trainer, TV host, Pole Dance Fitness Champion, recently second in her class at her first bodybuilding contest under Bikini division, nutrition student… This woman is not afraid of wearing multiple hats!
Her motivation? Trying to change the world, through helping one person at a time. Doing this with the most positive attitude and generous personality, if Emily doesn't inspire you, I don't know who will!
OPS classes range from HK$150 for a new introduction to HK$250 for a drop in.
You can also get a pack of 10 or 20 credits for HK$990 or HK$1,820 (a 30 min session uses 1 credit; a 50 min session uses 2 credits).
OPS has a studio in Central and another in TST.
More info:
www.opstudiohk.com