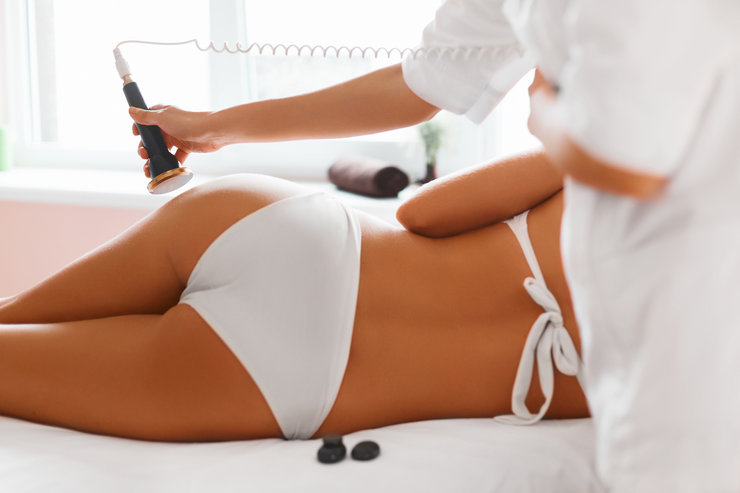 by Aude


Today, I was thinking why not discuss something glamourous … something like cellulite for example. That f*****g disgraceful thing has been pissing me off a lot lately. Not that I am fat, I would rather consider myself as in a good shape but that the thing with cellulite, it makes no exception: skinny or fatty, active or not … cellulite loves us all (well by us all I mean us girls ... so unfair) and it is kind of a sticky "friend". I mean why do you, cellulite, have to love my tights so much? I haven't asked for anything! Well, this fall I am definitely feeling like putting an end to this!

I have tried two different slimming treatments and though you might wanna hear a few feedbacks.


Painless Skin Lift at STRIP: Ministry of Waxing
In a nutshell, the tissues are massaged and heated up to 40-44 degrees (Celsius) using near-infrared technology in order to stimulate collagen (found in the skin tissue) production and therefore lift the skin and reduce appearance of cellulite. For long-lasting effect, a series of 8 sessions every 2 to 4 weeks is recommended to start with. Each treatment will stimulate new collagen production, a process which takes roughly 6 weeks to achieve maximum potential. Then collagen will continue to reproduce by itself with effects lasting up to 2 years.
Hong Kong Madame likes
: you can already see result after the first treatment! Plus maintenance after the first 8 sessions is super easy and does not require too much of commitment (1 session a year, this is something we can commit too).
Hong Kong Madame likes a little less
: pleasant at first, the warm sensation gets less pleasant at the end and the last few minutes are actually quite painful. Nothing unbearable though. No pain, no gain.
STRIP: Ministry of Waxing
7 & 9 floors
8 Lyndhurst Terrace – Central
Skin Lift: Upper Arm HKD 1,200 / Inner Thigh HKD 1,800 / Stomach HKD 2,200
Maximus TriLipo at The Skin Gym
TriLipo technology uses a triple action mechanism. First, radio-frequency energy that heats the fat cells and causes them to secret liquate fat (hum sexy). Then, lymphatic drainage mechanism removing those released fat. And, radio-frequency energy again that causes immediate collagen contraction and long term collagen rejuvenation
The sensation for this treatment is very different from the one above. No sensation of heat at all but again the last few minutes are not the most pleasant one, it feels like receiving a lot of small electric shocks in the body. But again, nothing unbearable.

Hong Kong Madame likes: the treatment is super fast (20 min) and immediately after you can go back to your daily routine. I went straight back to work and then to the gym in the evening.
Hong Kong Madame likes a little less: with this method, maintenance requires a stronger commitment with sessions every two months after the first 4 to 6 ones.

The Skin Gym
21/F, Room 6, The Centrium, 60 Whyndham Street – Central
Maximus TriLipo: HKD 1,200 / session
TriLipo package of 8/14/20: HKD 8,460/HKD 13,440/HKD 18,000