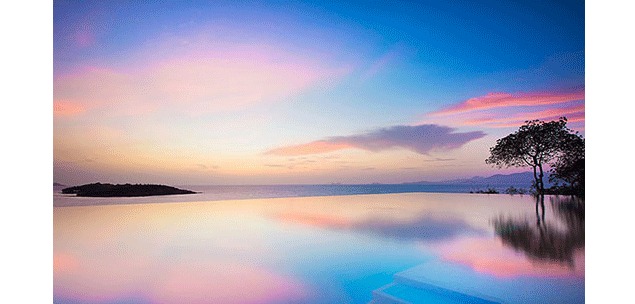 We've found a little bit of heaven on earth! Where? The Six Senses resort in Koh Samui. What heavenly things can you do there? Sleep, eat, tan, enjoy a fancy drink…and then read and sleep a little more!
It's a place where you really get to spend some quality time with your sun lounger- and of course with the private pool too! It's well worth spending some quality time inside the villa, just to take in the beautiful view while your tan develops- and the rooms are really comfy and well designed. If you feel like a change of scene, all you have to do is jump in a buggy to get to the resort's superb infinity pool! A cocktail in one hand and a book in the other, with a stylish pair of sunglasses on, lying back soaking up the sun- that's what holidays are for, right?
After about fifteen minutes of front crawl in the pool, you'll have worked up a healthy hunger and should be able to muster enough energy to make up to the restaurant for some amazing food: Pad Thai, pomelo salad, grilled prawn brochettes, griddled seabass, there is so much to choose from! Food-wise, we really recommend the hotel restaurant 'Dining on the Rocks' with its stunning views over the sea! Did we forget anything? Yes- the Six Senses Spa! Full on pampering sessions are available- and the massages are crazy good! This resort won us over- and you will be totally won over too! Enjoy your visit!
One teeny drawback? Yes, there has to be one! The mosquitoes are pretty vicious over there, so if you want to avoid looking like an old leper (which us what happened to us) be sure to arm yourself with bottles of super strong repellent!
How to get there:
A direct flight with Bangkok Airways takes 2.5 hours
Six Senses Koh Samui
9/10 Moo 5, Baan Plai Laem, Bophut,
Koh Samui, Suratthani 84320, Thailand
Tel: +66 (0) 77 245 678, Fax: +66 (0) 77 245 671
E-mail:
reservations-samui@sixsenses.com
www.sixsenses.com/resorts/samui/destination