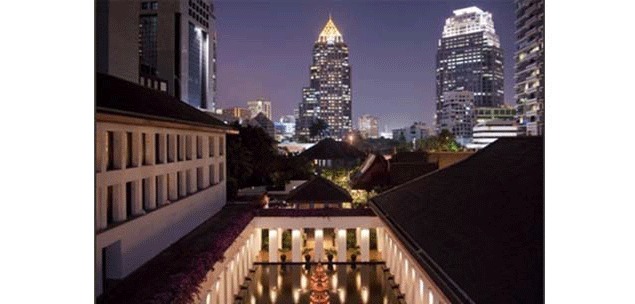 It's still a bit chilly here. Once you have had the chance to wear your six favorite winter outfits things start to get monotonous, winter stops being fun. You need a good dose of sun and warmth to recharge your batteries. Bangkok is a good compromise. It's warm and sunny. You can see some sights or just loaf around. It's down to you. The perfect get away is the Sukothai hotel, a real jewel. A haven of peace in this city where everything goes at top gear. The rooms are very comfortable and prettily decorated. The swimming pool is magnificent. Perfect for lounging around and catching a tan. It's hard to leave it behind for a stint of sightseeing! But after all, this is Bangkok! So take a shot of redbull and off you go! Let's keep it simple: one or two visits in the morning and dolce farniente in the afternoon. On the sightseeing agenda: the inescapable Grand Palace, very impressive. A trip in a longtail boat on the Klongs. Ask for a stop at the reclining Buddha… Wat Traimit, the Golden Buddha Temple. The Lumphini park and the incredible Chatuchak flea market that will make you feel like you're hallucinating!
Taste and enjoy: try out the surprising Bed Supperclub restaurant… Have dinner at the Thiptara (Peninsula) or at the Verandha (Mandarin Oriental). Venture into one of the shacks / restaurants in Chatuchak. Get a drink at the Moon Bar and enjoy one of the most impressive views of Bangkok.
Have fun: take a ride to Patong after dinner, it's a must!
Relax: Treat yourself to a massage package at Sukothai Hotel's neighboring hotel the Banyan Tree
How to get there: Cathay Pacific – Air Asia – Thai Airways