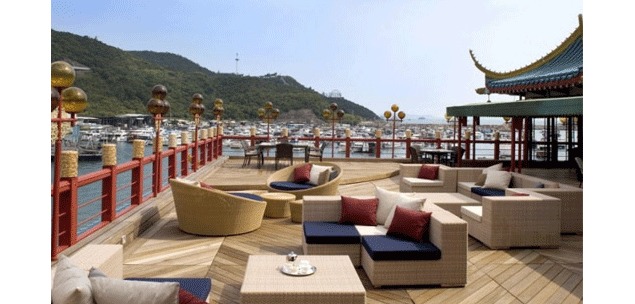 Edit - January 7th 2018: this restaurant is now closed


Champagne brunch + sun bath = Top Deck.
A magic trick that cheers us up and awake our taste buds. Venture in the impressive "Jumbo" boat at Aberdeen, climb on and discover the shinny terrace. While you wait for your table, sit down (not to say loll in) the sofas sipping your champagne glass. That is a good start, isn't it?
Then, head for the buffet where you won't know which way to turn. Asian or European cooking, you will be spoiled for choice. We particularly advise the Peking Duck which is marvelous and crepes as a dessert so as to fill you up until the next morning! The whole laced with champagne, if you want to end up your week end on a high note. Not only nice, it is an all you can eat brunch and to crown it all, it is good!
We will go again, no hesitation. And you have to tell us what you think, you will see, it won't let you indifferent!
Open from Tuesday to Friday from 5pm to midnight. Saturday, Sunday and bank holidays from 11 am. Closed on Monday
Top Deck
Top Floor Jumbo Kingdom
Shum Wan Pier Drive
Wong Chuk Hang, Aberdeen, HK
www.cafedecogroup.com/outlet.php?oid=26&name=TopDeck