by Aude
Launching a new series of article:
the Staycation Series
. For the rookies out there, staycation is a mix of stay and vacation so literally having a vacation while staying in your own city. Because who doesn't need a sweet escape from time to time? And of course, if you have friends and family visiting you in Hong Kong, you might also find pretty nice recommendations in this series.
Kicking off w/ one of my fav hotel in Hong Kong:
W Hong Kong
. The cool kid of the gang, that's how I would call it if the gang was Five Star Luxury Hotels.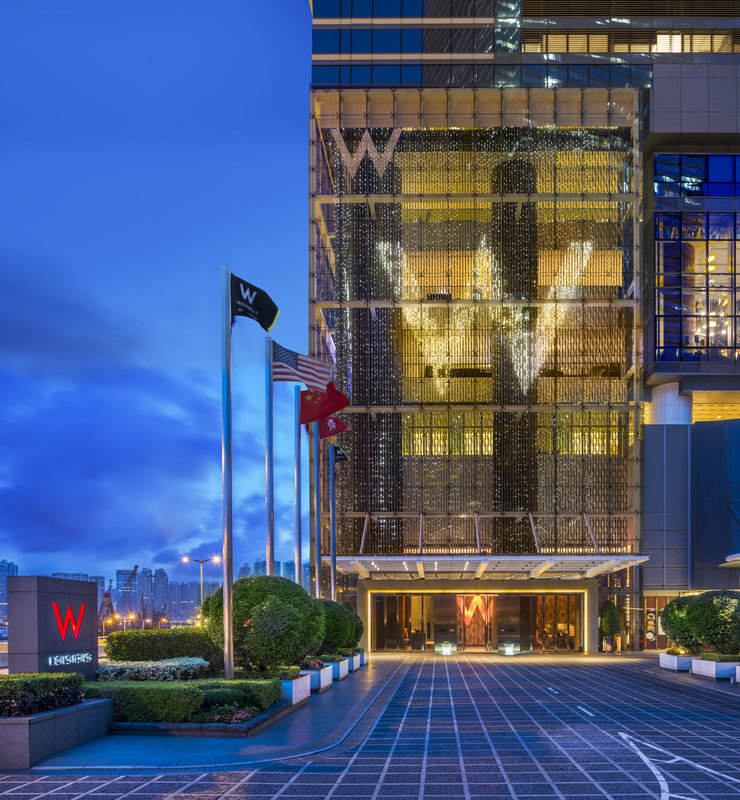 Ok, I can hear the complains already: it's on Kowloon Side. Well 1. You guys are so lazy! It's only a 10min MTR ride from Central and same does not take more than a 10 min taxi ride from Central if you take Western Tunnel 2. Think about it, the whole idea of staycation is actually to feel like going abroad while staying home and what better way to do so than going on the other side if you live on Hong Kong Island?

Ok, let's check in?
There is one thing I love about W hotels (ok confession time, I am a W hotels addict but I swear my judgement is purely professional and entirely objective … or not), it's not only about the place, the architecture and the décor but they do manage to create an entire very unique atmosphere … starting from that home fragrance you can smell from the minute you walk-in one of their hotels. What, home fragrance is not an objective criterion to judge an hotel? Ok ok, I got more for you.



I would definitely recommend skipping the Wonderful Room (entry room) and go directly for a Spectacular Room (or even a suite if you are here to indulge). Not that the Wonderful Room is not wonderful but would be pity not to be treated to their glorious harbour view. Plus, nothing like waking up overlooking the sea to feel like on a holiday.

I know it's hard to leave that modern and bright room. I do want spend the afternoon in and definitely feels like that sofa by the window would be just the right spot for me but hey, follow me because there is more to explore. Up to 76 floor and my fav part of the hotel: the pool.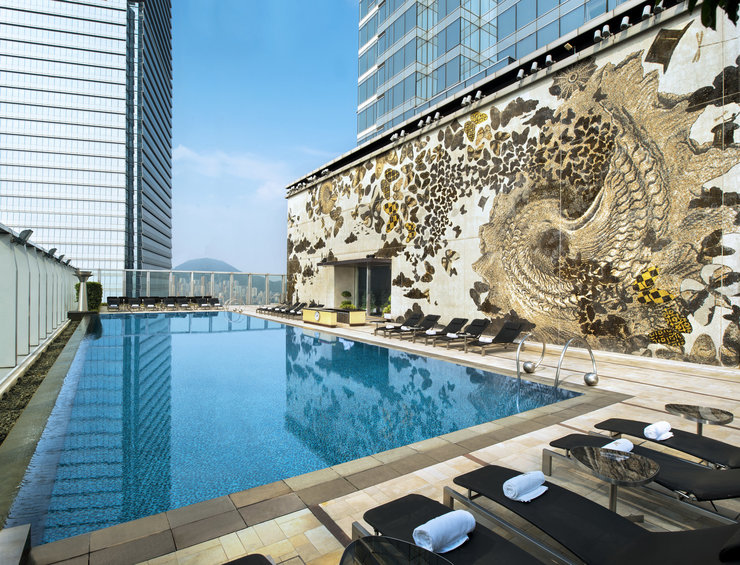 Look at that how beautiful is that pool! Between napping on a pool bed, diving in the pool (well do not dive for real, it's actually forbidden), enjoying the beautiful view over Victoria Harbour from the Jacuzzi and sipping on some Pina Colada at WET DECK time flies!

You might wanna check the gym and its crazy view or treat yourself to a massage at BLISS SPA but as for me I am going for Afternoon Tea at WOOBAR. Love that place and its pretty cool vibes.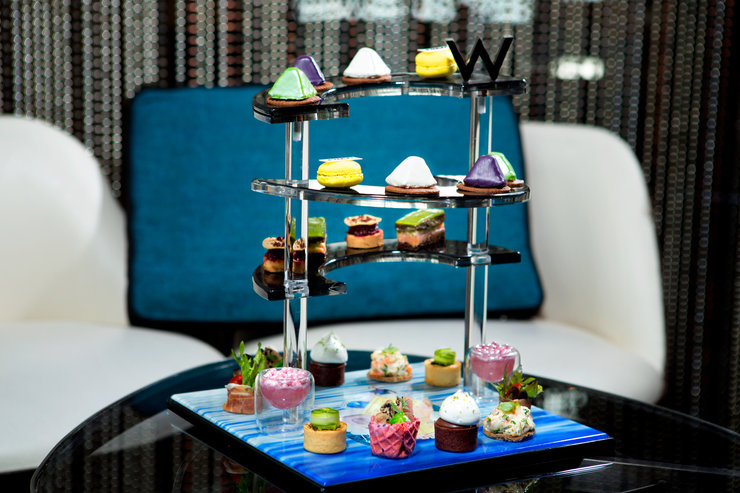 Until April 30, 2018 Afternoon tea is bringing the bling on at WOOBARD through a glittery collaboration with French luxury jewellery brand FRED. Treat yourselves to some yummy bites inspired by FRED's iconic "Pain de Sucre" collection and imagined by Michelin start Chef Olivier Elzer, now W Culinary Curator. Hope you won't mind, I am gonna grab another super yummy Maple Syrup and Vanilla pyramid which looks very much like a precious stone. To pretty to eat? Nah I don't so, right into my tummy!

BLING IT ON
Afternoon Tea Set from Monday to Friday – HKD 468 for two
Afternoon Tea Buffet on Saturday and Sunday and public holidays – HKD 360/ adult
Until April 30, 2018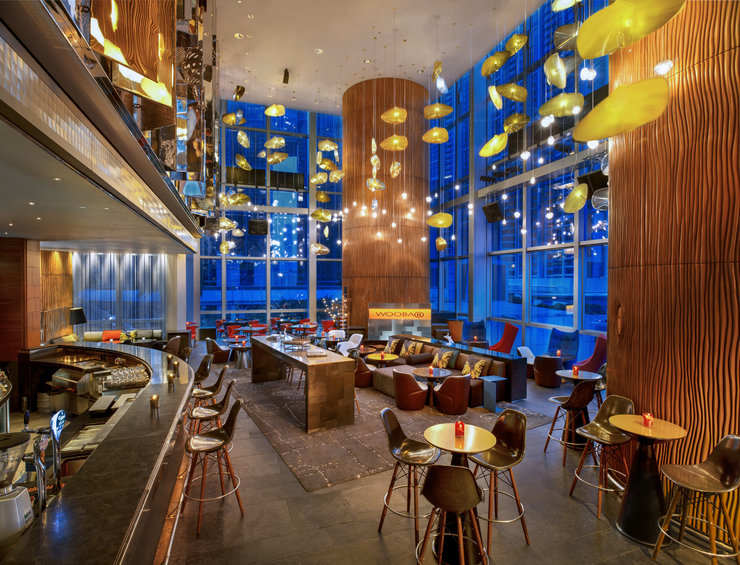 If you are not joining for afternoon tea, make sure to come as the sun sets and live DJ music starts along with happy hour.

Dinner can be taken in the hotel. If you are thinking buffet, you'll go for KITCHEN. Or stay in WOOBAR after your happy hour drink, order another round and treat yourself to some yummy nibbles. Or play it the Cantonese way and head-down to ground floor for a traditional dinner at Sing Yin. Hope you won't mind, I am pretty full on my side so will just go back to my room and enjoy a long, hot and bubbly bath.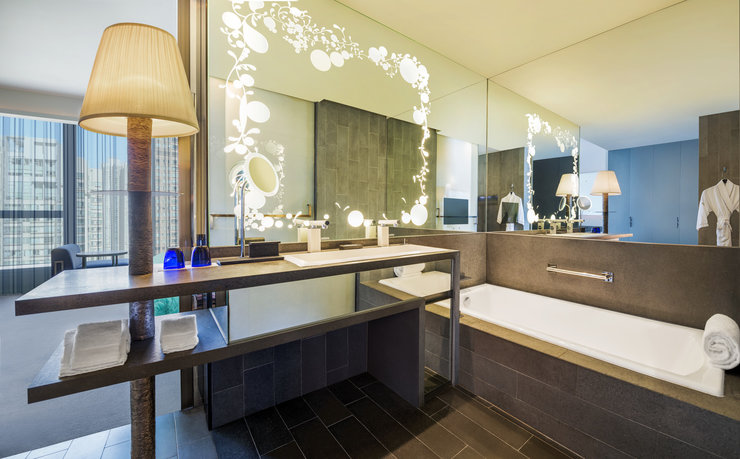 I just want to relax, chill and enjoy my room. Plus, I wanna make sure to be hungry enough when waking up tomorrow morning because believe me, breakfast buffet at KITCHEN is epic!
The only downside of a staycation at W Hong Kong? Well, it's the fact that you actually have to go back home at the end of it!
W Hong Kong
1 Austin Road West, Kowloon
All photo credits to the W Hong Kong