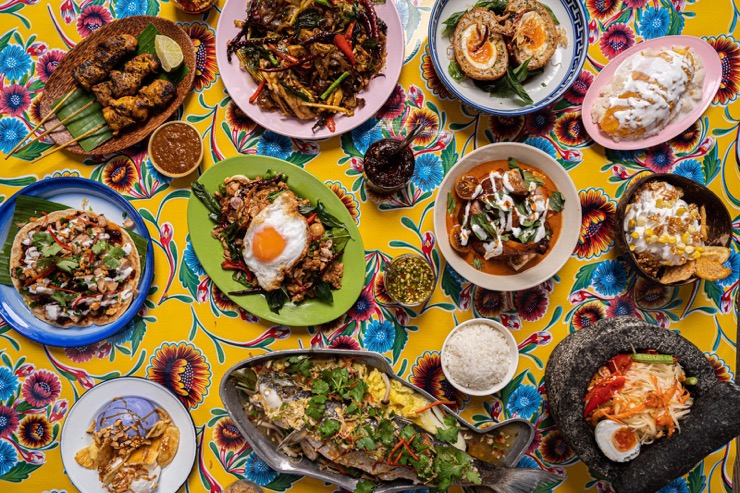 by Aude Camus

How often do you go to Repulse Bay? For those of you who don't live on the southside I mean. I have to confess I very rarely do because neither the beach nor the food offering seems attractive enough for me to want and hop on a bus or a taxi to Repulse Bay. Not that I don't like a feast by the beach, I do and have spent many Saturdays and Sundays at the Coconut Thai restaurant in Deep Water Bay before heading to Chung Hom Kok beach for a lazy afternoon on the sand but that was until I discovered my new fav Thai spot on the Southside: Sip Song - Thai Eatery & Bar.

Who's in for a Thai feast on the beach?
I am loving the colorful, tropical chic design of the place which is quite huge and can accommodate large groups (doesn't a party brunch on the beach with friends and Thai food seem like the ultimate weekend plan?) but also offers intimate seating. Oh, and on weekend they do play music making it the perfect place for beach go-ers to lounge.

But you know why I am hear and it's definitely for the food, inspired by Bangkok night markets and childhood culinary memories of Bangkok native Head Chef Nuch Srichantranon. Hope you are in the mood for food, I kind of feel like I've over ordered.

Oh, but before the food arrives, let's have a cocktail. I mean, beachside bars and restaurants are for cocktails, aren't they? And the cocktails menu here is short but pretty attractive. Why don't you order a Pandan Colada (HKD 95)? Trust me, I tried this vodka, pandan, absinthe, coconut milk baby at their opening party and it is dope. I'll go for something I haven't tried yet, the Tom Yum (HKD 95) with Kaffir Gin, Lemongrass, Coconut, Lime and Bird's Eye Chili … addictive. And dangerous! Because I could easily have 3 or 4 of that little things … a recipe for disaster! Lucky me, I've ordered enough food to feed an army and therefore also ensure I don't get drunk.

Let's start with some very Bangkok street-food inspired dishes: skewers and fluffy crab omelet.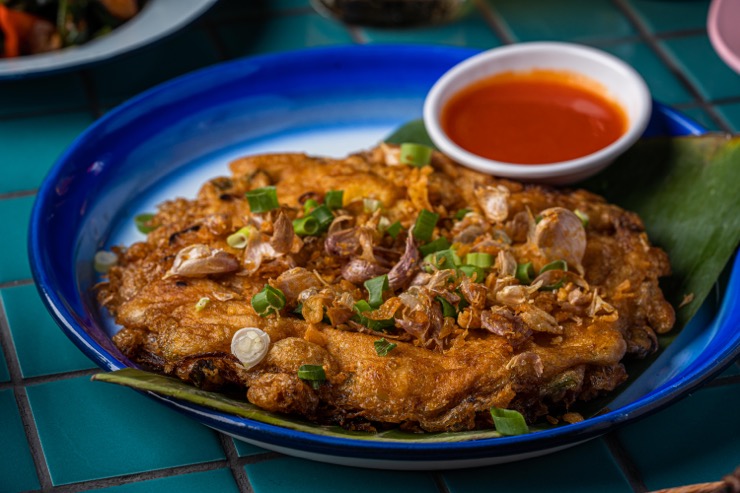 The Khai Jeaw Phu (HKD 135) definitely is fluffy and craby.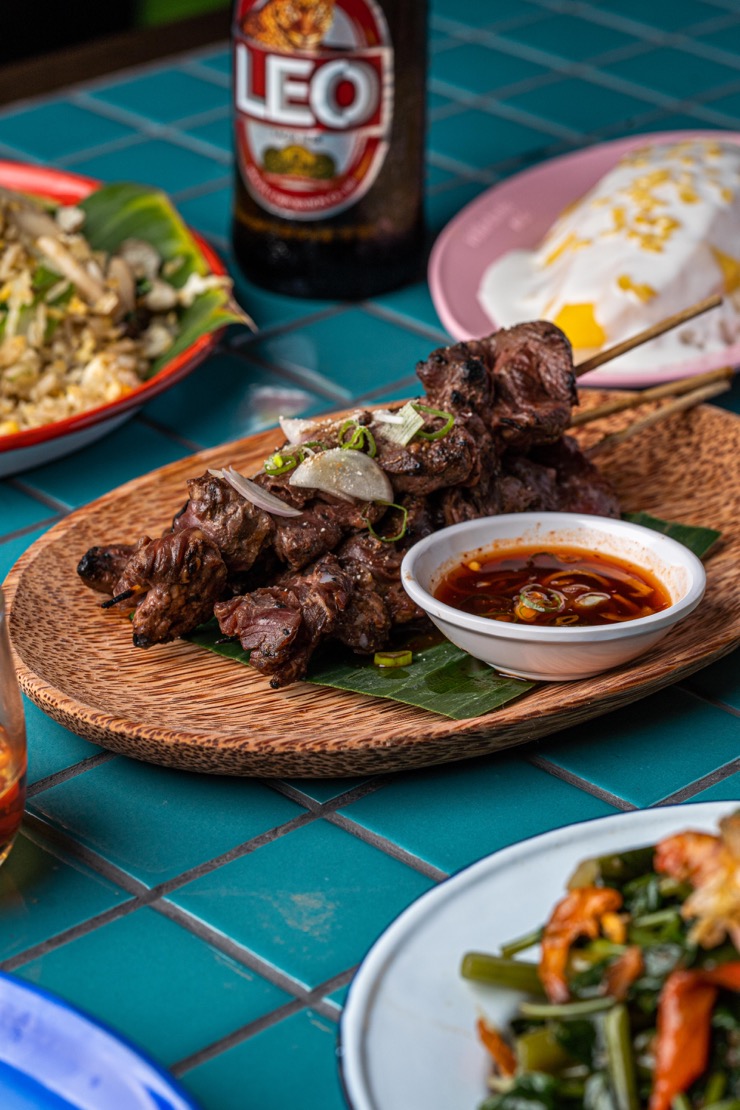 I'm absolutely loving the Sue Rong Hai (HKD 110) aka crying tiger beef skewers with their distinctive taste of charcoal-grilled beef. Of course, I'm eating everything with my hands, greedily licking my fingers with satisfaction just like I would do eating in the streets of Bangkok.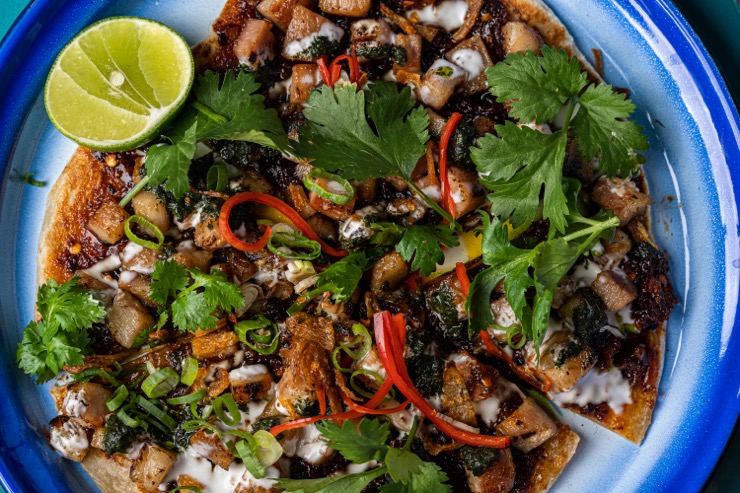 Speaking of licking my fingers, The Roti Kor Muu Yang Prik Pow (HKD 95) is a very pornfood roti pancake (editor's note: traditional Thai pancake) topped with bbq pork neck, chili jam, fresh herbs and crispy shallots which you can't basically eat without spreading food all over … no wonder why it is also called "Don't Tell Mom".

Well, main dishes are coming, and I feel like I will unfortunately have to grab a fork to dig into this green chicken curry Keaw Waan Gai (HKD 110). But it won't be long before I put this fork down as there is absolutely no way I'm not eating that glazing lemongrass & fish sauce pork ribs Moo Se Krong Naam Pla Waan (HKD 185)with my hands!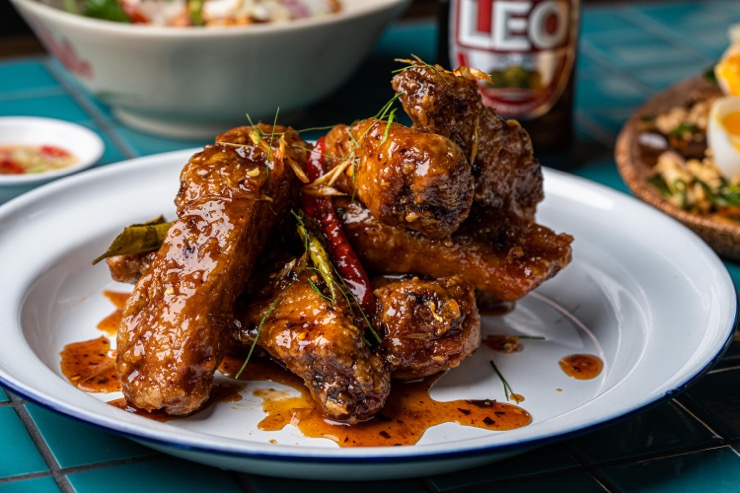 God, that thing is so good! I've been dreaming of having it again since I gave it a go at the opening party and it's exactly how I remembered it: tasty, crispy on the outside and super tender on the inside, a bit spicy, sweet and sour … God, how bad is it that I could basically eat an entire pork just by myself?

But it's getting worse because, after basically eating all of that pork ribs goodness, I am still in the mood for something sweet! What is wrong with me? I know you are judging but it's only because you've never tried their Roti Kluay (HKD 75), a banana roti pancake with condensed milk and chocolate.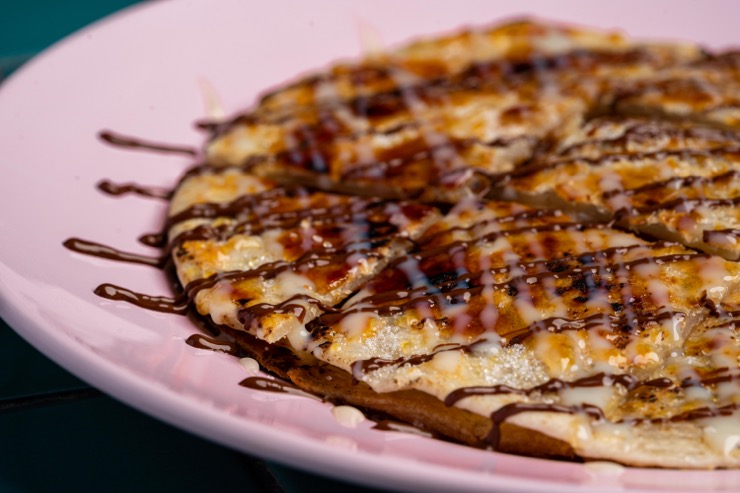 This little thing is as good as it caloric and with banana, condensed milk and chocolate you can imagine how caloric it is. If you are afraid of giving it a go (but please don't be, you'll definitely be missing something), you might wanna consider going for something lighter yet super yummy: the
I-Tim Ma Prawn Onn Kao Pord
(
HKD 65
) aka coconut and corn ice cream with sticky rice foam or a nice icy revisit of the traditional mango sticky rice (which is also available in its traditional form for the purists out there).
Did I mention the service was lovely and friendly? I just hope they didn't judge me for all the food I ate. Oupsie!
God, that's a good thing we came here for dinner and not for lunch, I don't think I would have been confident enough to hit the beach in my bikini after such a feast! Well, will I be back to Repulse Bay more often? On one hand I want to because I loved the food at Sip Song and on the other hand, I feel like I should try and not be back too often because this place ain't good for my bikini body!
Sip Song – Thai Eatery & Bar
The Pulse, 28 beach Road – Repulse Bay

This write-up is based on a complementary dinner for two hosted by Sip Song. No money has been paid by Sip Song for publishing this review.