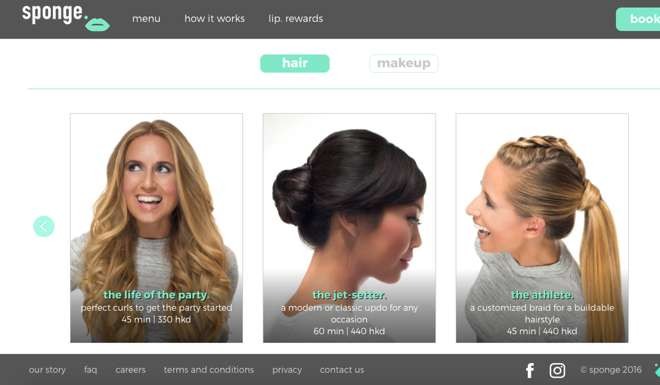 By Delphine
Diane is the kind of girl who always looks good: make-up perfectly applied and hair elegantly brushed and tied, all day long. Previously lawyer in New York, she decided to move to Hong Kong and do what she always wanted to do, which means create her own business in the beauty sector. Her idea is awesome: "We take our hair and make-up services to the home, office, hotel or an event with the click of a button.". This on-demand service is for every active woman, overwhelmed mum, stylish teenager or any other Hong-Konguese who just want to feel pretty and pampered without getting stressed.
Launched a few weeks ago, it's already a big success. You know us now, we booked a session right away!
The booking online
http://gosponge.com/
is very easy. Choose from a menu of looks. The pictures show you exactly how it looks like. Then you select the date and time. Enter your address, maybe one or two comments if necessary, and that's it. Now you just have to rest and wait for your bell to ring perfectly on time. Appointments can be booked from two hours to one month in advance. Professional stylists come directly in your living-room with everything they need and the only thing you must do is relax and enjoy. Believe it or not, 45 mins later you are ready for your date or your job appointment.
PS : I've been told Sponge just launched eyelash extensions. I am ready for a new trial !
More info : http://gosponge.com/
Cost:
from HK$330 to HK$440 for hair, and HK$440 to HK$550 for make-up.