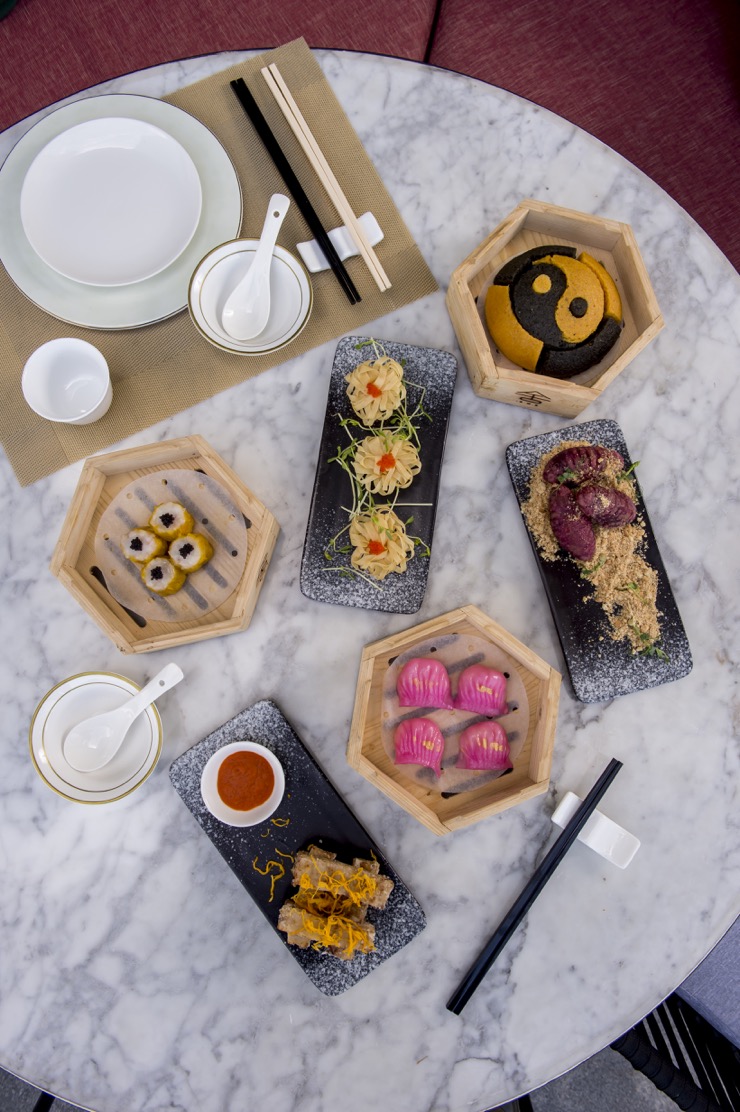 by Aude

Being French, gourmet dining and malls are two things I wouldn't have never associated together when growing-up. But moving to Hong Kong 4 years ago had me rethink this way of seeing things and my dinner at SHÈ, newly opened contemporary Chinese restaurant inside Lane Crawford IFC Mall, the other day is another proof that here in the 852 shopping-addicts are also true foodies!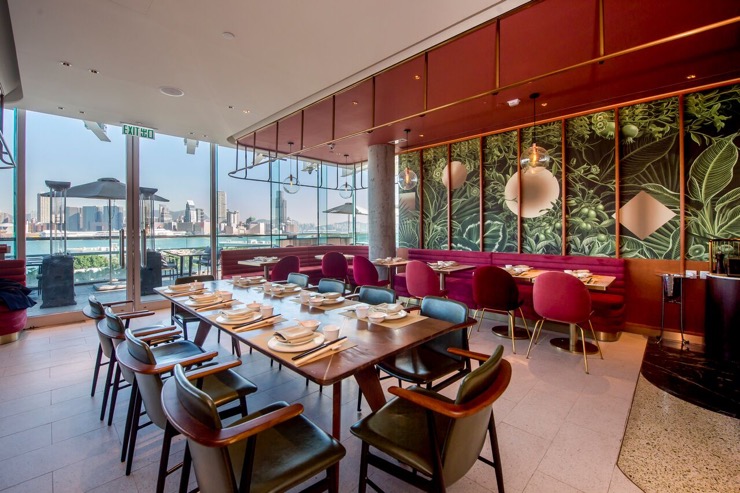 SHÈ comes from the Chinese character "舍" and is a place where to be welcomed and enjoy a moment of tranquility. One highlight of the place is for sure the beautiful terrace (which is actually bigger than the restaurant in itself) set against the backdrop of Victoria Harbour. But I also quite love the atmosphere of the indoor area: modern yet welcoming and very cosy (cosy enough to have me, the little Frenchie, forget that I was actually having dinner inside a department-store).


On the menu? More than Canton food, as described by my host of the night. Or in other words, traditional dishes from all over China injected with modern-flair.


Hong Kong Madame tips: if you're in the mood for their contemporary dim-sum, make sure to visit before 5 as they serve them for 11 am to 5 pm only and don't have them for dinner.

But you know me, I kinda like starting a tasting with a glass of something and today makes no exception. Let's have a look at the 1930's Shanghai inspired cocktail menu shall we? Aren't those glitzy cocktails looking super attractive?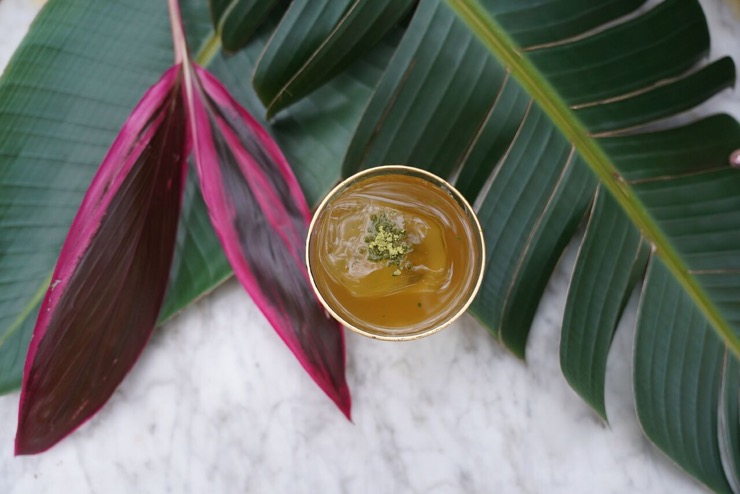 My pick of the night is the Cha Cha Matcha (HKD 118), influenced by the French presence in Shanghai in the 1930's and featuring Courvoisier XO cognac, Mancino Vermouth Ambrato and Matcha Tea. Careful, this little sweet thing is dangerous!

The food menu is quite extensive covering categories such as Dim Sum, vegetarian bites, Chinese seafood based dishes and rice or noodles. Of course I had to have a bit of everything, right?

Kicking off with a nice Dim Sum assortment: Rose Gold Har Gao (HKD 52), Tricolour Steamed Dumpling with Prawn, Veggie & Pine Nuts (HKD 48) and Stuffed Truffle Balls with Minced Meat and Mushrooms (HKD 56). To be honest, if the Har Gao and the steamed dumplings were pretty good, this wasn't the most exciting part of the meal and I wouldn't go for the truffle balls again as I found them maybe too "glutinous" and lacking flavors.

But other appetizers are coming up: the Sesame Okra Salad (HKD 78) which was lovely and tasty, the Caviar Shrimp toast (HKD 88) also rather tasty and the surprisingly good Crispy Fresh Abalone (HKD 238) with salt and pepper. Surprisingly good because until this dish, I had never tried an abalone which I like.

Hong Kong Madame fav: the Spicy Beef Shank! A perfectly tasty dish but watch out because this baby is spicy!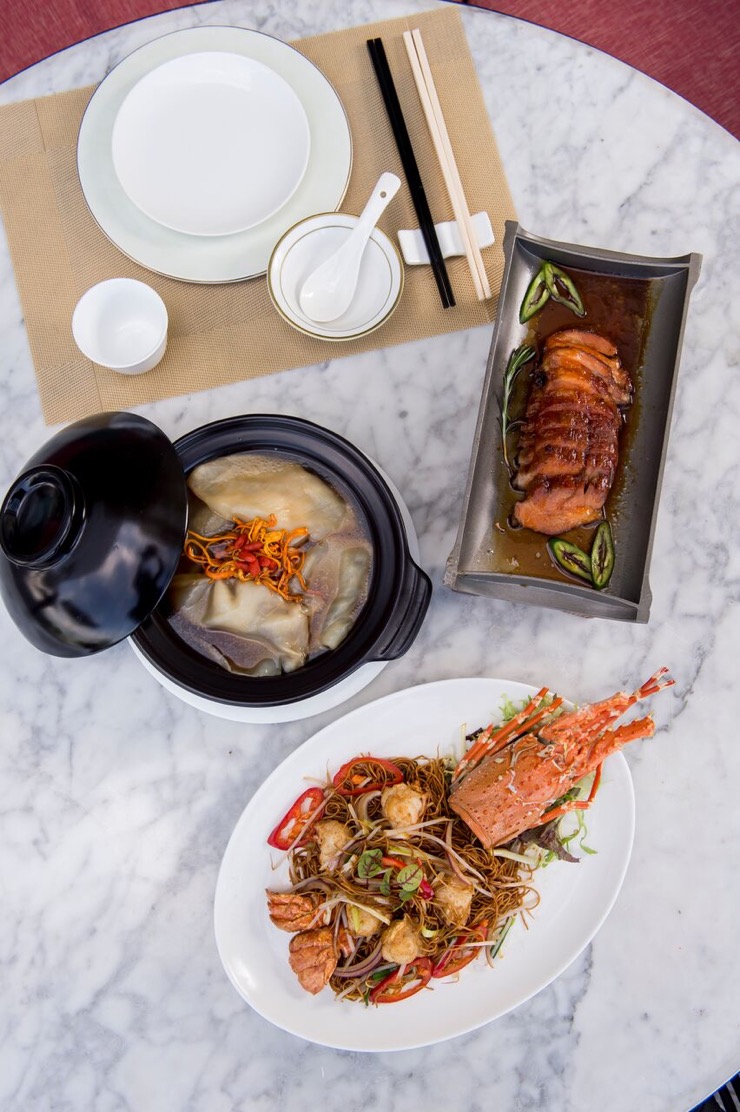 Still hungry? That's perfect, there's more food coming! And am pretty sure you are going to love the
Yin Yang Style Salted Egg Yolk and Horseradish Prawns
(
HKD 268
) as much as I did.
Oh and here comes the restaurant's signature: the
Fish Maw Nourishing Pot
(
HKD 368
). Fish maw? Dried swim bladders of large fishes such as croaker and sturgeon. Unlike suggested by the name, this broth doesn't taste fishy at all and is actually a super comforting dish.
Hong Kong Madame tips
: wanna give a go to the Fish Maw Nourishing Pot? You'll have to wake-up early or be lucky because they only served a super limited quantity of 40 pots a day (a pots serving 4 to 6 people).
Ok, let's do one dish from the BBQ section and one noddle to finish, ok? I know it's a lot of food but hey you guys the only proper way to do tasting is by actually tasting as much as possible! And believe me the
Honey Glazed BBQ Iberico Char Siu
(
HKD 198
) marinated overnight is definitely not to be missed. Well, if this one isn't pornfood then I don't know what pornfood is! Just a spoonful of the
Signature Wok-Fired Supreme Lobster Noodles
(
HKD 388
) and here I am, super full. But loving it.
Reminder to oneself though: post-shopping feast is always a good idea but pre-shopping feast is definitely a terrible idea (says the mirror from the fitting-room!).
SHÈ
Portion A of shop 3025-302§ & 3031-3066, Level 3, IFC Mall