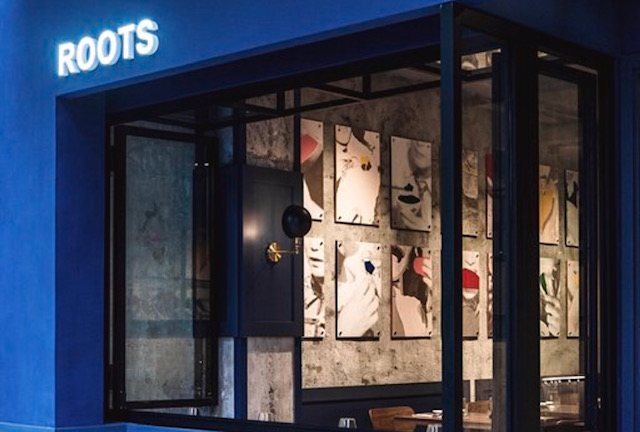 July 2022 edit: Roots on Sun Street is now definitely closed and you can follow chef Stephanie Wong on Instagram (@stephanieknwong) for updates on her next culinary adventures.



by Aude Camus
There is a word which I am not a big fan of when it comes to the FnB industry, it's the F word: Fusion. Mainly because I very seldomly find fusion cuisine to be a success. It is me or is fusion cuisine more of a marketing concept rather than something truly meaningful? But you know what they say, rules are meant to be broken and there are of course some places which totally succeed in creating a meaningful and tasteful marriage between two cuisines. Roots is one of those.
Let me take you out for dinner at this recently opened small eatery on Sun Street. I absolutely love the vibes of the Sun Street/Moon Street/Star Street neighborhood and Roots definitely does blend in perfectly well with its hip yet friendly atmosphere.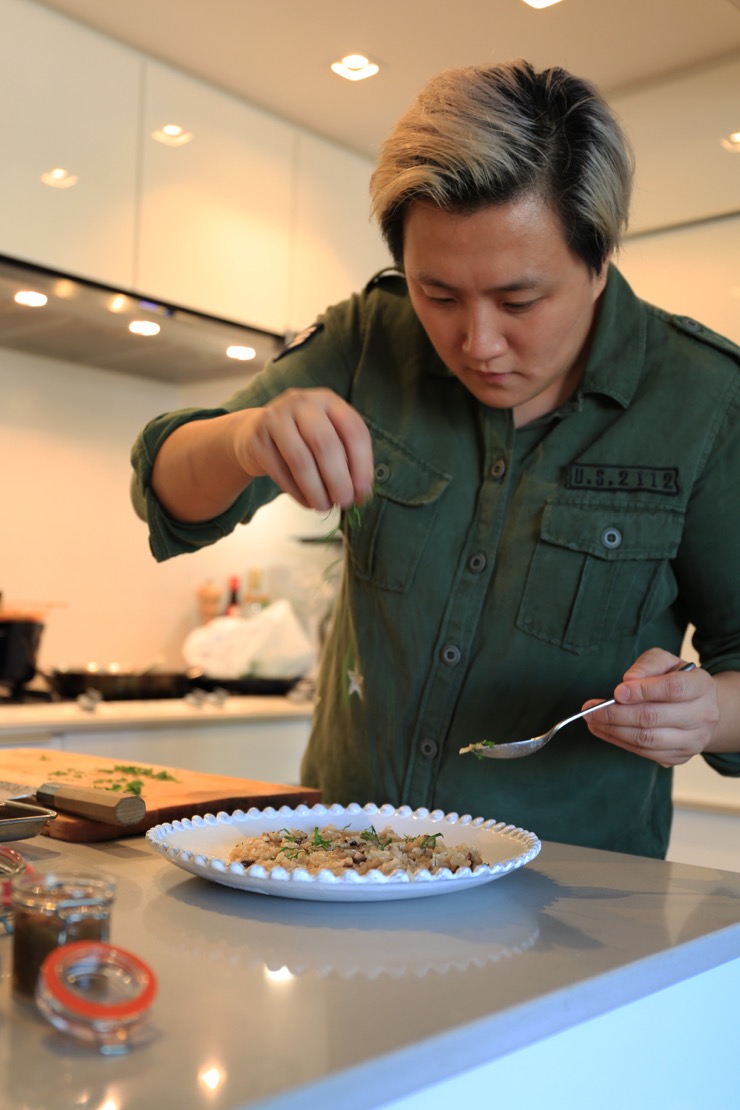 But before ordering some food, allow me to share a bit more about Chef Stephanie Wong. Each and every dish we will try tonight takes roots in Stephanie's background. "Stephanie's passion for food and cooking roots from memories of dinners at home with her late grandmother as a kid. Food was love and happiness, extended from grandma's table full of classic Cantonese dishes. The dishes were simple, but they were never prepared short of heart and soul. And this became the basis of Stephanie's cooking philosophy." But it took a few years for the Chef to follow her passion as she first worked as a corporate banker for a decade before moving to France to train at Chef Alain Ducasse's cooking school. She then worked at Michelin starred restaurants and finally recently opened her own place. I was lucky to get a chance to chat a bit with Stephanie and loved her personality.

If we were to describe the menu in a nutshell? A seasonal short menu on which every dish is infused with both Cantonese and French flavors making them resonate with both locals and French people. How intriguing, right?

Ok, let's dig in, shall we?
Kicking off with 2 Spring specials: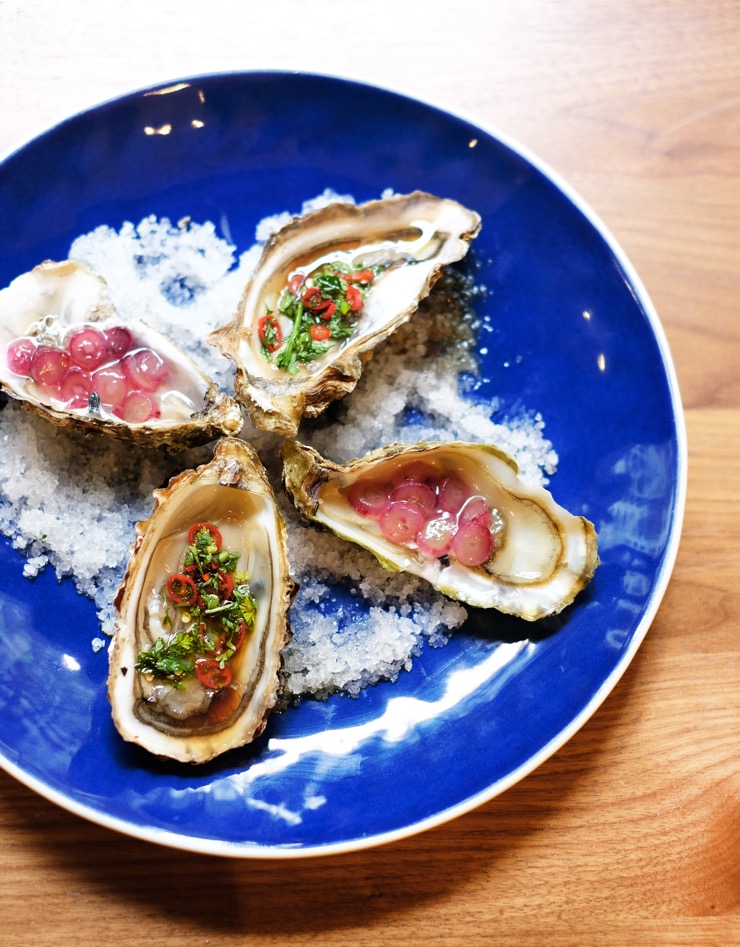 Fine de Claire Oysters, Hong Kong and French styles (HKD 198/4 pieces), super fresh. Had the French style one and was expecting something very classic like vinaigrette but was presented with a sweet and unexpected take on the oyster, loved it.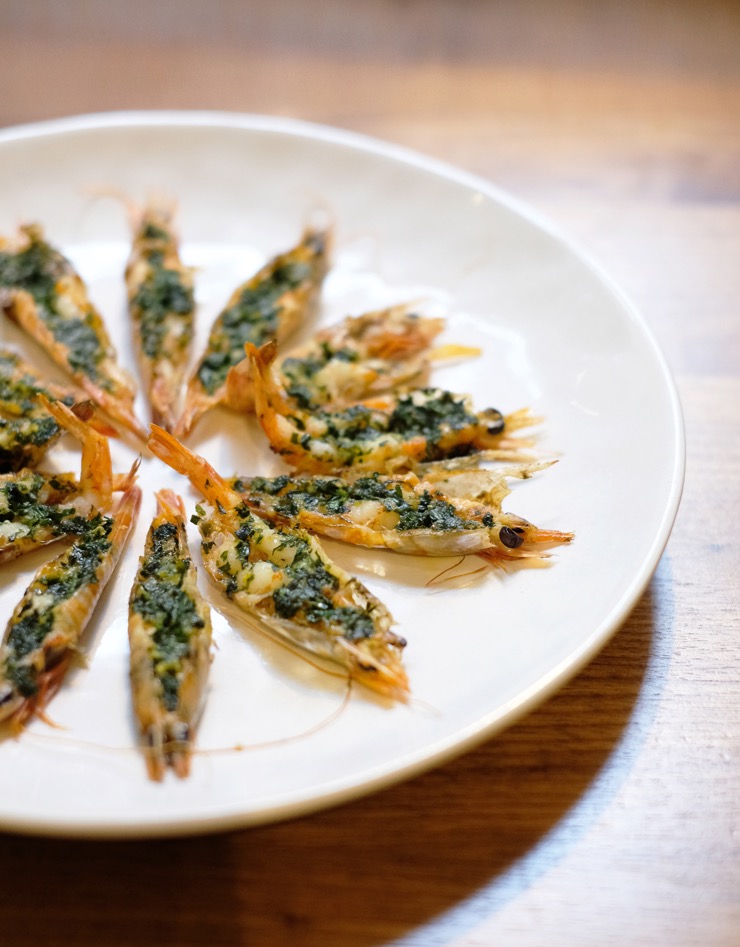 And the Baked Local Wiskered Velvet Shrimp with Herbal Butter (HKD 168), such a pornfood little thing! Local shrimps with very French herbal butter (you know that super yummy think in which we cook escargots) … a super yummy encounter between Hong Kong and France.

Well, after those mouth-watering snacks we had to order starters, right?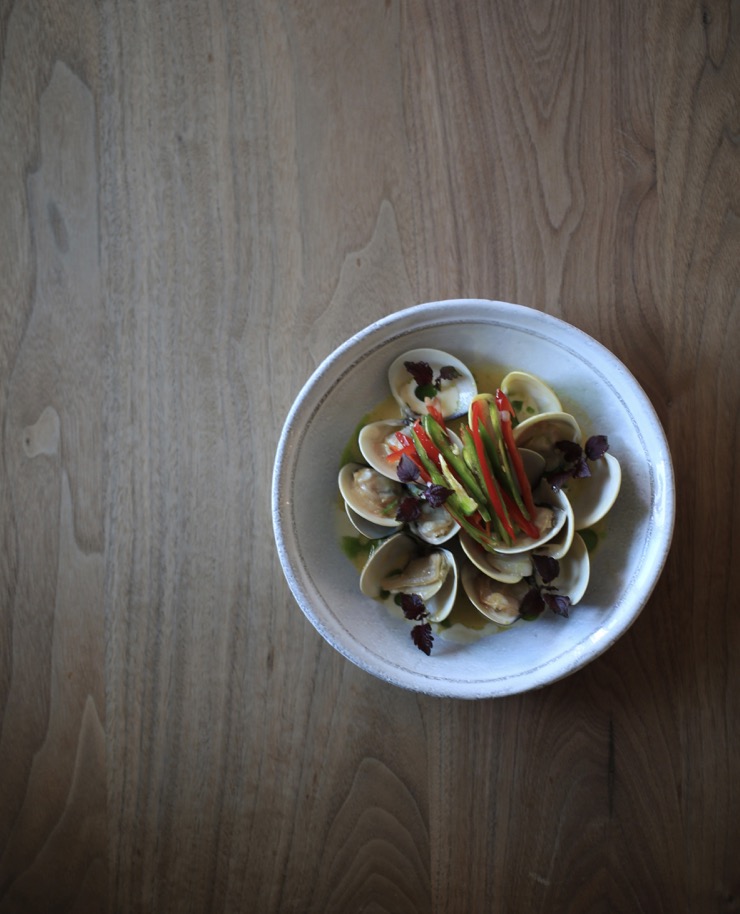 Had three of them (please don't judge): the Roasted Heirloom Root Vegetable Salad (HKD 98), a surprising hot salad, the Spicy Creamy Local Clams with Black Bean Chive Oil (HKD 158) in which I greedily dip many pieces of bread, and last but not least the Beef Tartare Yu Kwan Yick Style (HKD 158).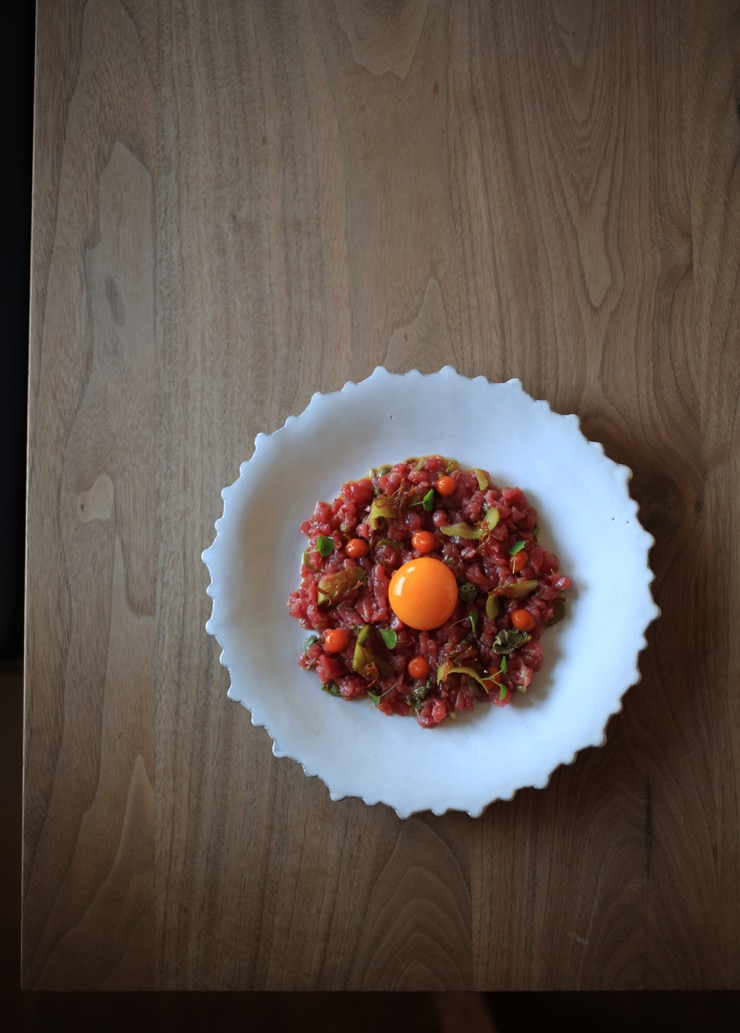 Yu Kwan Yick? A famous local chili sauce originated from Sai Ying Pun. I loved loved loved this dish.

But watch out, the masterpiece is about to hit the table.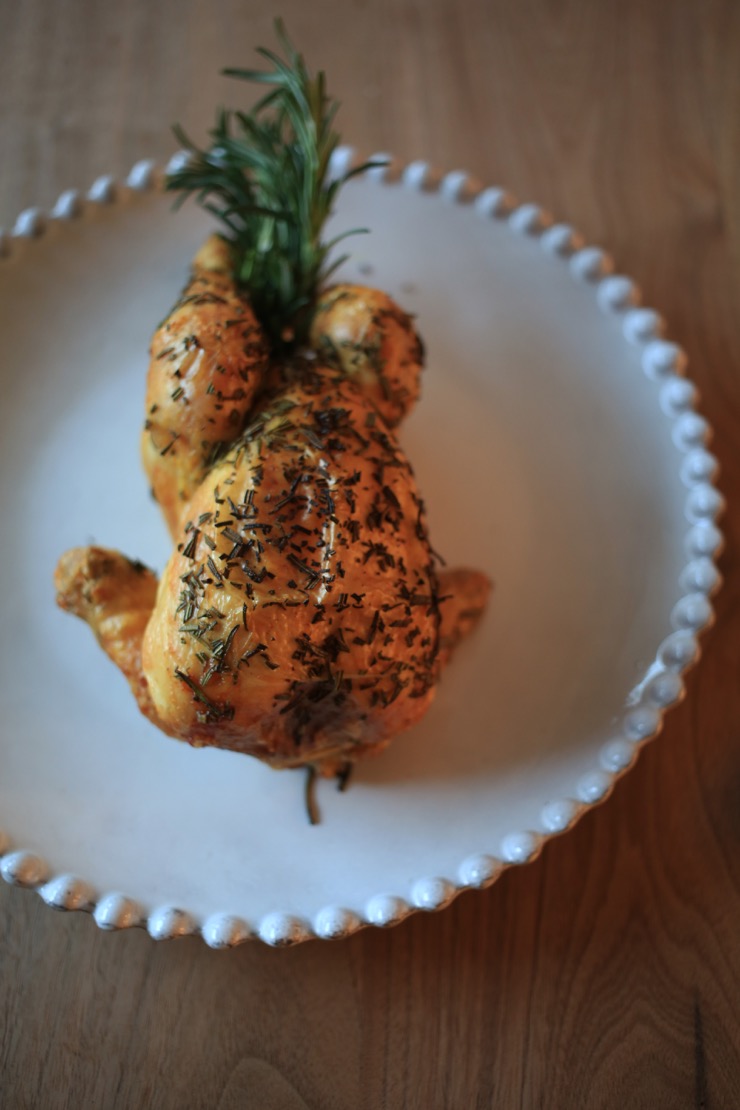 Say hello to the Signature Roasted French Spring Chicken with Glutinous Rice Stuffing (HKD 308). That chicken is so tender and flavorful! Took me back to Sunday roast in France ….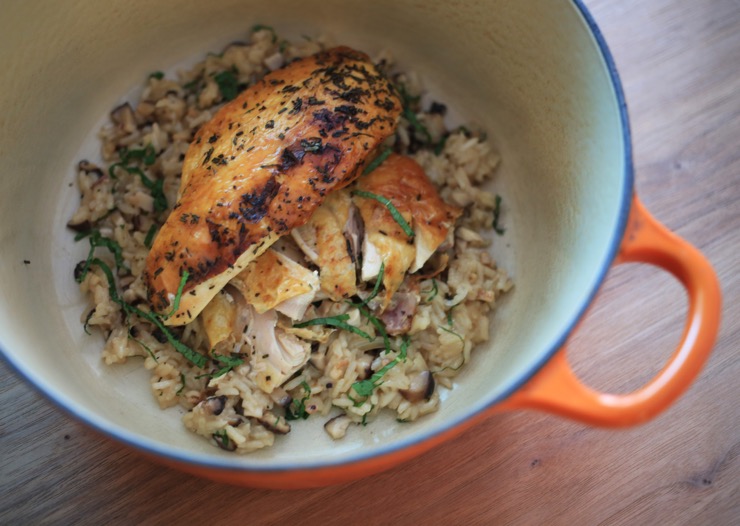 Also love that it comes in a cocotte. Doesn't it make you wanna dig-in? And the glutinous rice stuffing is a really nice twist. Remember I was telling you Chef Stephanie wants her dishes to resonate both with local and French people … well, my opinion is that this one is a total hit.
Not that we need any more food at this point of time, but I still haven't finished my glass of Chinese Chardonnay and I'm enjoying myself way too much to leave without first ordering something sweet. You are looking for something fresh? Order the
Ginger Creme Brulee
(
HKD 58
). And if you are just like and looking for ultimate decadence, I'd recommend going for the
Pistachio Cardamon Financier, Black Sesame Ice Cream
(
HKD 68
).
I'll be back very soon!


Roots
7 Sun Street – Wan Chai
This write-up is based on a complementary dinner offered by Roots (no monetary compensation).