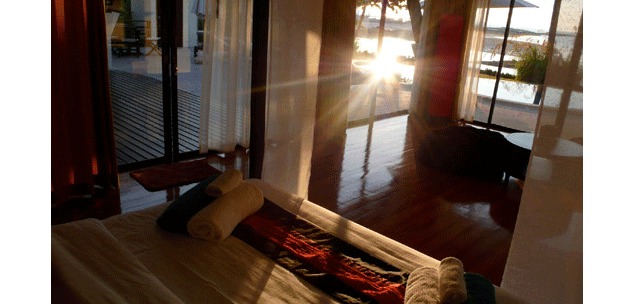 There is nothing like a nice villa on the verge of the water. The swimming pool which overhung the sea, you have to admit, there is worst! The Por del sol villa and its three bedrooms is just heaven. How good this is to let yourself go to the rhythm of the sun! What a pleasure to laze on our beach chairs, a good book in the hands. The well-located villa is a little haven of peace where everybody feels great, just like home. The decoration, typical but modern, zen and elaborate gives a wellbeing sensation that cannot be ignored. Rooms are vast and comfy and the view is mind-blowing. Just admire the sunset, an absolute pleasure. At the end of the day, when your tired skin has turned to gold, opt for a relaxing essential oil massage on the deckchairs next to the swimming pool. We love to have dinner feet on the sand on Chaweng beach for the surrounding but also on the Six Senses Hideaway Hotel's terrace, where delicacy and elegance are waiting for you.
The island is full of good surprises, so find them and enjoy!
Going there: nonstop flight (approximately 3h00) with Cathay Pacific and Thai Airways.