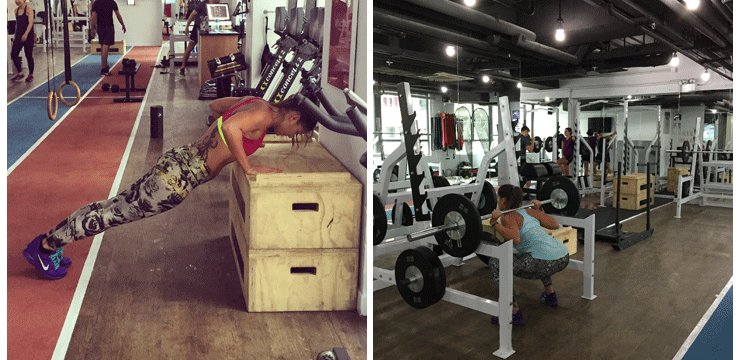 By Vanessa, our Fitness Editor
Maybe you've had or currently have a "classic" gym membership. You make the most of it by going regularly: group classes, treadmill, different machines, maybe even a bit of weight lifting if you feel confident enough going there. But are you really getting the training you need to reach your goals? Does your routine challenge you enough? Are you executing the right moves and in a safe way?
If you're asking these questions or you have fitness goals you don't know how to reach, Pinnacle Performance is for you.
Their philosophy: having a goal already makes you an athlete. Their ambition: giving you training worthy of an athlete in order to reach that goal.
How? With a tailor-made program and individual coaching.
Your coaching will be unique, unlike any other member's. After a personal assessment that takes you through a wide spectrum of strength and cardio based exercises, you'll be given a program created just for you, an individual prescription of exercises, sessions and intensity, with an interactive tool to track your progress.
You'll be coached during every session, whether you choose to join group sessions (capped to 8 people) or just show up and train when you choose to (the facility is open 16 hours a day).
Each month you receive a detailed review and progress assessment, your monthly highlights and suggested goals for the next one.
Tom Summers, Director and Head Coach, has an extensive background in developing professional and competitive athletes around the world. Besides Tom, all their coaches also boast some experience in competing and working with high rank athletes. Whatever your fitness level, all members benefit from a great level of experience and knowledge.
There's no reason to be scared, the only requirement to join Pinnacle Performance is having a fitness goal! Members have very diverse profiles, from full-time athletes to first time gym-goers.
Monthly membership fee starts at HK$ 2500; giving you access to yoga, nutritional advice and meal planning, individual strength programs, conditioning sessions, full assessments and profiling, and coaching.
Drop-in class fee for non-members is HK$ 300.
Pinnacle Performance also offers a free 7-day trial… Time to reach to your own pinnacle!
Pinnacle Performance
7th floor, Morrison plaza,
9 Morrison Hill Road, Wanchai, Hong Kong
www.pinnacleperformance.hk