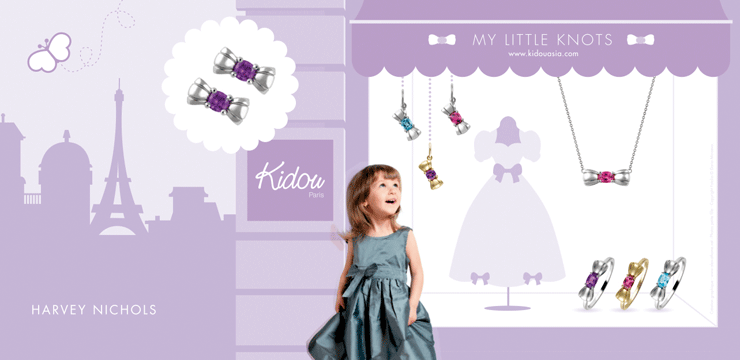 It's never too early to own a precious jewellery, so why not introduce your little ones to the beautiful things in life from an early age! That's the idea behind Kidou who makes an adorable range of jewellery, complete with gold and precious or semi-precious stones; teddy bears, butterflies, sweets and cupcakes, cherries and flowers as well as little characters. All these designs are available for you or your child to choose from! These childhood- inspired themes come to life in yellow or white gold (18 carats please!) set with diamonds, mother of pearl, peridot, garnet or even amethyst. A silver line is also available to fit all budgets. All the jewellery pieces are made to fit children's wrists, fingers and ears. But don't feel left out, all these little items look equally pretty on grownups, so why not treat yourself to a Kidou design! You'll be delighted with the quality; the items are produced by one of the Place Vendôme's jewellers' main suppliers. You can see some of the pieces for yourself at Harvey Nichols at Pacific Place where the brand just opened up its first corner store. Those of you who prefer to shop online can simply go to
www.kidouasia.com
where you can find all the brand's jewellery and accessories (porcelain, frames, leather goods, teddy bears).
Good news for you dear Hong Kong Madame readers: you can get a 10% off Kidou jewellery! All you need to do is show this article when you go to Kidou's corner at Harvey Nichols at Pacific Place or simply enter the code HKMadame when you visit the online store
www.kidouasia.com
*. Take a look for great gift ideas for birthdays, christenings and even stocking fillers too!
*Offer available until 31st October 2013
Kidou
Level 1, Harvey Nichols
Pacific Place, 88 Queensway
Admiralty
Tel. +852 3689 3160
www.kidouasia.com
www.facebook.com/KidouParis.Asia