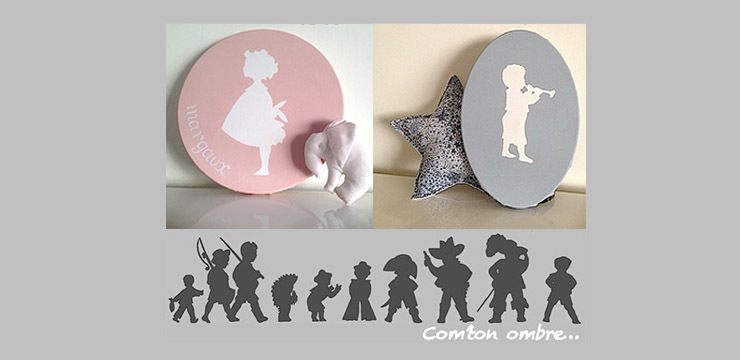 By Delphine

Christmas is getting close and perhaps you're struggling for ideas outside of your usual Lego or Play Doh box, and already have the entire universe of Playmobil?

Or maybe you're dreading the packed malls during rush hour and last minute shopping marathons? Don't panic, this year Hong Kong Madame has found the best idea EVER!

Com'ton ombre…. cute hand-painted picture frames you can personalize that make for the quaintest gifts.

These unique creations will bring a sense of joy and poetry to a child's room.

SO easy to order, you can choose your own silhouette, color and format. It will take just a few days to get these delivered directly to your doorstep and you'll be able to hang them straight away in a bedroom or living room.

An easy and fresh idea, not only for Christmas, but why not …. for the next baby shower, the birth of yours or your friend's future pride and joy, your parents, children birthdays or quite simply to treat yourself and others.

Round, oval or rectangular shapes painted in pastel colors, each frame can include 1, 2…6, 10, 12 pictures, with prices ranging from 300 HKD to 700 HKD. Isabelle does all the creation at home, with great attention to detail and delicate craftsmanship, according to your needs and demands. You can add your child's name… or not. In capital letters… or not. And even add Chinese characters if you're feeling inspired.


This year, you can be sure that:

1/ They'll love it

2/ You won't be getting them whatever your cousin's getting

3/ You won't be sweating tears in a fully packed Toy's R Us

The magic of Christmas can start… with you fully relaxed.

To place an order or simply find out more:

Email : comtonombre@gmail.com

Tel: (+852) 5573 3126