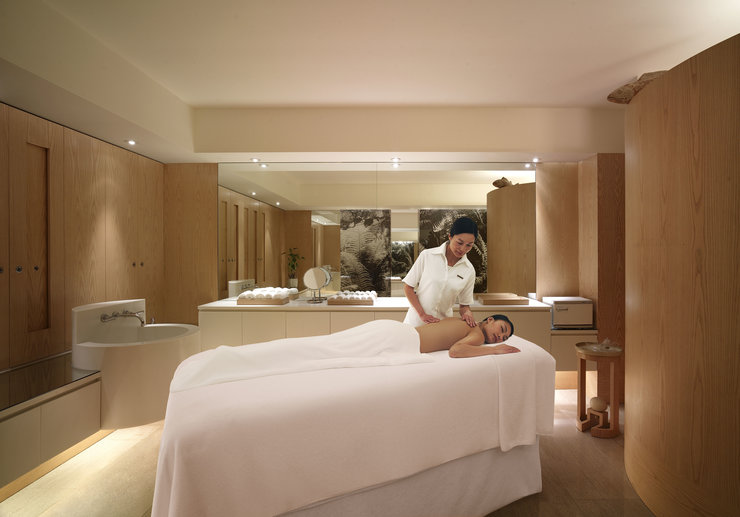 By Aude
New Year's resolutions ? Not really my thing … A workout a day ? Sorry but I don't have time for that. Cutting carbs/gluten/meat/cooked food ? Are you kidding me ?
I find the beginning of the year to always be quite stressful and so was more than happy to enjoy a 2h relaxing getaway at
Plateau Spa – Grand Hyatt.
Who's in for a New Year Reviver treatment ? I am, definitely !
The treatment room is so spacious, it's like having your own well-being retreat, somewhere just for you, where nobody's gonna tell you which resolutions to make … a suite where you can just enjoy the silence. It all start in your own private changing room with a cup of tea, the fluffiest spa dressing gown ever and a feet massage.
Ok, I am ready to move to the treatment room (which is like huge with its own shower and bath-tube, one that could easily fit four people … but today I am more than happy to be alone not having to share a single square feet of MY room).
A sea salt body scrub later and here I am with a soft and glowing skin, all ready to enjoy a heavenly aroma oil full body massage. Followed by a relaxing purifying facial. With a big thanks to my therapist, she was just perfectly warm and welcoming enough to make me feel at ease, listening and understanding my mood but not friendly enough to prevent me from relaxing and enjoying.
You know that feeling when you just enjoyed two hours of massage and relaxation and have to go back to reality starting by going back to the shared changing room ? Well, it is not like that at Plateau Spa. Once the treatment done, you can stay in your suite, enjoy some time for yourself with another cup of tea, a fresh blended fruit juice and some fresh fruits. Nobody will rush you out so just take your time and enjoy.
I don't mean to stress you out but if there's one resolution you should make this year, it's definitely booking yourself a New Year Reviver treatment !
Plateau Spa – Grand Hyatt
New Year Reviver – from February 1st to April 30th, 2017
HKD 1,950 + 10%