by Aude Camus

Opened in 2005, recipient of two Michelin Stars in the inaugural edition of the Michelin Guide Hong Kong and Macau in 2009, which it had consistently retained since then, a regular in the list of Asia's 50 Best Restaurants, honoured with the Sustainable Restaurant Award by Asia's 50 Best Restaurants Awards 2020 and the list of awards goes on … It is fair to say that Amber is an institution, both on the local and international dining scene. But, like chef Richard Ekkebus, who has been with the award-winning restaurant since its opening, like to put it, institutions in Hong Kong can easily become museums. Committed to always challenged the status quo of fine dining in the city, the restaurant underwent a rather radical four-month facelift in 2019 and reopened with a bright-lit dining room and a dairy-free menu reduced in sugar and salt. After six years in Hong Kong, eating my way through some of the best restaurants in town, it was about time I pay a visit to the institution. Hitting two birds with one stone, I not only enjoyed a long-leisurely and very elegant lunch at Amber but also jumped at the opportunity to enjoy an inspiring talk with chef Richard Ekkebus. From Holland to Mauritius and Hong Kong, from missed rendezvous with chef Alain Ducasse to exciting experience with some of the greatest chefs including Guy Savoy or Pierre Gagnaire, from growing a sustainable awareness to acting as a leader in showcasing sustainability in the kitchen, I hope you will be inspired by the following discussion as much as I was.


Thanks for the delicious lunch chef! What a perfect Friday treat. To kick off this conversation, can you start with introducing yourself?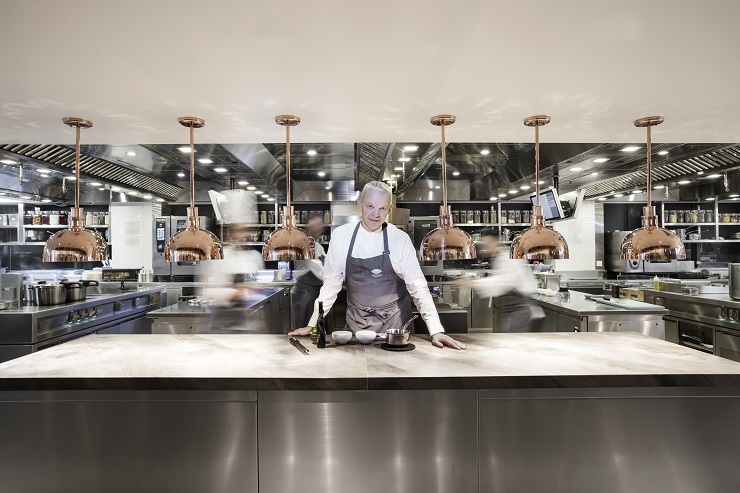 I am Dutch, born and raised. I spent the last 16 years in Hong Kong but didn't come straight from Holland to here. I actually have been away from my country for more than 35 years.

In the early 90's in Holland, the highest level of culinary achievement was two stars. After I won the Golden Chef's Hat for Young Chef of the Year, I decided it was time to expand my horizons and further develop my skill sets with training under the greatest chefs.

That year, two chefs were awarded "Chef of the Year" by Gault Millau (editor's note: an influential French restaurant guide founded by two critics which at the time was known to support nouvelle cuisine when Michelin was more supportive of traditional haute cuisine): Alain Ducasse and Alain Passard. I contacted the first one and got a job as chef de parti in his two Michelin Star restaurant La Terrasse in Juan Les Pins (French Riviera). But shortly after that, chef Ducasse moved to Monte Carlo to work at Hotel de Paris. What I wanted was to work closely with him and because I couldn't go with him to his new restaurant, I decided to reach out to the second chef of the year, Alain Passard. Lucky me, he actually needed someone the start the next week to run the bakery and the pastry at his restaurant L'Arpege in Paris.


But you are not a pastry chef?
Correct. I had some notions. But you know, anything you can learn. And what could I say? It's not like he was giving me options. Pastry was the only position available and I would have gone work for him even if it was to clean the dishes. It also gave me a new set of skills so it was a great experience. And it was supposed to be a short term position only, six month or a year, before I could move to another position. Well, that actually never came and I left to hone my skills under Guy Savoy, who is still today a very dear friend, and Pierre Gagnaire.


You left your home country to go and train under the greatest chefs and you mention you knew you'll have to leave your home country to make a career in Michelin Star restaurants. Have awards and accolades always been a goal to you?
You know I am a rather competitive person. I used to run marathons. I have always been keen to measure my skill set with others. For me it was always about the Michelin Stars. At that time there was no 50 Bests, there was Michelin and there was Gault Millau. Michelin Stars set the tone for a certain level of quality.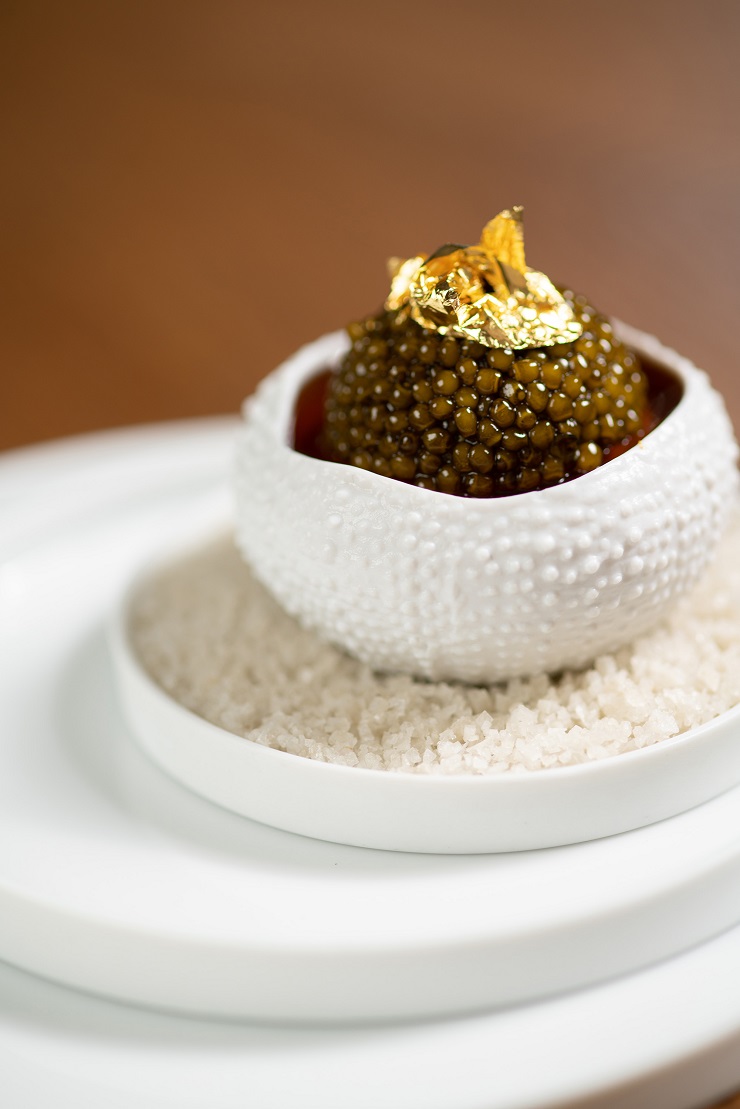 Amber_Aka Uni cauliflower lobster Daurenki Tsar Imperial Caviar
That doesn't mean a restaurant with no star cannot be good but if you are competitive you want to go for the best. It was always very targeted why I went to work for a certain chef, it was my way to explore different types of cooking and sharpen my skills.


What could have been your next move after having worked for the greatest chefs of that time?
When I was at Pierre Gagnaire, Guy Savoy called me one day to tell me his favourite hotel in the world – The Royal Palm in Mauritius - was looking for a chef and he thought I was the right person for this position. The hotel's GM came to meet me in France, we clicked and next thing I know I was on a flight to Mauritius. My challenge was to breathe some fresh air, drawing inspiration from the island and its Creole and Indian influences, into an institution with a very traditional French menu. My first focus has been on using the fresh local ingredients. Why would you want to have seabass on the menu, and therefore have to use frozen fish from France, when you can use the fresh fish from the island? I spent nine years there, shaping a more local identity for the hotel and its cuisine. The environment was also pretty stimulating for me because many chefs would visit the hotel during their holidays, chef Bernard Loiseau was staying there, chef Troisgros was also staying there, asking me about the spices and condiments I was using. I would say it was the premises of Asian fusion cuisine because at that time in France you wouldn't see wasabi or curry in cooking.

It was a very flattering experience and I really felt in love with the country.


Yet you left for another island …
Well, Alain Ducasse called me and offered me an opportunity. What could I say? So I went to New-York but 9/11 happened and the restaurant never opened leaving me jobless. When Sandy Lane in Barbados offered me a position, I packed my stuffs and went back to island life.

Maybe it was the island too much. Or maybe it was the hotel too much. I didn't enjoyed as much as Mauritius and only spent two years there. When someone from Mandarin Oriental offered me a job, I told them I didn't want to do another hotel with a strong legacy and heavy heritage. I was looking at starting something from scratch. This is how, in 2005, I was appointed executive chef for the Landmark Mandarin Oriental, a brand new boutique hotel the group was opening in Hong Kong. The rest … well, the rest is history.


Amber opened in 2005 and received two stars in 2009, in the inaugural edition of the Michelin Guide Hong Kong and Macau. How did it felt finally getting where you've always wanted to be?
Well of course it was very flattering. When we heard the Michelin Guide was launching in Hong Kong of course I wanted to get a star. There was no way I would be the one who didn't get it. But I would have never imagined I would get two stars straight away.

But also at that time I was more aware of the negative side of it. I had become friend with chef Bernard Loiseau which we lost because of the pressure that Michelin brought (editor's note: chef Bernard Loiseau committed suicide in 2003 when newspapers hinted that his French restaurant might lose its Three Michelin Star status). After having wandered the world for many years and learnt from many different cultures, I think Michelin Star was maybe not my first preoccupation anymore.


Speaking of the Michelin pressure, have you ever felt such pressure yourself? Has it been a struggle retaining your two stars for the past 12 years?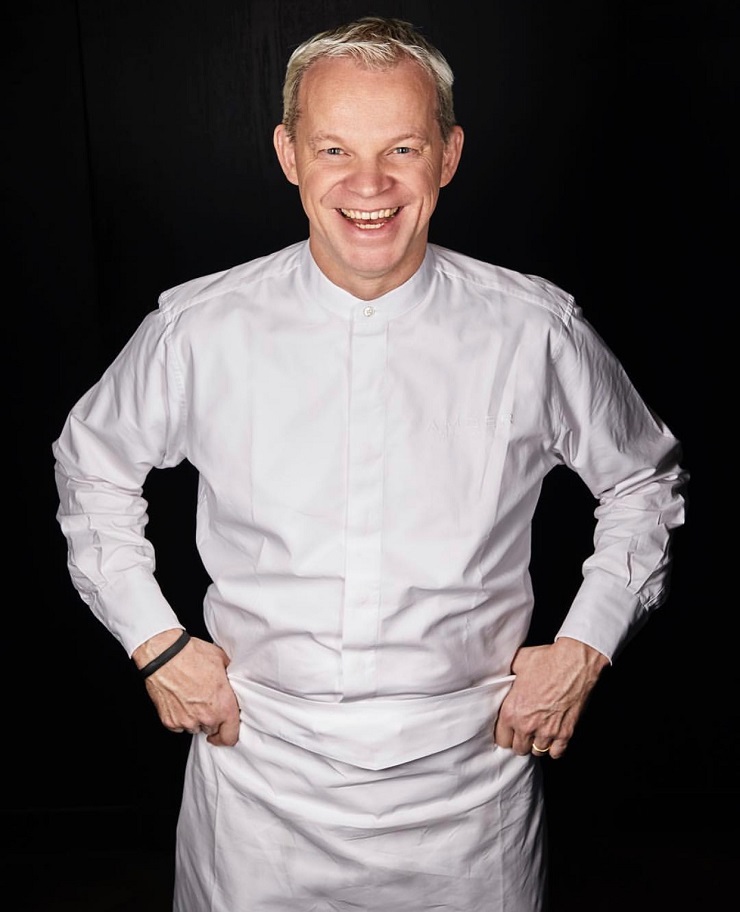 Not really. I am not a complacent person and I feel complacency is the most dangerous thing in our industry. For me overcoming of certain organisational and training problems is more of a stress than just Michelin. Of course we want to do well and be recognised but I never wake-up in the morning thinking "ok, what am I gonna do today to retain two stars".


Does being recognised imply getting the third star?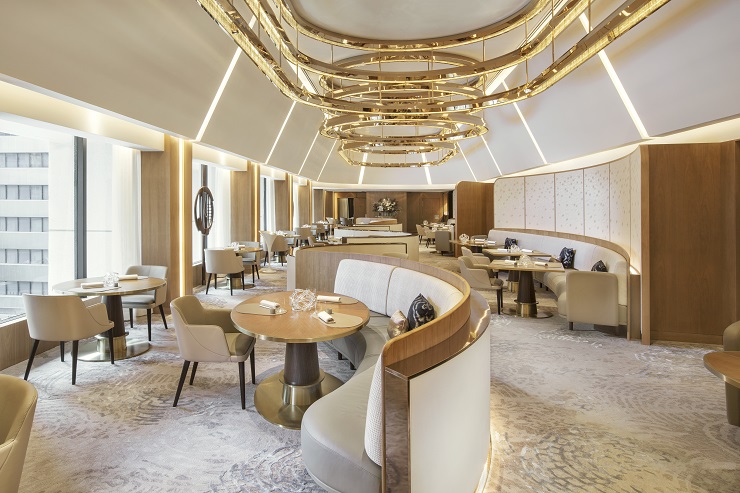 Of course. We didn't do all the renovation just because we were happy and were like "great, let's get a face-lift". We have been around for 15 years and it can be dangerous in Hong Kong. Restaurants here have a shelf life of five to six years. Restaurants in hotels tend to stay longer but they become what I call, without any lack of respect or recognition to this places, museums. I am a forward thinking person, on top of being competitive, and I want to remain relevant and stay ahead. My feeling is that with the former setting of the restaurant the story was fully written already, there was nothing else we could add to it and it was time to rewrite the story.


But isn't it equally dangerous to rewrite the story in a competitive city like Hong Kong when you already had stellar reviews and were still attracting diners?
Of course! When you make changes, you are always going to disappoint some people. It's hard to let go of what you know and what you love. But it was also about attracting a new clientele. When we started back in 2005 we had a rather young clientele, 15 years later our clientele was not so young anymore and to sustain the success of the restaurant we needed to make sure we can still attract the younger gourmet crowds.


To rewrite the story, you didn't only go for an interior design change but also went for a dairy-free, low-sugar and low-salt menu. Quite a big shift, isn't it?
Yes and no. I see it more as the natural continuation of changes we have implemented over the years. 15 years ago we took a stand that we would work with WWF to respect their seafood calendar and not to feature certain fishes on the menu, six years ago we started to eliminate single-use plastics, four years ago we started to use our own bottled water, ten years ago we reviewed our waste management process … 15 years ago nobody talked about sustainability and corporate responsibility here. But I come from a Nordic country and we have that awareness. My vision is that change should come from the top. You know I am seating with you today, it means that I have a voice due to my privileged position in society and I want to use it to raise awareness. And as a chef de cuisine I am experiencing climate changes every day in my cuisine: we get less fish because fish stocks have depleted, seasons start earlier meaning that the blooms do no always bring fruits … there is a real problem. We were doing our part with the old Amber but I wanted the new Amber to really carry this message forward and bring it to another level.


How does it feel being awarded for this awareness work (editor's note: in 2020, Amber was awarded with Asia's 50 best Sustainable Restaurants Award)?
Any award is nice to receive but this one really means something. It's like we calling out other hotels and others restaurants but without giving any names. Others don't want to look bad, they don't want to stay behind. Being sustainable was once nice, it's now becoming a must. This is actually what I've always said to Mandarin Oriental over the past 15 years. There might be nothing to gain today (editor's note: by jumping on the sustainability bandwagon) but there is everything to loose tomorrow. Not only from an environmental perspective but also if government decides to reinforce policies on waste management and you need to trail behind this it will be very difficult to catch-up. I've seen it, it took us six years to eliminate single-use plastics from the hotel's operation so imagine how far behind you are if you are only starting today. This is why we are doing more than what the government currently requires, because we want to stay ahead and because it is the right thing to do.


Is the new menu at Amber also motivated by this willingness to raise awareness?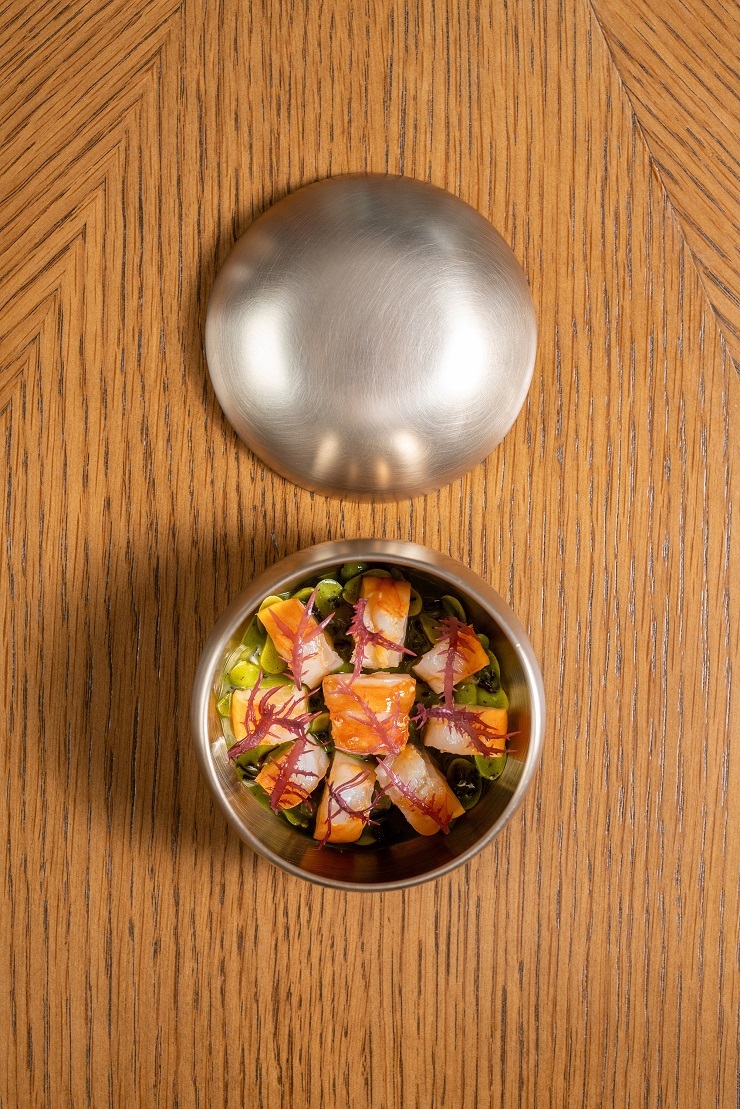 Hokkaido Scallop Sansho Yuzu Moro Kyuri Kinome Shiso Flower
Yes. I am trying to show that we can do indulgent food that is delicious but that is ethically, responsibly managed. It's not like I am going to force you to become a vegan. But I want you to be aware of the impact of eating meat and fish. I want to show you that meat isn't the only source of protein and that plant-based protein is also a thing. On my side I eat predominantly plant-based but I do eat fish. What we do is why try to maintain a balance of 75% plant-based dishes and 25% meat or fish based dishes on our menu. Sticking to that percentage keeps us accountable.

The shift to dairy-free, low sugar and low salt was also motivated by my personal experience of eating at Michelin Star restaurants. When you have a very indulgent meal, you sometimes feel terrible afterwards. You just ate too much. And there is a real guilt – I shouldn't have done it, I shouldn't have ate that much - associated to something that should have just been a happy memorable experience. But the initial purpose of food is to be energizing and I thought "why can't a fine dining experience be energizing?". This is how we started to cook differently, make things lighter so that you can eat more and you do not feel bloated because of the refined sugar for example. But it's not a crusade against the dairy industry. I love a piece of cheese. But as a restaurant serving 6-7-course meals, I feel we needed to find a way for people to fully enjoy the experience and still feel energized.