by Aude Camus

Located at the very top of Island Shangri-La and offering breathtaking panoramic views of the Victoria Harbour, Petrus, opened since 1991, has long been an iconic French fine dining address in town. However, with Hong Kong's ever-involving dining scene, there is always something new to explore in town and even the most acclaimed restaurants sometimes need a bit of reinvention if they wanna stay on top.
Late 2019, chef Uwe Opocensly was brought on board to breathe some fresh air in the iconic venue and not long after the restaurant was getting back the Michelin Star it had lost a few years before. A Michelin Star the restaurant has confirmed this year, after appointing French Chef Romain Dupeyre as its Head Chef (with chef Uwe Opocensky being the Executive Chef for the entire Island Shangri-La hotel). It was about time I revisit Petrus which I did last week to meet the chef and discuss bringing a creative spirit and contemporary twist to such an iconic venue.


Hi chef Romain. Thanks for taking the time to answer a few questions today. Could you start by introducing yourself?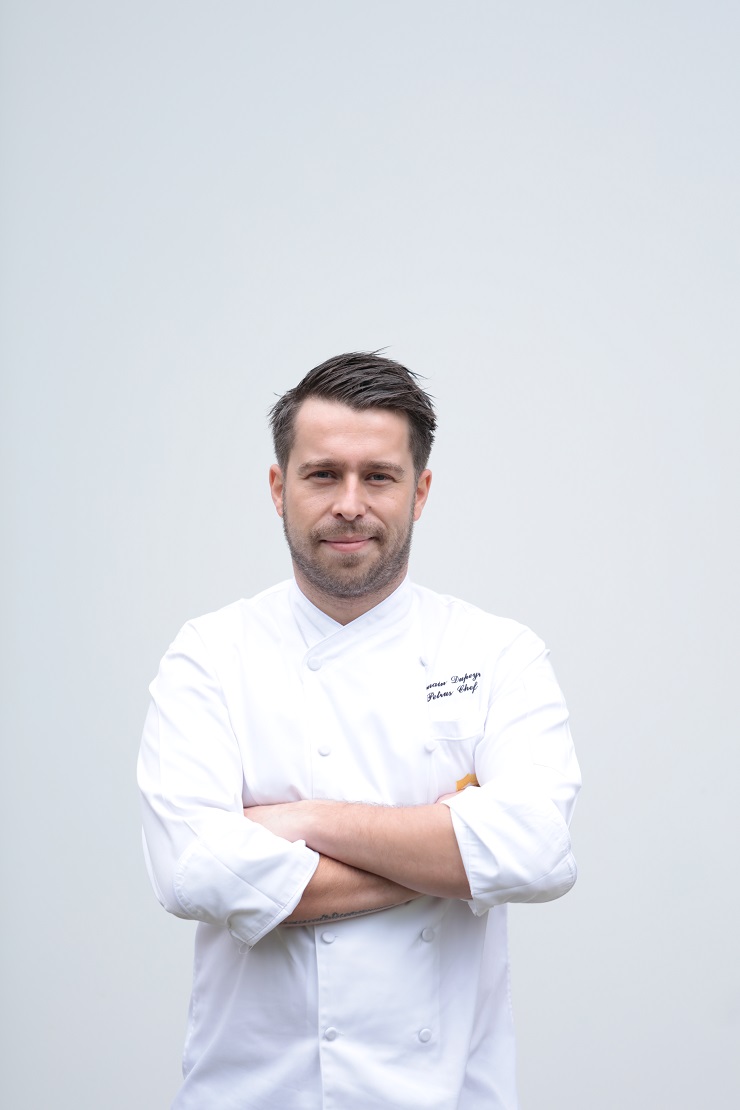 Sure. I'm a 31-year old chef originated from Nice, South of France. I started my career at 15, in my region, as an apprentice at the two Michelin Star restaurant La Chèvre d'Or. After completing my apprenticeship, I was hired in the restaurant at 17 and spent a year there before moving to Ireland. I spent two years in Eire, working at a Michelin Star restaurant still, before the chef from La Chèvre d'Or offered me to work at the about-to-open Shangri-La Paris with him. I then moved to Australia but didn't spend more than two years there. There is no Michelin Guide in Australia and I was missing the unique atmosphere, and unrivalled quality, of such restaurants. I flew back to France, first to join a Michelin Star restaurant in Paris as sous-chef and then went on to work for the Ritz, Place Vendome.


What brought you to Hong Kong?
This exact position at Petrus. Chef Uwe was looking for someone and my friend Adrien Castillo, who works as a sous-chef at Caprice, told him about me. Adrien and I have worked together in no less than three restaurants in France and he knew I was looking for a new challenge. I was based in Bangkok, working for a fine dining, but non Michelin starred, restaurant.


Were you expecting Hong Kong dining scene to be such a vibrant one?
I mean, I'm a chef and I was based in Asia so I knew Hong Kong is one of the world's capitals when it comes to dining. I was very excited at the prospect of moving to a city with so many Michelin Star restaurants. I know being here, and having this position, is a great plus for my future. When I see that chef Ricardo Chaneton, who used to work at Petrus before, has opened his own restaurant – Mono- which has been listed as one of Asia's 50 Best Restaurants this year I feel inspired.


You mention Michelin Stars quite a lot and it seems to me that in your career it has always been Michelin Starred restaurant or nothing. Am I correct?
Yes quite correct. But it wasn't planned at all when I started my career. You know I started when I was 15, I knew a bit about cooking but mainly through my grand-parents who were great cooks. And then I started my apprenticeship at La Chèvre d'Or and discovered a world ruled by almost military rules. The fact that I started my career at a two Michelin Star restaurant gave me the right training to further grow on the Michelin restaurants scene and set the tone for my following moves.


Petrus has been around since 1991. When the Michelin Guide Hong Kong and Macau was first launched, back in 2009, the restaurant clinched a star which it lost in 2015 and only got back in 2020. You came on board right after that and have been working towards maintaining that star. Which you did. Are you now aiming at clinching a second star?
Yes of course. But it doesn't have to be next year. Things take time. We've been lucky, sort of, that the situation has given us more time to focus on revamping the menu, breathing some fresh air into it and get the name Petrus out there again. Just because we have this amazing Louis XV interiors doesn't mean we have to serve old-school cuisine.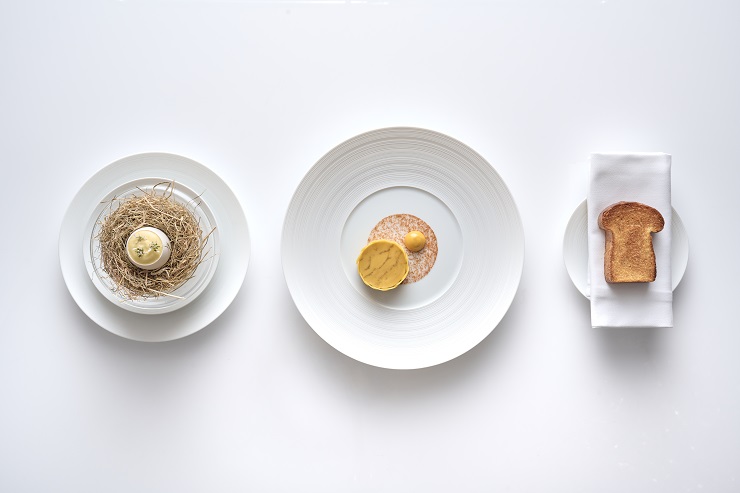 We actually do quite the opposite, offering a contrast between what you see around you and what you see, and taste, in your plate. Today our cuisine is French, with some Nordic inspirations, but very modern and I'm happy to say we've definitely brought some modernity to the restaurant.


Has it been a seamless process breathing some fresh air in such an institution?
Clients wise it's been pretty seamless yes. What's great is that we have managed to keep the trust of our regulars but also attract a younger, rather foodie, clientele. What's been a bit of a challenge for me, I'd say, was to fully take command of the kitchen. All chefs are different and chef Uwe and I don't have the same cuisine at all.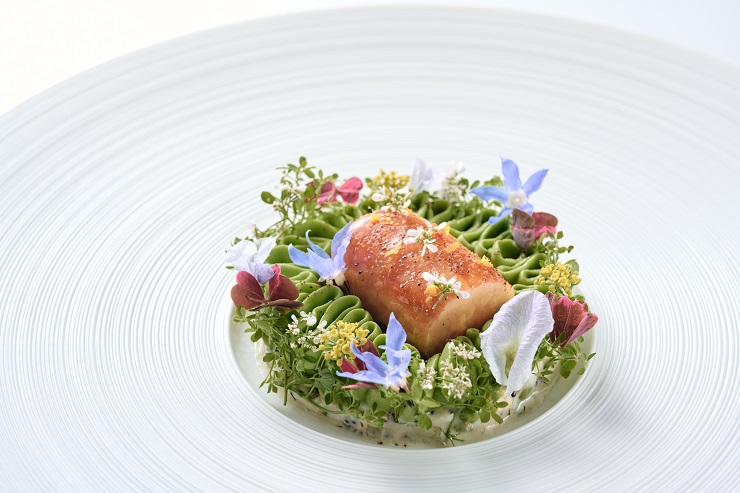 Finding the right balance took a bit of time but today we work perfectly well together. He is the Executive Chef for the entire hotel and I'm the Head Chef here at Petrus. That basically means he will approve the menus, taste the new dishes but, on a daily basis, I am the one in charge in the kitchen. I've also been lucky to have Vaness Choi on board, my sous-chef, who has been with the restaurant for more than 10 years and has been a great support from my very first day. It took a bit of time for me to fully settle in the position. But in the end I think it was a bit of a relief for the team to have me after 6 to 7 months without a Head Chef.


How was it to take your first position as Head Chef during COVID?
Well challenging of course. But at the same time, with the restaurant being closed at night for a few weeks, I also had more time to try new dishes and create a menu which really showcases my cuisine.

We are actually launching a new menu in the next two weeks.


Speaking of your cuisine and the new menu, what would you say is today the dishes that best showcases who you are as a chef?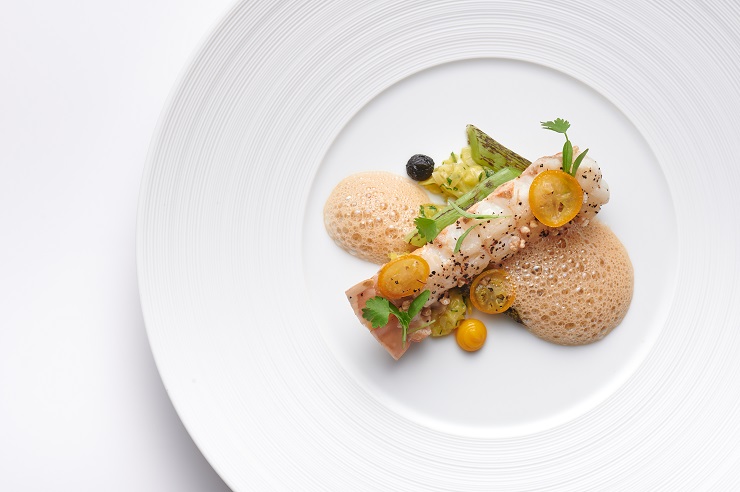 The Norway Langoustine, it's a crow-pleaser with the different texture of sauces and the kumquat kick. I really think it's a dish people remember.

I love to work fishes and shellfishes. It's my deliberate choice to make a menu that is less heavy so that people won't leave the restaurant feeling so full that they almost regret having eaten all that food.


On your new seasonal menu I can see products such as the Mediterranean red mullet, the Japanese Sardines, chickpeas, Harissa … you've previously mentioned your cuisine is French but it seems to me the techniques are French but the tastes are a melting pot of who you are, the countries you've visited and the culinary experiences you've had. Am I correct?
Yes. I 'm a French chef but I don't do traditional French cuisine. Foie gras, vol-au-vent are things one could expect when seeing Petrus' interiors but this is not what I do. And I believe this is why I'm here. To deliver something more personal.


Anything exciting happening at Petrus in the next few months?
The new menu which I was mentioning earlier. We are getting read of the old menu where clients could choose their starters, mains and desserts from a selection. We are going for tasting menus only. It is a better way to tell a story and we will have two mains stories to tell. A seasonal one, with five, six or seven dishes, and the story of the encounter between chef Uwe's cuisine and mine. This last menu, featuring five dishes, offers signatures from each of us such as chef Uwe's famous Red Prawn and the Norway Langoustine I was telling you about just before. I'll also be serving the Tarbouriech Oyster, a dish I started cooking in Bangkok but have kept improving since then.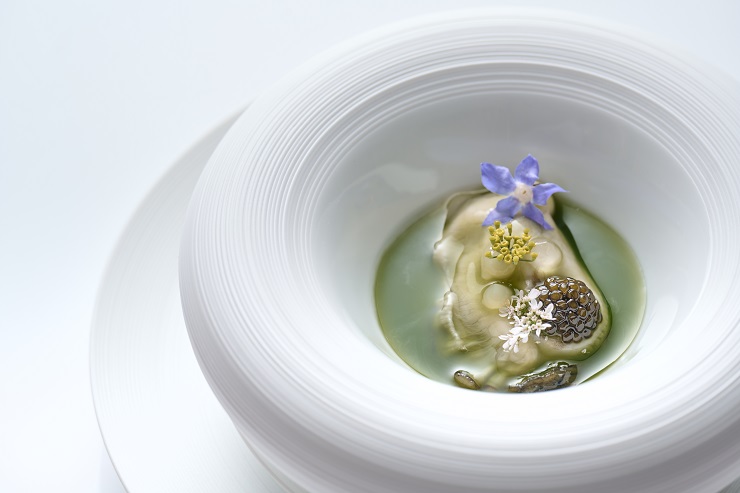 We are also bringing a bit of show to your dinner table with tableside grill for example. We wanna offer more than just a great cuisine, an experience. Great cuisine is good enough to clinch and maintain a Michelin Star. We are now working towards getting the second one.