by Aude Camus
One of the eight restaurants to clinch its first star in the Michelin Guide Hong Kong Macau 2021,
Ando
opened at the beginning of summer 2020, in collaboration with award-winning hospitality group
JIA Group
, just a few weeks before all restaurants in Hong Kong had to face the most serious restrictions ever. A true roller-coaster for its chef-founder Agustin Ferrando Balbi but also a great way to show resilience and excellence in adversity. Now that dinner is back in Hong Kong, the restaurant is already fully booked for the next two months, which is a great problem to have says the chef but is at the same time a lot of pressure for someone who think of his restaurant as a home where he welcomes guests to share his journey from Argentina to Japan and Hong Kong. "Imagine how high are the exceptions when people have waited two months before they can have dinner at your restaurant and knowing that they have chosen to spend their money at your restaurant when they could have spent it at any other venue in town". On the first week of restaurants being reopened at night, I sat with chef Balbi to discuss Michelin accolades, of course, but also hospitality and subtle fusion of very different cultures.
Good morning chef. Thank you so much for taking the time to meet me before your lunch shift. Can you start with maybe introducing yourself and tell us who you are and what made you wanna become a chef?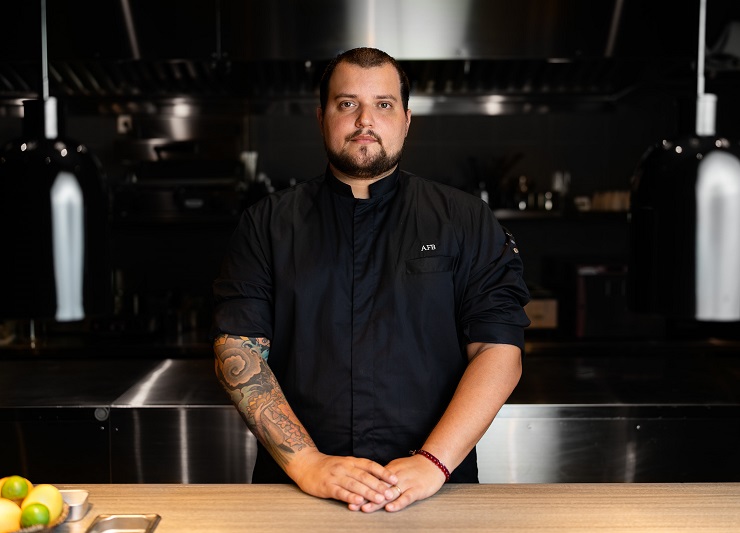 I am Argentinian and I was born in Buenos Aires. I started working in a restaurant quite young, around 14, but not out of necessity, more as a way to spend time during the summer break. My mother had a friend who owned a fancy restaurant in the neighbourhood and I was bored so she suggested that I could spend a few hours there a day. I loved it. Not only because I love food, I can't hide it I like to eat and have always been chubby, but also because I liked the atmosphere, the team work and was fascinated by the chef's gesture … I got really into it. When school started again after the summer break, I continued going to the restaurant in the afternoons and at night. Never before that had I thought of becoming a chef but the more I was learning about it, the more I wanted to do it. I also realised this is a job that can make you travel the world, because no matter where you people always need to eat, and discover new cultures. I still had three years of high school to complete, which I did while working at that same restaurant at night and then join a culinary school in Buenos Aires.

When I joined the culinary school, I already had four years of training with me. I was self-taught but already knew all the basics they were teaching us. I think they also saw that cooking was a true and genuine passion for me so they gave me an opportunity to go and work in New-Orleans and this is pretty much how my career started.


You then moved to Japan. Pretty much the other end of the world, right? Was it a deliberate choice or more a matter of opportunity?
I knew I wouldn't make a career in Argentina. I wanted to work for Michelin Star restaurants but we do not have Michelin Stars in Argentina. And I didn't want to go to Europe. You know in Argentina we all have Spanish or Italian origins, I have both myself, so going to Europe was kind of the easy solution and I didn't wanna do the same as everybody else. I felt like, if I wanted to be recognized as a chef one day, I needed to learn from another culture that was very different from our Latin cultures. When working as a chef in the US, I was introduced to Japanese seafood, which was very new to me because us Argentinians are all about the meat, and I decided I wanted to Japan and further explore that cooking philosophy so different from what I grew up with.


Japan where you spent almost six years?
Yes. I wanted to spend enough time there so that I could learn as much as possible. Not only about the cooking techniques but also about the culture. I actually learnt the language. People there don't really speak English so I didn't really had a choice but also I wanted to understand why Japanese gastronomy is the way it is and to understand that I needed to learn the language. The way they think of their food and their cuisine is very different to our way of thinking and it cannot properly translate with our English words. I also met my wife in Japan.


What about Hong Kong?
After six years, I felt it was maybe time for me to move to a new place. The time I spent in Japan has been very intense, I didn't take a break, didn't travel around Asia at all, all I wanted was to focus on my technique. I was young, I had no kids back then, so was 100% into my work. But then after a few years, you want something else. And Hong Kong people love Japan so I had met a few of them while working in Tokyo. I loved that they speak English but also that they were so much into food! Being a chef in Hong Kong is quite an amazing experience because you have access to, basically, ingredients from all over the world to cook for people who just love going out to eat. Think about it, in Europe or in Argentina, if you are a foodie, you go to the restaurant maybe once a week. Here, some people can eat out every day. It almost feels like eating and discovering new restaurants is a national sport.


You've mentioned a little earlier that you left Argentina because you wanted to work for Michelin Star restaurants. Has it always been a goal of yours, to work for prestigious restaurants and maybe one day receive accolades yourself?
Yes. But without really realizing what it meant. I just knew that cooking was my passion and I had been told that for people to call you a chef you had to have a Michelin Star. I had this very romantic idea that working for Michelin Star restaurants will make me kind of an artist, a master of cooking.


And so how does it feel clinching your first star here at Ando, your first solo restaurant, and in just a few months of opening?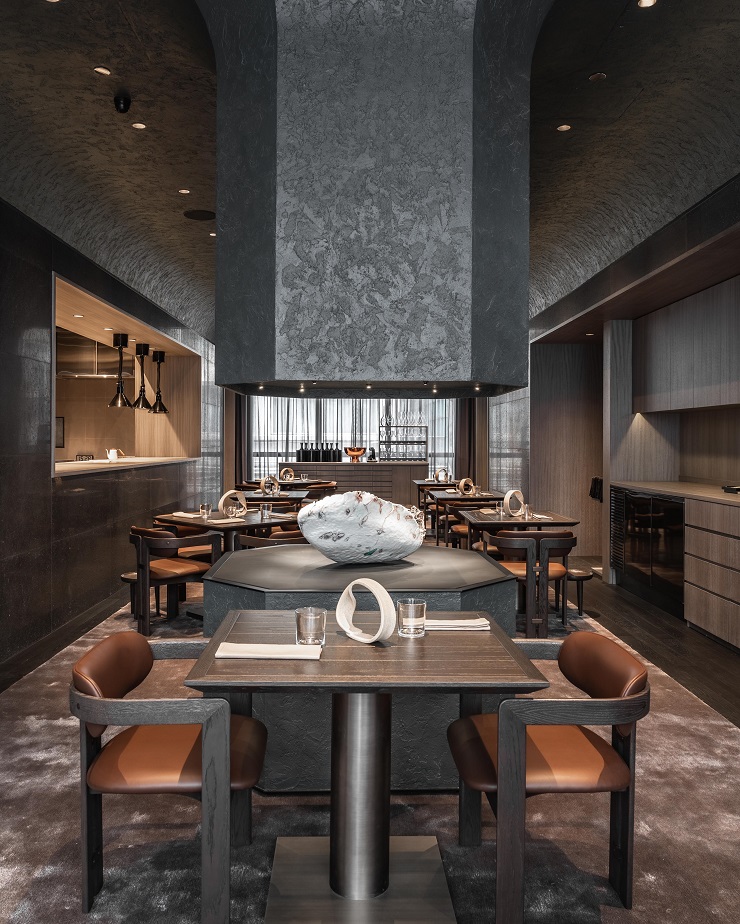 It feels more real. It is no more like this romantic idea I had in my mind several years ago. It's a great recognition of the efforts we've made at the restaurant over the past few months, always doing our best to put the guests first and show resilience and warmth in the COVID-19 adversity. But I don't really like when people say it's amazing, you've been opened for only six months and you are already awarded with a Michelin Star because for me it's not only six months, I have been training and perfecting my cuisine for many many years.


What about the name of the restaurant Ando, does it have a special meaning?
Oh yes! It actually has a few meanings. Ando in Spanish is the "ing" of English. It's the gerundive. Meaning that you are doing something, it's a non-stopping action. Thus those modern art pieces representing infinity that we use as our table centrepieces.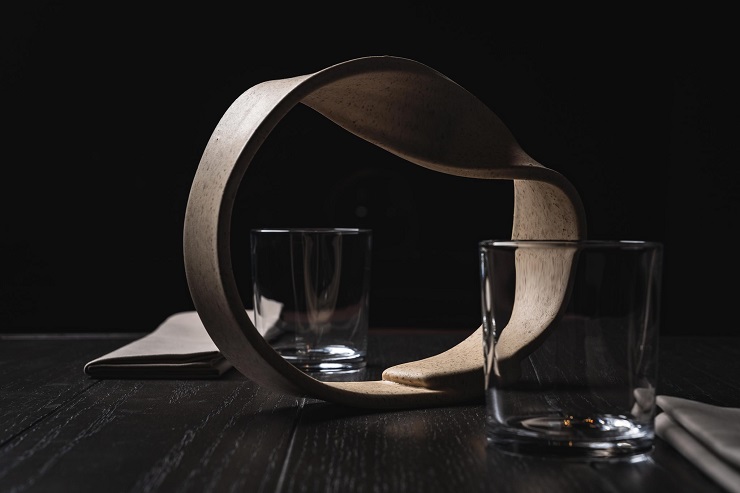 In Japanese, Ando translate as calm and it is a feeling we want to share with our guests, a sense of calmness. And my full name is Agustin Ferrando Balbi. So it's connected with who I am and my story, Ando is my home and I am welcoming you into my home. This is also why if I am not here the restaurant is not opened. Not because I don't trust my team. I know they can cook with the same quality and welcome you with the same warmth than when I am here. But Ando is my home and you don't invite guests into your home when you are not home yourself. This vision of hospitality is very Japanese, it is what we call omotenashi.


Speaking of who you are and your story, being an Argentinian born into a Spanish and Italian family and having worked in the US, Tokyo and now Hong Kong, does your cuisine reflect this mix of influences?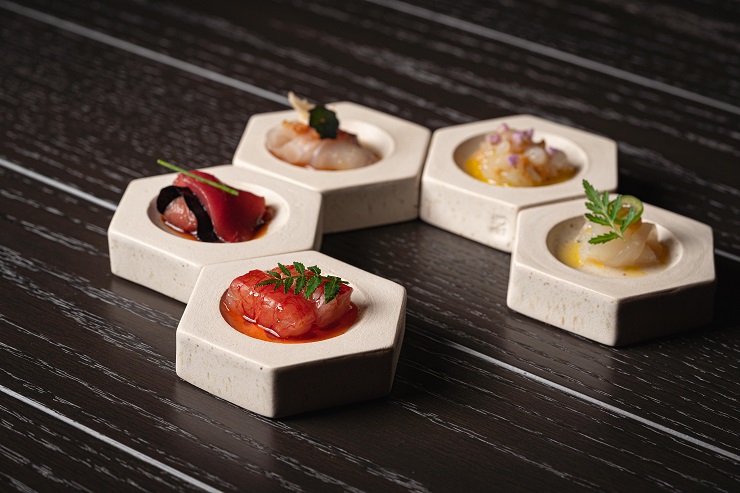 I think so yes. When people ask me "what kind of cuisine do you serve at Ando", my answer is "innovative" because it is just a cuisine that resonates with my journey. That said, it happened that I grew up in Argentina with a Spanish grand-mother who fed me with Spanish food so my childhood culinary memories are of Spanish dishes, the Spanish flavours are in me, and that I was trained with Japanese techniques so the fusion happens naturally. But it's not like I am forcing this fusion and putting a sushi on top of a paella, it is way more subtle than that. I am telling my story with my dishes and that story can resonate with very different people, for very different reasons, because it is a mix of cultures.


Which of your dishes would you say is the most personal one on your menu?

The Sin Lola, or Without Lola, which is a dish my grand-mother Lola used to make. She is unfortunately not with us anymore but I still do the dish thus the name. The dish is a very comforting one, a rice in soup. It is our most rustic dish on the menu, yet much more refined than the rice I was eating as a kid, but it is the dish that goes to every guest's heart because it is more complex than it seems. It is Spanish in the way it is cooked, but it is served the Asian way, at the end of the meal between the meat and the dessert. This is what I mean by combining cultures in a subtle way.