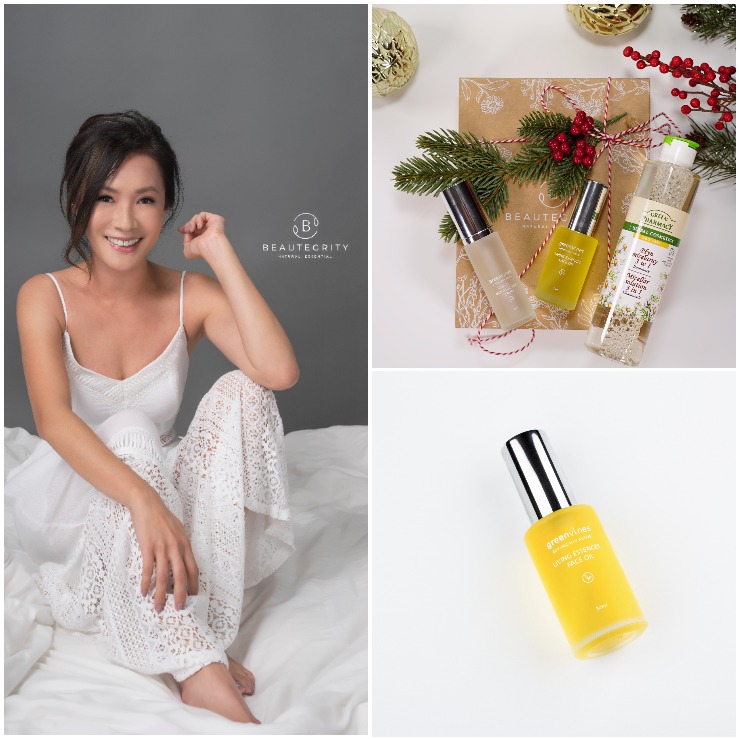 By Aude
Have you ever wondered what is inside those beauty products you are using? I mean, we all know that parabens, silicones, preservatives are not good for you but is that it?
I thought I was quite knowledgebale on the topic, but that was before my lunch with Emily! Take your daily moisturizing cream … a subtle mix of oil and water. Have you ever tried to blend oil and water together? Guess what, it is impossible without a little help from chemicals. What about that cutie paper mask … ever wonder how how mask stays soaked in "the moisturizing concentrate" (for up to 2 year sometimes)? You can thank the preservatives for that!
Oh don't worry, we are all pretty much all the same, blissfully unaware. I'm equally excited and utterly nervous to find more from skincare guru Emily …
You were in banking before your twins birth, how did you end up being an organic skincare guru?
I was actually inspired by my friend, Evelyn friend, from my school in Taiwan, Evelyn who created Greenvines, a Taiwanese beauty brand. We know each other from school in Taiwan. That kinda school where everyone wants to do the same things: to work in Finance, be successful and make a lot of money. I thought I wanted that too and even worked as a Finace executive for Goldman Sachs. Evelyn followed that path too. But then six years ago, she decided to do something totally different: to start growing sprouts in a farm! I know … sprouts! It was surprising for me at first but as Evelyn is one of my sister's closest friend I have been following her entrepreneurial journey. I must confess it has opened my eyes to a new way of thinking!
And then Evelyn, and her associates, created Greenvines extracting the essence of sprouts to develop a safe and nutritious skin care line. After the birth of my twin boys I was eager to know more about what is good for me and my kids. I learnt a great deal from Evelyn and Greenvines and my passion really grew from there.
And now, you are launching Beautegrity?
Everything that I have learned, I know other women will be interested by that. It is not just about selling products, it is also about educating consumers.
I wanted to create a website with things that I need, and that I want to find here in Hong Kong. When it comes to skincare there is a gap between mass-market products and super high-end brands so I decided to handpick a collection of beauty essentials that are affordable, good for your skin and easily accessible in one online beauty hub.. Beautegrity curates the best selection of quality, natural and affordable skincare products for Hong Kong beauty lovers.
We strive to be 100% organic but, in reality, there is rarely such a thing as chemical-free skincare. Most natural and organic beauty products use some chemicals to preserve or stabilize the natural ingredients. Our focus is to keep exposure to chemicals as low as possible. We seek out the best quality skincare products at affordable prices and always highlight the ingredients so our customers can make the most informed decision about their skincare.
How many brands do you have on the website?
Beautegrity currently carries four brands.
Greenvines
is our hero brand. I love their products from moisturizing serums to cleansing makeup remover, shampoo and hair treatment oil. Their anchor product is the
Living Essences Face Oil
that combines the hydrating powers of 12 different natural oils and blue coconut seedlings. It helps the skin to absorb facial lotions with maximum benefits.
We also carry
Mon Bonbon
, a Taiwanese baby care brand, that offers gentle moisturizing skincare products for little ones. My kids love it! I did a little blind test with them, had them try different bubble bath from different brands and Mon Bonbon came out top!
Green Pharmacy
is a line of organic skin care products from Poland and
Akar
an exotic Tibetan-inspired skincare brand.
What are your top beauty tips?
Go green one step at a time. Being enthusiastic about a new organic routine doesn't necessarily mean throwing out all your usual skin care products. Shift to natural skin care gradually leaving your body time to adjust.
Organic products respect your body's natural PH balance so don't be afraid to use facial products on your hands or shoulders for a lighter moisturizing effect. Similarly, your face isn't the only part of your body craving for cleansing! Restore your skin's protective layers by applying toner on your whole body after shower or bath.
Don't let the unseen parts of your body dry out. Irritated by friction, we tend to forget about areas such as inner thighs or breasts that are always encased in clothing. Use face oil to instead of your everyday cream for deeper hydration on your delicate and sensitive skin parts.
Create a special pampering day for your skin! Lotions are a mix of oil and water with chemicals thrown into the process to bind them together. By replacing lotions with face oils –more expensive but also more soothing, give your skin a full cleanse and moisturize one day a week after your shower.
One last word?
green living is about finding the right balance. The balance between your personal life and your working hours. The balance between what you want to achieve and what you can do. The balance between going green and reallistically working out what you daily life allows you to do. I am very honest and practical. Of courses using natural skincare products makes me want to pay extra attention to my nutrition for example. But it is tough to shift to a 100% green lifestyle, it is expensive and not practical neing a mumpreneur with only 24H in a day. I am always looking for the right balance of sustainable and realistic green living.
http://beautegrity.com/
https://www.facebook.com/beautegrity