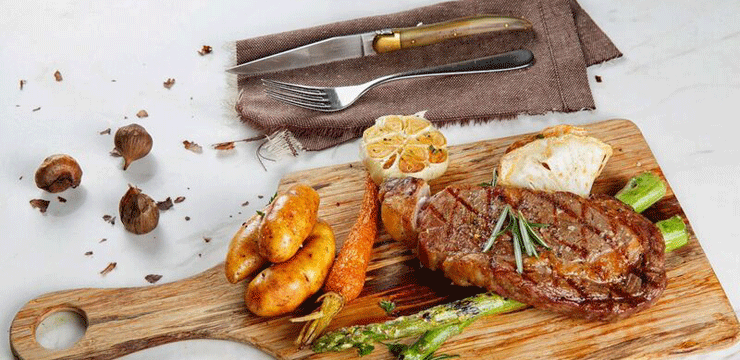 By Aude
Good morning meat lovers, there is a new steakhouse in town ! Hong Kong has been a carnivorous paradise lately : steakhouse, premium burgers, butchers shop … there is not a single week without a new steak. Well, what about diner at a little newbie? I am talking about Marbling by Mr Steak. Mr Steak? A gourmet food importer, a japanese and US beef importer also. Importing is good, tasting is even better so Mr Steak has decided to open his very own steak place. Are you ready to steak?
Well, if you love meat how come would you not be attracted by a place called Marbling? Marbling? If you are a meat lover you know what I am talking about, if you are not marbling refers to the streaks of fat. The more marbling a steak contains, the better it is … tasty, tender … all you can expect from a good steak. Yummy! Time to eat, no?
Come with a bunch of friends and seat on the very animated terrace or enjoy a more intimate diner inside. Then grab a menu and make a choice! Tonight, I am listening the staff, I will go for the fixed dinner menu with signature petite steak tasting. Starting with an avocado & steamed dungeness crab and following with a very comforting soup of the day that tastes so much like home. Now I am ready for the masterpiece ! Bring me some steak! First the Dry Aged and the 400 Days Aberdeen Prime Steak, aged by Mr Steak himself in Aberdeen. But as far as I am concerned, there is a true rock star in this plate and this is the Wagyu. So tender, so tasty please bring me the all beef! Next time for sure I will order meat, meat and only meat!
Marbling by Mr Steak :
Shop C, Cleveland Mansion
5-7 Cleveland Street, Causeway Bay
Cost for two :
2x Menu diner : 2 x 498 HKD + 10% service charges
Salad, soup, signature petite steak tasting saga, homemade sweet, coffee or tea
www.marbling.com.hk