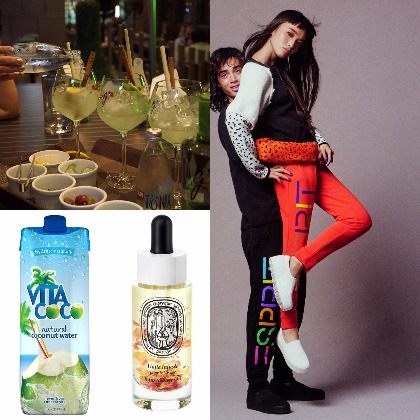 By Aude
Fashion crush : Esprit by Opening Ceremony

When iconic brand Esprit meets super trendy Opening Ceremony for a collection of 40 outfits and accessories we want it all! Colorful outfits, reversible pieces … Our fav? The very vintage sweatshirts and hoodies with Esprit's iconic multi-colored logo.
Available at I.T Silvercord – Shop LG01 Silvercord, TST

Beauty crush : Diptyque Infused Face Oil

We've been addicted to Diptyque beautiful and unique candles for many years now. But recently discovered they also have skincare and body care lines. This Infused Face Oil – launched on September 1st – is a killer. Beautiful and precious packaging, exhilarating fragrance of fresh rose petals and bitter almond with a touch of powdery iris base, intense moisturizing power. Our new morning routine: 1 drop of this oil in our moisturizing cream for a smooth and revitalize skin.

*HKD520/30ml


Happy hour deal: Gin & Tonic Tuesdays x Chez Patrick Deli

A gin tray … How cool is that?

Every Tuesday from 4 to 8 pm, this tray will weave its way around the deli, loaded with gin by G'vine (French luxury gin distilled from grapes and infused with vine flowers), fresh fruits, peels and herbs and tonic water. Play it like a mixologist and create your own unique Gin&Tonic!

Available at Chez Patrick Deli on Star Street and at Brim 28. *HKD88/Gin&Tonic

Healthy crush: Vita Coco

Coconut water is not new, but with that humid and polluted weather, we have been stocking up a lot of it lately. Our fav? Vita Coco. Punch and recyclable packaging, fresh and tasty taste … Really feels like sticking a straw in a fresh coconut. Our fridge is full of 1L bottles and we never get out without a 330ml one in our bag … Coconut everywhere, anytime!