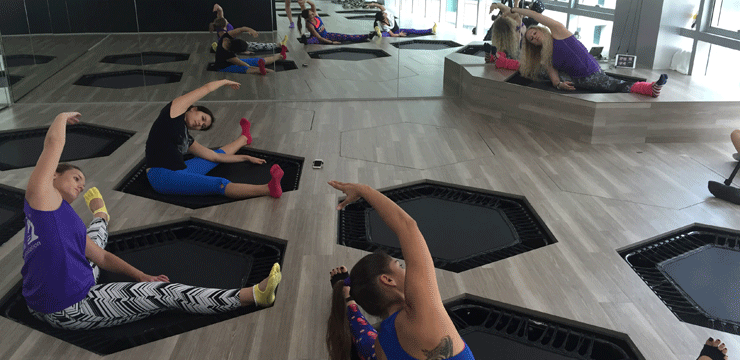 By Vanessa, our Fitness Editor
Remember BounceLimit? It was the first dedicated mini-trampoline fitness studio to open in Asia in December 2014. Ideally located in the heart of Sheung Wan, I had the great pleasure to check out for you that bright studio and their high intensity and adrenaline pumping classes
here
.
To celebrate their first anniversary BounceLimit added a new program, proving once again that exercise can be sexy and fun: DanceBounce. Time to use your inspired dancer's moves and unleash your inner Beyoncé!
In the 50 min class, Megan Berger, professional dancer and BounceLimit rebounding certified instructor, will teach you different types of dances including burlesque, hip-hop, jazz, ballet, and more, on rebounders, reducing shock on knees and joints and challenging the core a lot more.
Technically, it's a whole body, lower intensity workout, with more coordination and balance involved. Choreographed movements, dance moves and fitness are combined with great tunes for a bit of stress release and fun.
"We are made to move and unfortunately, in our modern society, we don't move much anymore. This program is designed to add a bit of fun, flair to those who enjoy moderate fitness classes, the best thing is that you can emphasize your training on core and balance while you learn to coordinate to fun routines." points out Lucia Tam, the studio's senior instructor and dancer.
BounceLimit offers a diversity of classes to try if you haven't yet: BeginnerBounce, BouncePilates, BootCamp, TRXBounce and their two famous cardio classes, AirBounce and CombatBounce. All of them are amazingly effective in their style at burning calories (up to 1000 calories per hour!), building core and/or back muscles…
Prices start at HK$ 280 per class.
More pricing details and class schedule on
www.bouncelimit.com