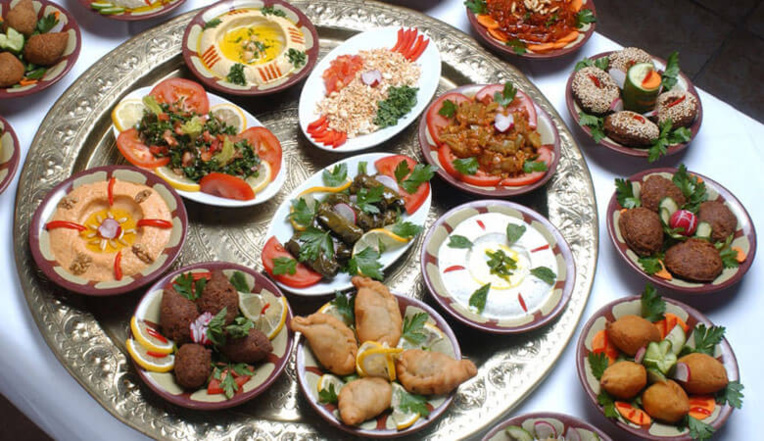 By Delphine
From outside, you can barely notice it. The door is opened, sitting at the bar, a couple of regular customers are chatting and enjoying falafels. Yet this small little restaurant, opened a few months ago is already full every day. As I am a big fan of Middle-Eastern cuisine, I could not resist and called my 2 foodie friends for a lunch there. Hesham, the owner, a true Egyptian guy directly landed from Cairo, is adorable. He takes us downstairs where oriental lamps are hanging from the ceiling and Egyptian drawings color the walls. Yummy smells of kebabs, tajines, mezzes and other Arabian specialties make me feel just like in a small bar in the heart of Cairo.
The set lunch is a great deal. Appetizer/main/dessert and coffee or tea for less than 100HKD, I say bravo! The regular menu is so appealing, we cannot resist ordering some other dishes as well. No regret, everything is delicious. Hummus is to die for, Fatoush salad is perfect and does not last more than 1 minute before ending in my tummy. What can I say about the seafood tajine? When temperature are falling a bit it is exactly what I was looking for. Huge gamba and tender calamari are floating in a mix of spices and tomatoes. Wowowow so delicious !!! The lamb is not bad either. Pfiou, maybe we ordered a bit too much… No worries, Hesham will pack our leftovers very gently and I will be more than happy to have some for my dinner tonight.
One coffee and it's already time to go back to Hong Kong.
But I'll be back !
Address:
G/F, 9 Lyndhurst Terrace, Central
Phone:
+852 2670 0005
Facebook
:
https://www.facebook.com/profile.php?id=100014284630112&fref=ts
Opening hours
: from Monday noon to Sunday night
The bill for 3: 576 HK$
1 set lunch (appetizer/main/dessert/hot drink): 98HK$
1 hummus: 54HK$
1 fatoush salad: 54HK$
1 seafood tajine: 175HK$
1 lamb shawarma: 125HK$
1 mint tea: 35HK$
1 coffee: 35HK$