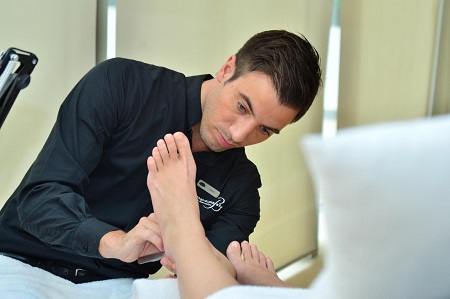 Professional footballer to foot care may seem an unexpected career move but Albin learned the importance of podiatry when he twisted seriously his right ankle on the playing field.
Born and raised in Paris, about 8 years ago, he started to work in five-star hotels on several continent and countries. Now he's in Hong Kong, at the Landmark Mandarin Oriental and loves it.
Hi Albin, you moved to Hong Kong five years ago, where did you work before?
That's right, 5 years already in this amazing city. I left France about 8 years ago to go to Dubaï where I stayed one year, then 2 years in Mauritius island.
What do you particularly like in HK?
Its dynamism, the security and safety, its beaches and hiking trails, the efficiency and proximity with other Asian countries.
What is your favorite restaurant?
« L'atelier de Joël Robuchon » ! I was lucky I could have dinner there and Monsieur Robuchon was there, very welcoming and caring which made the experience unforgettable.
Your favorite spa (or gym), excluding the Oriental Spa?
During my leisure time, I love to exercise and relax at the Hong Kong Football Club. This spot is perfect to practice tennis, squash, gym and my passion, soccer. Its incredible pool in the middle of Happy Valley makes this place a perfect one.
Your favorite Holiday destination ?
Cape Town and its breathtaking landscapes and wines (even if my favorite ones remain the French ones J)
What kind of shoes would you recommend to walk in HK streets? Which one should we avoid?
Hong Kong is on a hill. The sidewalks are often unstable. For women on high heels it might be a pain. I recommend wearing a pair of comfortable shoes anatomically correct, moulded all the way to the heel, thus having a comforting effect on the forefoot and arch.. And please keep a pair of high-heeled shoes in your bag so you can put them on just at the entrance of the restaurant.
Your favorite App ?
WhatsApp because it's friendly and allow us to chat with our relatives, colleagues and friends in a very easy way. We can also send pictures, videos, files which is very convenient. Moreover, it is free everywhere in the world.
Never without your….
ID card.
Finally, what good tips can you give us to keep perfect feet, even in Hong Kong?
A daily foot massage with a specific moisturizing cream for at least one minute every evening. One visit to the Oriental Spa so I can tell you everything about feet and share my best tips.
Landmark Mandarin Oriental Spa
15 Queen's Road Central, Hong Kong
+852 2132 0188
http://www.mandarinoriental.com/landmark/luxury-spa/pedi-mani-cure-studio/