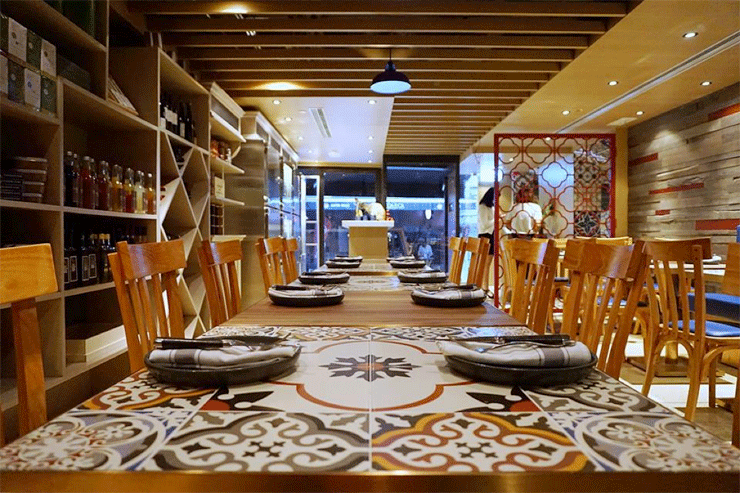 By Lily
It's been several weeks that I have been wanting to try Cochin run by chef and restaurateur Renaud Martin who worked with Philippe Orrico at the Upper Modern Bistro.
Cochin is located at the bottom of Peel Street. First impression – it really smells and feels like the Mediterranean. I loved the mosaic tables reminding me my grandmother's ones, plus there are dishes stacked on shelves filled with gourmet products for sale. We were very quickly transported to a peaceful intricately decorated world.
Why Cochin? Some clues for you in the bathroom… Cochin is a breed of Chinese chicken but also the gateway to South India.
Let's start!
Mise en bouche with a foie gras crème brulée and croutons. Delicious !
For my starter, I was advised by the chef to go for the special of the day - which was the last white asparagus of the season served with greens. I also had the octopus carpaccio on a bed of eggplant caviar and wasabi. The starter was well mastered, flavorful and generous.
For the main meal, I have chosen the cod and mushrooms with seasonal vegetables, including green and yellow zucchinis and new potatoes – my Proust's madeleine!
The gastronomic journey was delicate, efficient and well-seasoned. To accompany my sea-food dinner, I chose a delicious Bourgogne – a Saint Romain Alain Gras. Absolutely perfect – if you love dry white wine, I advise you try it.
Perfect Frenchie that I am, I could not resist to the the cheese platter – trust the waiter for a selection from Frères Marchand. And the bread? I will get back to that.
My generous dinner finally ended with the chef's millefeuille served with vanilla ice cream. Just perfect. I was enthralled!
From A to Z I have got nothing but good things to say. It is exactly the kind of food that I love - excellent products, original but simple recipes and perfectly cooked food.
Faultless food from chef Renaud Martin – don't hesitate.
Affordable for such a great restaurant in Hong Kong.
Special note for the bread - it is from Grégoire Michaud, and I am sending this message to him: Please open a bakery, WE WANT YOUR BREAD AT HOME! :-)
The bill for two people:
-Foie gras crème brulée, croutons – 95$
-Octopus carpaccio, smoked eggplant caviar, capers, tobiko wasabi – 175$
-Chef's special 158$
-Miso 'Jerk" black cod, mushroom consommé, picked mushrooms – 255$
-Side dishes x3 – 200$
-Les frères Marchand 3 cheeses – 195$
-Millefeuille, crème légère, vanilla ice cream – 120$
-2 glasses of Saint Romain, Alain Gras 2014 – 2x $198
Total : HK$1,586
Cochin, 26 Peel Street, Central, Hong Kong, +852 2561 3336
www.cochin.hk