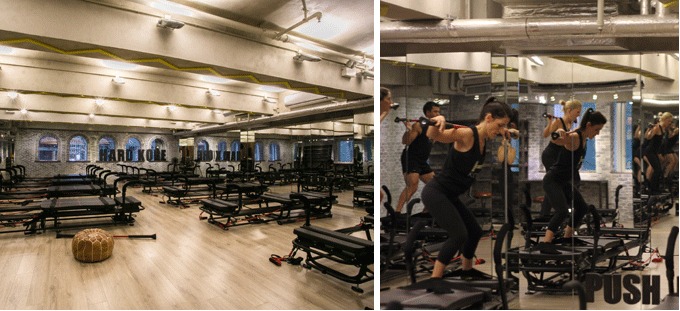 If you're trying hard but can not get rid of those spare tyres and other podgy areas, then you need to try the Lagree Fitness Method at H-Kore Studio in Central. Believe us, our muscles worked so hard we were barely able to type on our keyboards when we came out of the session! We have to admit we had to take a couple of breaks because it was so tough! For the lowdown, this sport is a mixture of a gym workout and Pilates. If you're sporty, this is for you. We guarantee you'll have a goddess physique in no time! After battling it out with your machine, you'll be as defined as a figure skater! Abs, arms, thighs and buttocks- nothing gets left out. The exercises are all done on the machine, with or without bands around the feet or hands, and the number of reps depends on how hard you want to work, then it's over to your muscles to do the rest. You work your strength, endurance, cardio, balance and flexibility all at once. The instructor watches and corrects you if you're in the wrong position, and they will also encourage you too- which is very important when you're about to give in! This all happens to the sounds of energetic workout music which helps boost you even more! One last word about the studio design (and the cleanliness); you would think you were in a New York! All in all, this is a really good new sport to try out (if you're not a wimp of course!)

Take part in our new competition to try to win free admission to a H-Kore class!

From today until 12th April 2013, any Hong Kong Madame reader who 'likes' the H-Kore Facebook Page will automatically enrolled into a lucky draw to win free admission to one of the 10 classes available (limited to 1 free class per person).

To participate in the lucky draw send your personal contact details (name, phone number and email address) to the H-Kore 'INBOX'. Please mention that you are participating in the Hong Kong Madame - H–Kore competition. All information will remain confidential. The results will be announced on 15th April 2013 on the H–Kore Facebook Page.

H-Kore

3/F Wincome Centre, 39 des Vœux Road, Central, +852 2441 9000
Facebook page
h-kore.com