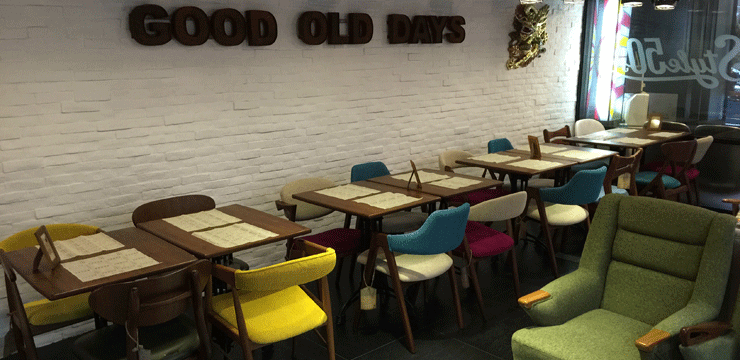 By Delphine
Just imagine: you're having a nice coffee in a 50's-themed coffee shop when you notice there are still price tags on the chairs, tables and sofas. OK they just opened but what's the deal?!
Out of the goodness of your heart you inform the nice waitress of these mishaps but she assures you everything is as it should be. That's right, everything you see you can bought back home! Chairs, stools, tables, sofas, coffee tables and even the lighting! Unsurprisingly you won't find two of the same chairs and the sofas come in all colors. All furniture is eco-friendly, made to order in Thailand. Based on the different styles on displays, you can choose your color, size, height and fabric. In fact the coffee shop belongs to Style 50s brand who also have 2 huge showrooms in HK.
What's happening in your plate? You can enjoy your tea or coffee with a traditional English breakfast (eggs, bacon, bagels, toasts), a pasta salad or a snack later on in the day, or even Tofu Fa, the house specialty that's made fresh every morning (we're not giving you more details, if you've never tried it, it's a must).
Good Old Days Café
9-11 Shelter Street, Causeway Bay
Tel: 2320 1198
The bill:
Espresso : 26HK$
Teas: 28-32 HK$
50s All Day Luxury Breakfast : 88HK$
Mushroom Linguine: 72HK$
Tofu Fa: 18HK$
Showrooms Styles 50s
:
http://www.style50s.com/
10B, On Shong Industrial Building, 2-16 Wo Liu Hang Rd, Fo Tan, Shatin
Shop 1019, 10/F, Horizon Plaza, 2 Lee Wing Street, Ap Lei Chau