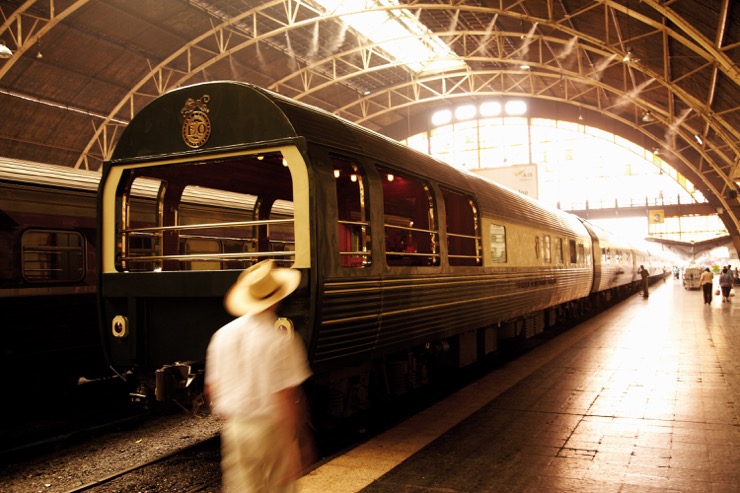 by
Gayatri Bhaumik
As I walk into the Post Bar at Singapore's iconic Fullerton Hotel, I spot a sign saying the bar's closed for a private event. I'm about to embark on a three-day, two-night journey aboard the legendary Belmond Eastern & Oriental Express train, and this is a first tangible sign of the luxury and exclusivity the service offers.
For 25 years, the Belmond Eastern & Oriental Express has plied its route through Southeast Asia, connecting the capitals of Bangkok and Singapore and meandering through parts of Malaysia. Over the years, it's thrilled thousands of passengers with its sterling Asian hospitality, superb F&B offerings, comfortable accommodations and insightful excursions. They say that travel is about the journey, not the destination, and as I'm about to find out, this old adage is especially true aboard this illustrious train.
All passengers boarding the train in Singapore for this December journey have arrived at the Post Bar to check in. After getting cabin and dining assignments, we're treated to nibbles and drinks — as you'll see, we definitely won't go hungry during the trip — before being shuttled to Singapore's Woodlands train station, whisked through immigration, and finally and amidst much excitement, board the train.

Aesthetically, the train features plenty of old-world charm and Art Deco vibes with gleaming wood panelling, Thai silk upholstering, Tiffany-esque lamps and brass accents. My first stop is my State Cabin, right at the front of the train.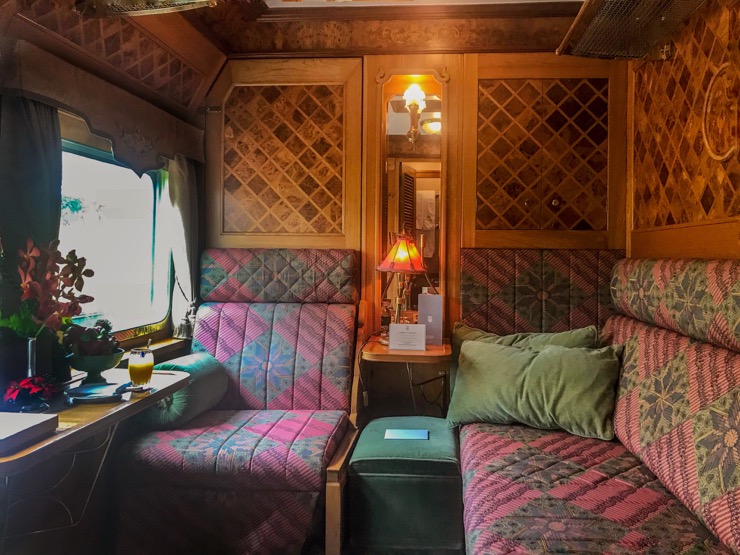 Photo credit @Gayatri Bhaumik
On one side, a couch doubles as a single bed by night; on the other, an armchair by the postcard windows is perfect to lounge on while taking in the views — or perhaps writing in your journal on the built-in table. There's even a fully-functional ensuite, and a little closet to hang up all your clothes (a necessity, as you'll see later).

As the train pulls out of the station, my Cabin Steward brings afternoon tea, ensuring a very civilised start to the trip. Monty — the Cabin Steward for the 'A' car — has been with the Belmond Eastern & Oriental Express since it launched some 25 years ago. And he's not the only one. Many of the staff have been with the train for years, ensuring a high level of knowledgeable, personalised service.

As the afternoon slips away, guests on the train begin preparing for the evening. In keeping with the old-world feel of the train, guests are asked to dress for dinner and drinks. After 6pm, it's all men in jackets and women in smart dresses and jewels. It's all so very Agatha Christie you almost wonder if there will suddenly be a murder on this Oriental Express.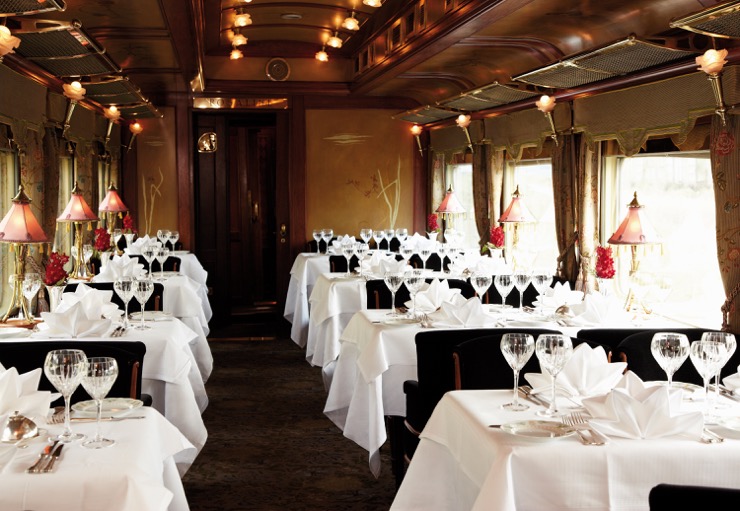 Luckily, there isn't. Instead, well-heeled guests settle into their assigned dining cars — there are three — and enjoy convivial company, exquisite three-course meals by chef Yannis Martineau and his team, and white-glove service. There are tables of two and four, so guests are randomly assigned to tables and encouraged to chat while enjoying Asian-inspired meals and free-flowing wines. It's safe to say that any guest that chooses to do this train journey is very well travelled, so the conversations are as interesting – and flow as easily — as the food and drinks.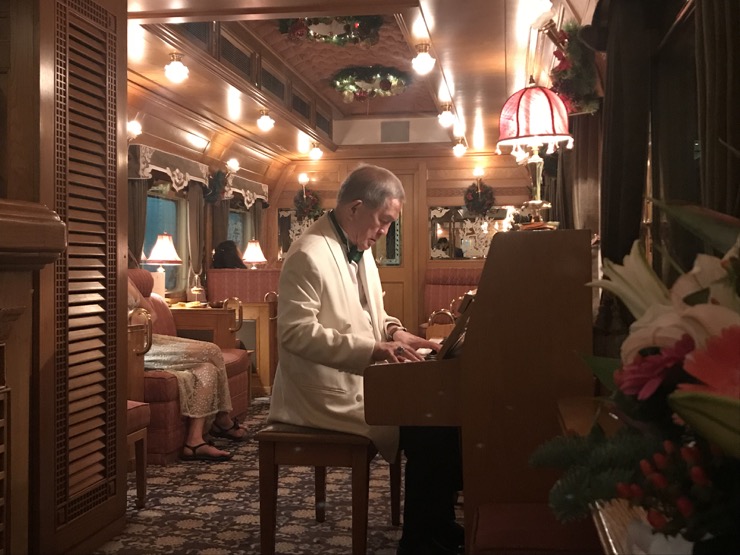 Photo credit @Gayatri Bhaumik
Later in the evening, guests adjourn to the Piano Bar. In another throwback to the golden age of travel, guests enjoy postprandial drinks while listening — and perhaps singing along — to live music. Resident pianist Peter is an old-school musician with the voice, repertoire and smoking jacket to go with it, and guests linger long into the night enjoying his renditions of classic jazz tunes.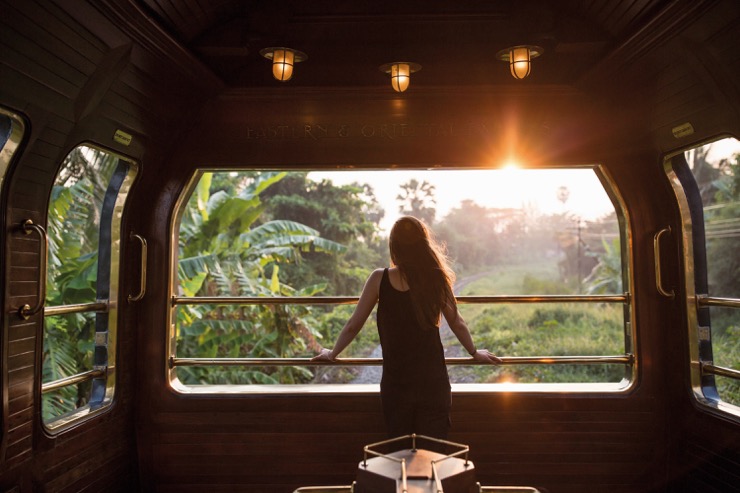 Mornings aboard the Belmond Eastern & Oriental Express start early, though there are two ways to enjoy it. Breakfast is always served in your cabin a previously appointed time. On my first day, Monty wakes me at 7am so that I can enjoy breakfast in bed before getting ready for our Malaysian excursion which departs at 8am. The next day, I take advantage of the train's "Morning Moments" offering to catch the sunrise from the Observation Car while speeding through rural southern Thailand and enjoying herbals teas and small bites.

Experiences are a big part of any voyage aboard the Belmond Eastern & Oriental Express, but it's up to you to make the most of it. A number of excursions and workshops are offered — both on and off the train – so this is very much a case of choosing your own adventure.

My first off-train adventure is in Kuala Kangsar, tucked away in the Malaysian countryside. It's an early start, but worth it for the quick but comprehensive immersion into local culture. We're given the choice to hike or take a slow amble through the village — I decide to take it easy and opt for the second.

Rubber is the area's main source of income, so our first stop is a rubber plantation where we're given a brief overview of the rubber-tapping process. Later, we stroll through the lush countryside, passing traditional wooden houses on stilts and majestic landscapes of palm trees and mountains shaded by the early morning cloud cover. All passengers finish the excursion at the main village where we enjoy traditional treats like curry puffs and spring rolls and peruse local crafts for souvenirs.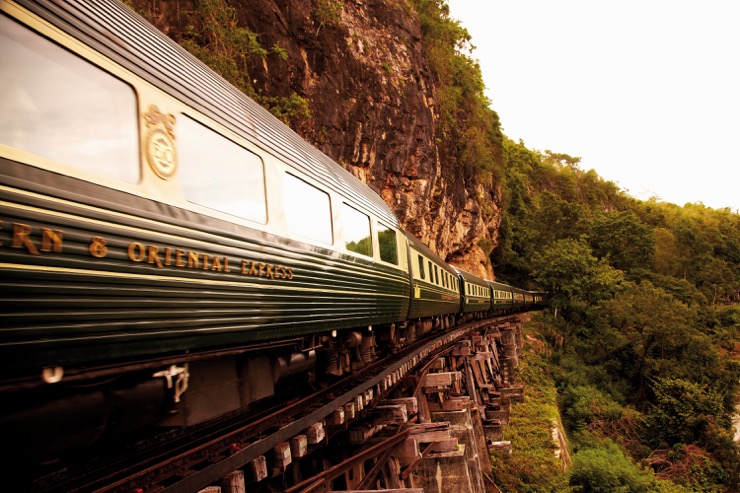 Back on the train, the afternoon is one of luxurious idleness. There's a decadent, lingering lunch before guests split up to enjoy some quiet time. Some watch the landscapes change from the Observation Car; others take a perfume workshop; still more take a food-coma-nap in their cabins. Those — like me — feeling a little indulgent book an hour in the Saloon Car for a traditional Thai foot massage.

The next morning, our planned excursion to Kanchanaburi is endangered by the fact that we're running a few hours behind. Due to upgrading works on the track, the train slowed during the night so instead of arriving at Kanchanaburi at 8am as planned, we're not due in before 2pm. The experienced staff quickly re-jig the day's plans so that guests can enjoy a lazy morning and a delicious three-course lunch before we finally pull up at the infamous Bridge over the River Kwai and disembark in Kanchanaburi.

Once again, several options are available for this excursion, including a bike ride through the countryside and a cooking class. Most guests, though, choose the classic tour. We sail down the River Kwai while getting a history lesson about Kanchanaburi's role in World War II before getting an in-depth glimpse at the highly informative and poignant Thai-Burma Railway Centre Museum. The Museum also doubles as a research centre, and guests who might have a familial link to POWs who worked on the Death Railway can ask to trace records of their ancestors.

The excursion finishes with a visit to the Kanchanaburi War Cemetery, which serves as the final resting place of nearly 7,000 POWs who died while working on the railway. It's a stark, moving reminder of the cost of war, and few leave without deep reflections on the nature of war — and the current state of the world.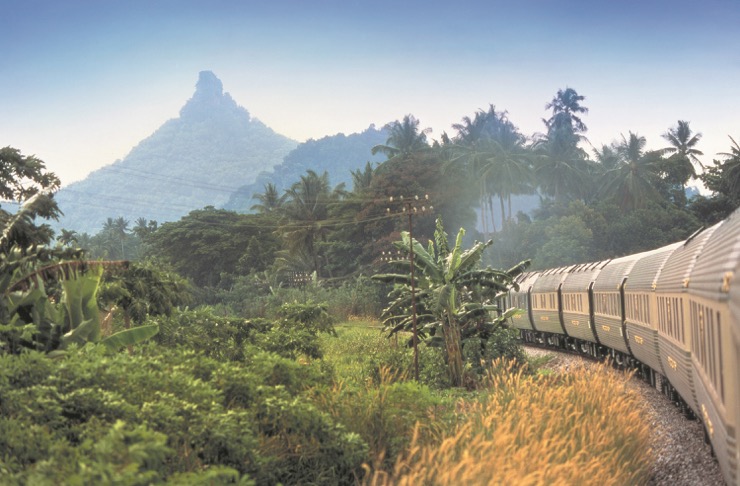 We board the train again for the final stretch south to Bangkok. The trip is only scheduled to take about three hours, so we sit back with afternoon tea in our cabins and enjoy the last leg of this epic journey. Of course, with track works and traffic once we finally reach the outskirts of Bangkok, it's 8pm before we finally pull into the city's Hua Lumpong station and the team efficiently disembarks the passengers.

I'm late for a dinner appointment, so I hastily bid the train team goodbye, grab my overnight back from the pile of unloaded luggage and jump into a cab. It's an unfairly rushed end to a trip that was all about lingering, being present and enjoying the moment, but it really underscores what this train journey is about.

The Belmond Eastern & Oriental Express is a chance for guests to experience time travel and be transported back to the Golden Age of glamour, when luxury travel meant having plenty of time for experiences as well as opulent accommodation and meals. By giving guests the time to explore smaller off-the-radar destinations and infusing the onboard service and hospitality with distinct Asian flavour, this legendary train gives passengers a timeless journey they won't forget.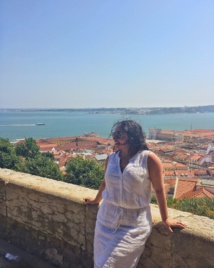 About Gayatri Bhaumik

Always ready for her next adventure, Gayatri Bhaumik took her first flight at 10 days old and hasn't looked back since. After long stints in Bangkok, Melbourne and London, she's now based in Hong Kong when she isn't globetrotting. She contributes travel and lifestyle content to titles like The Loop HK, Buro 24/7 Singapore, Elite Traveler, Forbes Travel Guide, RBS ContentLive and Destination Deluxe.