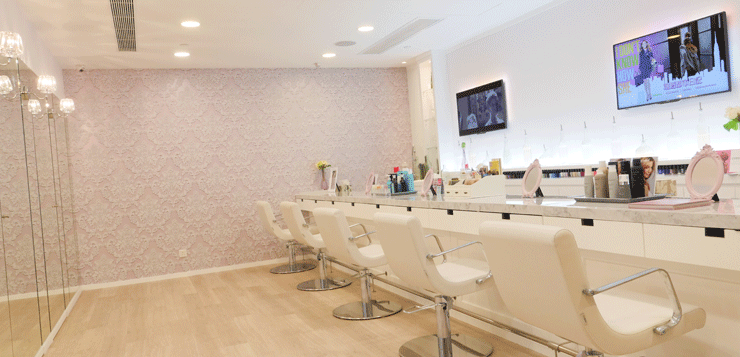 By Aude
What about a girl's night out at the bar? But hold on girls, I am not speaking about our usual bar. Oh no, I am thinking something more glamourous, a place that will leave you all relax and pampered rather than tipsy (common, don't lie to me, we've all been there). I am thinking shampoos and nail polishes rather than shots and cocktails. Yes, you got me right, I am thinking airplay blow dry bar new spot at the Landmark.
Let's start with the hair, shall we? Dry Martini – speed styling without shampoo - for my girl crew! Yes, that what I love with Dry Martini, always efficient and straight to the point!
And so many products to play with between two glasses of rosé: theBalmcosmetics make-up and GHD hair-dryers to play it like Beyoncé – Singles Ladies style, hair in the air. What? You never dance like Beyoncé on your girly nights? What a shame!
But hey, we are no gonna go out with those dirty nails, right? Hell no! The brand new and so cute pedicure room is waiting for us. Never thought I was gonna end up the party my feet all soft and relax in the massage tray rather than with burning feet in my heels!
Best place to party with your squad *! And we've got a special 10% discount for you, just grab your squad and book saying you wanna enjoy Hong Kong Madame special discount, then get ready to party!
* For 10 girls: HKD 10,000 including:
- Spa by Shellac – nails / shape / cuticle treatment / scrub / hand massage / polish
- Dry martini – styling without shampoo
- Party delight – make up
airplay blow dry bar
http://www.airplaybar.com/en_US/
Flagship: 7/F, W Place, 52 Wyndham Street – Central
317, The Landmark, 15 Queen's Road – Central
B223, k11 art mall, 18 Hanoi Road – TST
https://www.facebook.com/airplaybar