by Aude Camus

God it's freezing this week in Hong Kong! I wasn't ready yet for tights and coats and wish I could have had a few extra days of bikini life. I told you many times but I'm a summer girl, always living my best life when on a beach and chasing the sun all year long, making sure to plan myself some sunny escape when it's winter in Hong Kong (lucky me, winter here doesn't last long). Are you just like me and looking for the ultimate winter beach holiday? I may have found it for you! Where? On the "Coconut Island" – Koh Samui – at the picturesque Four Seasons.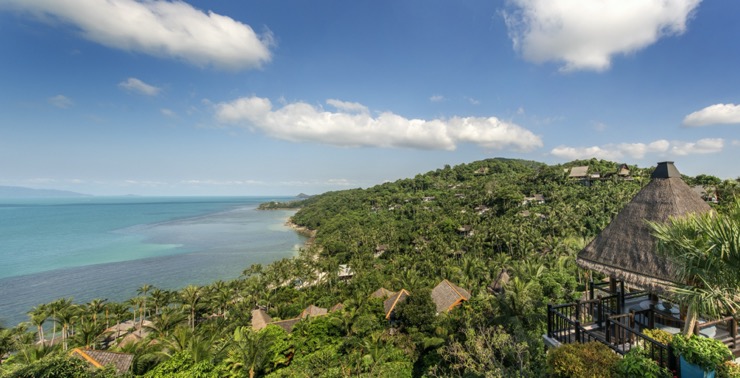 Nestled on top of a sun-weathered hill overlooking crystal clear waters and a "semi-private" white sand beach (semi-private because all beaches on Koh Samui are public but this one is only accessible through the resort making accessible only to guests staying at the hotel), Four Seasons Koh Samui is the ultimate tropical island retreat.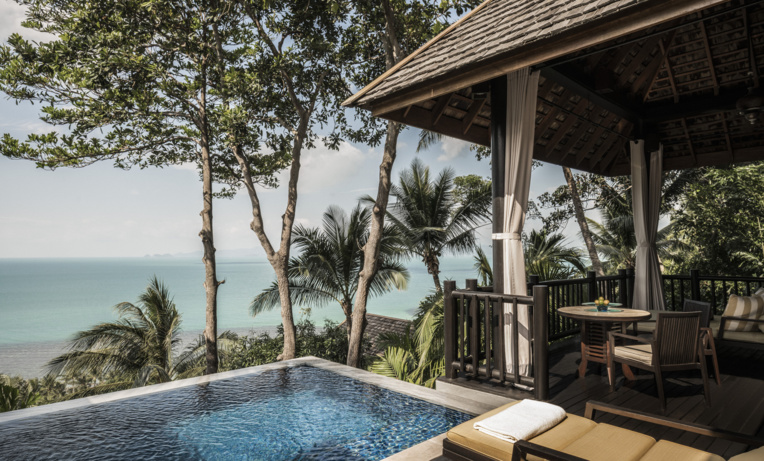 Perched on the lush hillside, the hotel sea-facing villas all come with their private infinity pool and one could be tempted to spend the entire stay in the picturesque serenity of its room. I did spend hours in mine: laying on a sun lounge and reading a book (something I barely have time to do in my daily life), napping in the shadow on the daybed lulled by the sound of birds chipping and wind touching the palm trees, spending hours in a coconut scented bath enjoying pristine view of the emerald sea or enjoying an in-room Thai feast on the outdoor table. But it would be a shame not to call a buggy and go on a little exploration of the resort. I did love my daily buggy trips to breakfast and the beach. Nothing like a buggy drive to trigger some serious holiday vibes plus it does save you from the hustle of having to walk all the way down the hill to the beach then all the way back up to your room (which would be quite a hike).
Speaking of breakfast, the daily buffet spread at
Koh Thai Kitchen
, a breezy spot perched on the palm-fringed hilltop is a very serious feast.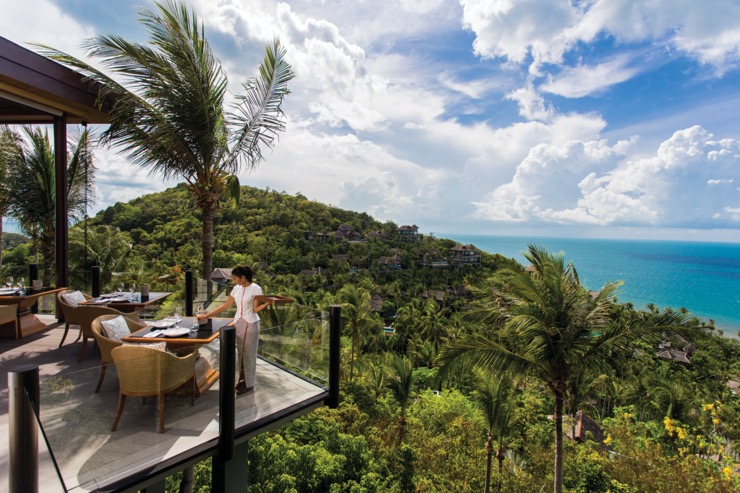 Samui being the Coconut Island, you'll be treated to all things fresh coco, such as coconut yogurt, coconut brioche or a super pornfood coconut French toast, along with a wide array of danishes, fresh fruits and savory dishes. If you are a greedy eater, just like I am (some people call it greedy, I call it being professional and making sure to try as much as I can so that I can share an honest review … choose your side), you could easily skip lunch after such a breakfast feast and wait until dinner for your next meal.

Looking to sweat out some of those breakfast calories? Why don't you check out the 24-h fitness facilities? The resort also offers tennis courts and an open-air Muay Thai ring where you'll get to learn the art of kick-boxing. If you are up for it, daily complementary Muay Thai classes are provided every morning at 8 am. My +1 joined twice and loved it. I had to delegate the Muay Thai test because I was too busy myself trying the giant, comfy and fluffy king bed.

One thing I did not delegate though was the beach, and its overhanging infinity pool, exploration.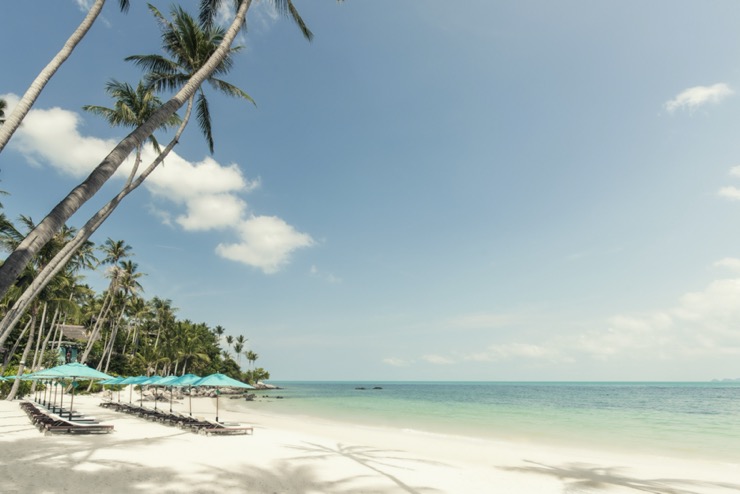 White sand, crystal clear water, non-motorized watersports such as kayak or paddle to preserve the corals, comfy beach beds and a quiet corner for adults only … what else could you ask for? Oh, maybe complimentary environmental friendly sun cream and after-sun lotion, beach sports, friendly staff and hourly fresh snacks (such as fresh pineapple, berry lassi, caramelized bananas …) passing around but that's also provided. I seriously spent hours in the warm water, snorkeling around, enjoying the beautiful view on the resort from the sea and just living my best life. But those keener on enjoying a dip in a pool won't have to stay in their villa and can happily splash around in the infinity pool overlooking the beach and the sea. Quite a unique spot too.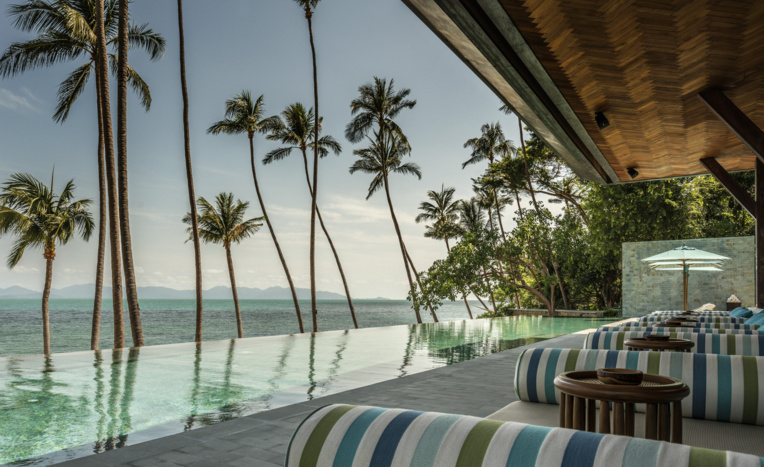 I do definitely recommend sunset drinks at the
Cocorum
pool bar; the sun won't set directly in front of you but you'll be treated to unique shades of orange and pink as the day turns into night. And it also gives you the opportunity to treat yourself to a glass of rum from the resort's
Rum Vault
, Asia' first and only library of rums from across the world.
It's not even 7 pm so I have at least one or two hours to spare before dinner. Here is the plan: you try and figure out if you wanna have very yummy local food at Koh Thai Kichen or if you are in the mood for grilled meat and seafood on the beach at
Pla Pla
while I'm going to treat myself at the
spa
with a 60-min soothing and relaxing Coconut Hydrating facial. Not that my day was exhausting or stressful at all, quite the opposite, but I do feel like prolonging the bliss.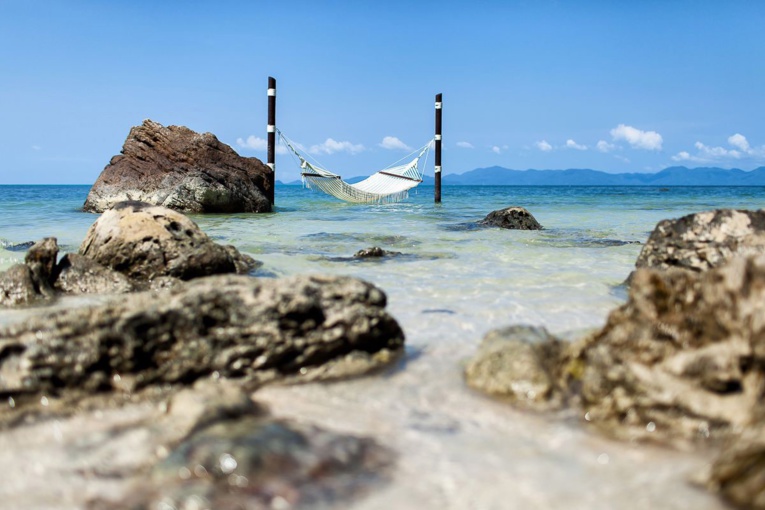 Bliss, I actually couldn't think of a better word to describe how I felt during my three days at Four Seasons Koh Samui. And I do have to say a special thanks to the hotel's staff for making the entire stay effortless, greeting us with the warmest smiles everywhere we would go and anticipating every need we could have. God, I swear I just felt like I was born to live the laid-back island life at Four Seasons Koh Samui!
Four Seasons Koh Samui
219 MOO 5, ANGTHONG, KOH SAMUI

This write-up is based on a complimentary 1-night stay hosted by Four Seasons Koh Samui. The other night was paid for by the writer of this article. No money has been paid by Four Seasons Koh Samui for publishing this article.