by Aude
Are you a Netflix addict?
I am! I mean, I love going out and around, attending openings and having dinner tastings but I'm never happier than when I can book myself in for a Netflix and chill session. And what better excuse than a rainy weekend to binge-watch a great Netflix show? This is exactly what I did last weekend (Remember how gloomy and rainy Sunday was? Well I couldn't care less nestled under my blanket with a hot cup of tea, some cinnamon rolls and my TV on) seriously binge watching the latest (and highly anticipated) culinary show launched by the platform: The Final Table.
No worries, I'm not gonna spoil it to you. To make it short, the pitch is pretty easy: "a global culinary competition show featuring the world's most talented chefs fighting for a spot at the elite, Final Table made up of the greatest chefs from around the globe. The series features 12 teams of two chefs from around the world cooking the national dishes of Mexico, Spain, England, Brazil, France, Japan, the U.S., India and Italy. Each episode focuses on a different country and its cuisine, with celebrity ambassadors, food critics and the country's greatest chef eliminating teams until the finale. In that last episode, only one of our competing chefs will win a place at the Final Table, joining the nine legendary culinary icons -- Enrique Olvera (Mexico), Andoni Aduriz (Spain), Clare Smyth (UK), Helena Rizzo (Brazil), Vineet Bhatia (India), Grant Achatz (US), Carlo Cracco (Italy), Yoshihiro Narisawa (Japan) and Anne-Sophie Pic (France)". But if you've watched
Chef's Table
and loved it (can it really be other way? I mean, am addicted to this show), you know Netflix definitely knows how to put together a highly exciting culinary show.
One of the things I've loved about this show? The competing chefs! Such a variety of great personalities. One of my fav contestant from the show? Chef Shane Osborn, who (lucky me) happened to be based in Hong Kong where he owns and runs Michelin-starred restaurant Arcane. I had to meet him after loving him in that show, right? (I know, I'm such a groupie!). And was both pleasantly surprised and really happy that he happened to be free for an interview earlier this week.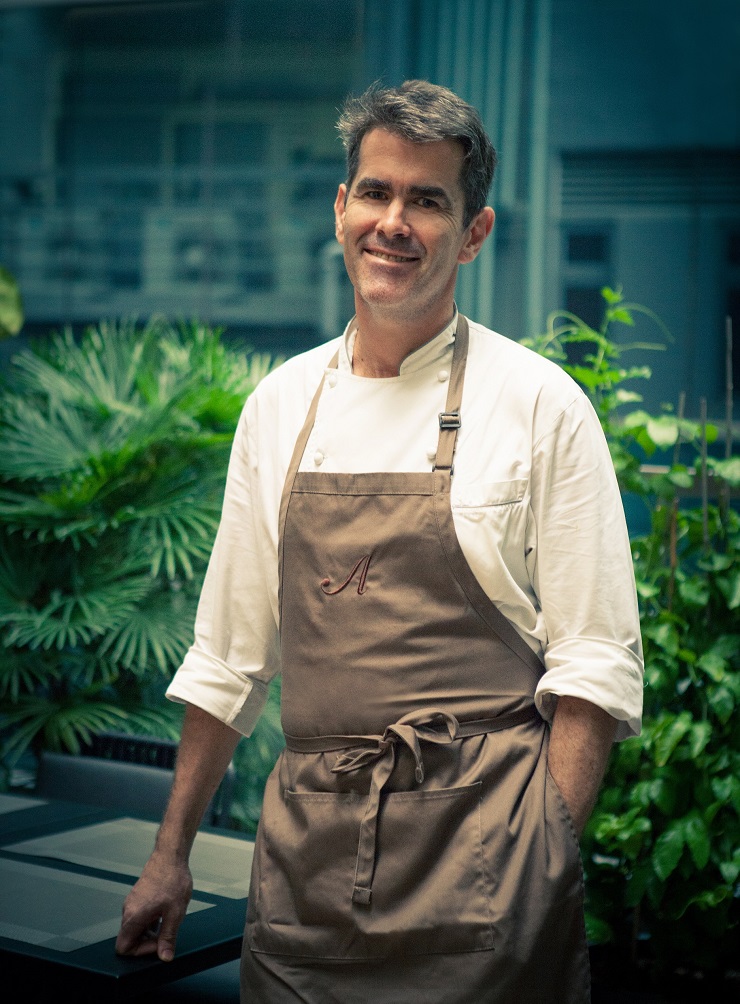 Hey Shane. Born and raised in Perth, First Australian Chef to head a Michelin-starred restaurant, Head Chef and joint owner of an acclaimed restaurant in London … how did you end-up here in Hong Kong?
At some point, living in the UK, my wife and I we needed a change of scenery (and a better weather!). We've spent 11 months traveling around the world and Hong Kong came across to us as a food-obsessed city and a great place to set up a food business. So we decided to settle here in 2012 and I opened Arcane in 2014 after working two years as a food consultant for someone else.
Is a Michelin Star something you were aspiring to from the opening of Arcane?
Not really. I mean, it's a great recognition of all the work and efforts you are putting in what you do. But being Australian, I didn't really grow up with Michelin Stars. We didn't have them in Australia. Only after I moved to Europe did I get to know more about this world of Michelin.
It took us three years to get our first Michelin Star here at Arcane and in the end, this is not the reason why I do what I do. I do it because I love my job and I love the people am working with. I want the restaurant to remain a friendly and fun place where people enjoy working. The Michelin Star is the cherry on the cake.
Was it an evidence from you from your chilhood you were going to be a Chef?
Yes! My mum was a caterer and the first jobs I had were all with her catering business. A kitchen is an exciting playground when you are 13/14 years old.
It's funny because back in the 80's, being a Chef wasn't cool. I think it has changed a lot today. With the social media and also the TV, I guess.
Speaking of social media and TV, do you think it has changed the way the industry is working today?
It has definitely changed the industry yes. In both a positive and a negative way. I believe the downside of chefs being cool today is that a lot of people do not realize the amount of work it is to be a Chef.
Has moving to Hong Kong changed the way you are cooking?
Not really. Neither have the social media. For me what's important in the end is the taste. But being based here has changed the way I'm sourcing my ingredients. I used to source mainly locally. Here in Hong Kong it's a real challenge. There are some local, organic farms but the weather is so uncertain that the quality can really vary, you sometimes get great things and sometimes really bad ingredients. Running a restaurant like Arcane, uncertainty on the quality is something we cannot afford. I think finding the right products is really a challenge in Hong Kong. And so is the rent!
Speaking of what you find challenging in Hong Kong, anything you find rewarding?
Hong Kong is a city open to ideas and obsessed with food. So if you want to try something new, you can. And if you are a hard-worker, there is room for you to expand. For example, am planning to grow across Hong Kong next year (before maybe growing across Asia) and open something quite different from Arcane, a more casual concept like an all-day dining.
Any ingredients you particularly love to cook? And one you find hard to cook?
I cannot really choose one ingredients. My cuisine is very seasonal. At the moment, am obsessed with game. One thing which I find very frustrating to cook are shellfishes because am allergic to them. I can cook them but can't taste them.
Which dish would you say is your signature?
I believe it would be the sautéed potato gnocchi. Everybody is ordering this one, it's such a comforting dish.
Moving on to The Finale Table, were you approached directly by Netflix to be part of the show?
I was approached by a casting agent working for Netflix. I've actually been approached few times before but didn't like culinary shows before like the Top Chefs and all of that. I always feel like those shows are about capturing the exact moment when you fail and emphasizing this failure. But I am a big fan of Netflix and I love their
Chef's Table
series, especially the French chefs season, so was interested hearing more about their proposition.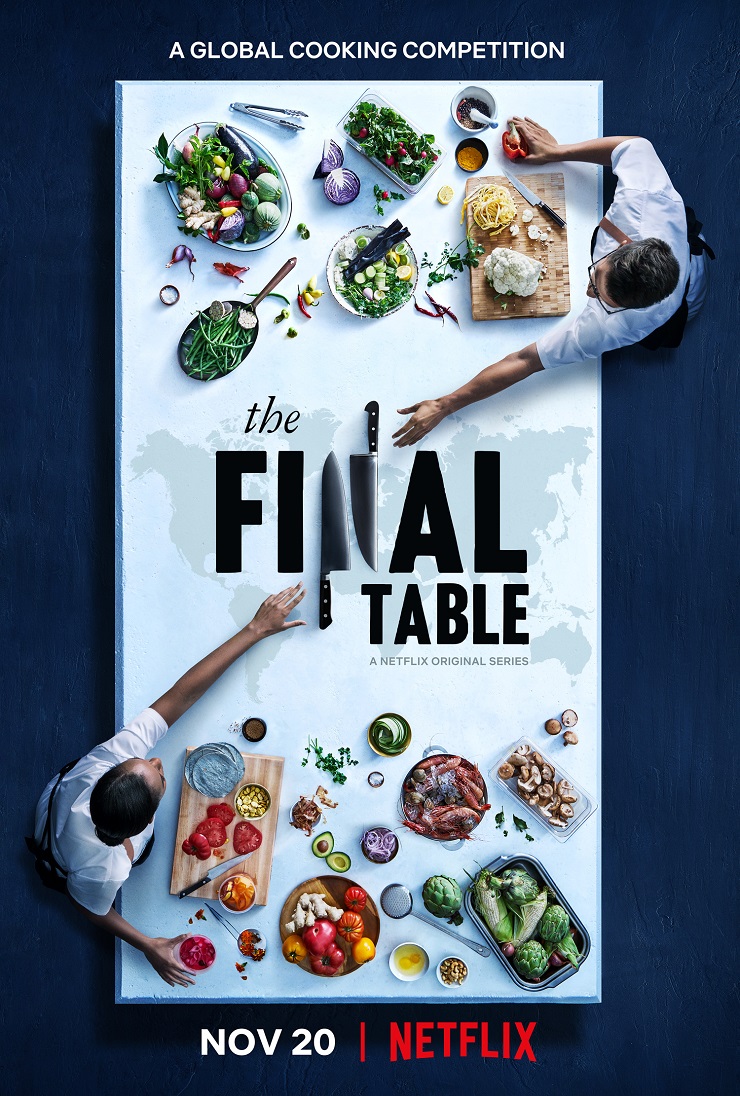 Did they give you any names of people you would be competing against? And did you get to choose your partner?
No, absolutely no names. But yes, I did get to choose my partner. And partnering with Mark (Best) was an evidence for me. We've never cooked together before but we've met several times and we understand each other if you see what I mean. Mark didn't say yes right away, he told me he had to think about it.
Did you know some of the other competing Chefs from before (apart from Mark, of course)? And are you still in touch with them know that the show is over?
Not really. But I did know some of the judges! Having work with a few of them before. And yes I'm still in touch with them even though we actually shoot the show a year ago. We have our whatsapp group and it is pretty active especially those days as the show has just been released and we are receiving such a positive feedbacks and so many messages from all around the world.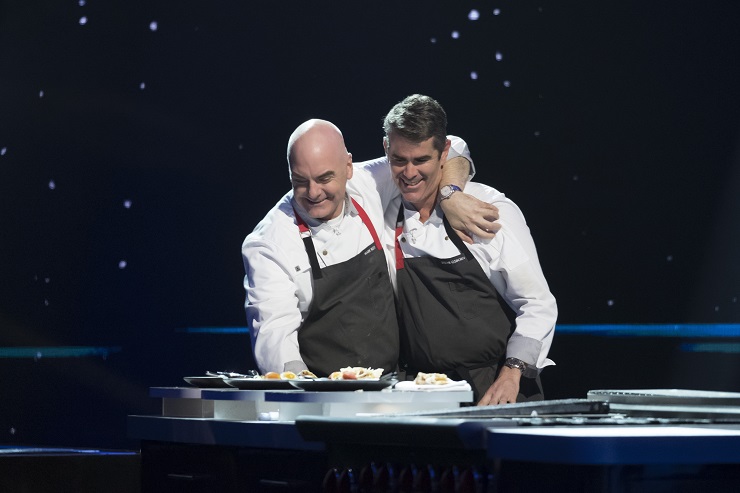 Weren't you afraid of "putting your reputation at stake" competing against other Chefs, not all of them being Michelin-starred Chefs, some of them being younger and less experienced?
Not really! I wasn't afraid of that at all. My only concern was "how I am gonna come across on screen". I wanted to show a very positive personality. But the thing is you film hundreds of hours of show and it is then shortened so you never know what the final result will have you look like
(Editor's note: Shane definitely comes across as a great positive personality in the show!).

Have you watched the show?
Only 2 episodes! Haven't seen it all yet. And didn't get to see it before anybody else. I'll be flying to France to see my family for Christmas so planning on watching it then.

Does being part of this show makes you maybe wanna explore more with TV?
I mean why not? If the right opportunity arose, I'm definitely open to consider it.

And one last thing to end, would you share some of your fav foodie addresses in Hong Kong with us (aside from Arcane, of course?
Yardbird, Chino, Belon for a fancy dinner, Mak Noodles for something quick and casual. Also love seating at the Captain's Bar (Mandarin Oriental) on a Sunday with a newspaper and a Bloody Mary, it feels like a trip back to the Hong Kong of the 80's.