by Aude Camus

I can't believe that it has now been more than 5 years since I moved to Hong Kong. Gosh, time flies! I still remember myself hoping on the plane, having no job and just a working holiday visa and telling myself I would give it a go but will always have the opportunity to fly back home if I felt it wasn't the right city for me. God knows I was wrong. I instantly felt for the city, its energy and its vibrant dining scene. Be it an outstanding Michelin star experience, a street-food adventure or a new culinary experience, Hong Kong has it all when it comes to treating your tastebuds. And it feels like the dining scene keeps on changing to always offer better produces and more reasonable prices. Take cheese - I know I'm such a cliché but I can't live without my cheese, wine and baguette - 5 years ago it wasn't so easy to find proper artisan cheese that wouldn't break the bank. But today, foodie and cheese lovers in town know they can rely on Cheese Club to deliver a monthly box of creamy treats at very fair price. I am myself a regular (and by regular I mean that I order a fair – indecent? - amount of cheese from them EVERY DAMN MONTH) and have been in touch with the two founders, Jacques and Normann, since their first launched WHAT'sIN, their other brand delivering surprise fruits boxes. It was about time for me to feature them both, fellow foodies, in this series of interviews.



Hey Jacques, Normann. Thank you so much for taking the time to answer those few questions. I know that you both have babies and toddlers at home and that your days are rather hectic with also two companies to run. Let's get straight to the point! Can you tell me a bit more about your background, how did you both meet and what brought you to Hong Kong?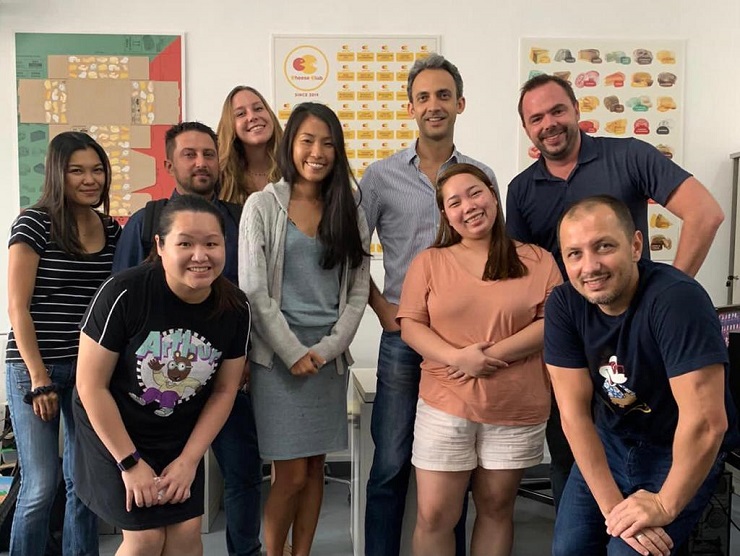 Jacques
: We've known each other since 2001. We first met in Lyon during our uni years. About moving to Hong Kong, I moved from China where I was living since 2009. When we had our first child with my wife we decided Hong Kong was a better place to start our family life.
Normann
: after working in France for a few years, I though it was time for me to explore other challenges and back then, Asia was THE booming region. I had visited Hong Kong already in 2006 and thought it would be the perfect place for me to start a new adventure so this is where I settled in 2010.
Can you quickly introduce both your brands – Cheese Club and WHAT'sIN – in just a few words?
Cheese Club was born out of our desire to bring affordable French artisan cheeses to Hong Kong. We didn't like the idea that people would have to pay a crazy amount of money to get access to proper cheeses. Since then, we have extended our offer to other artisan food items (cold cut, butter, yogurt …) but without ever compromising our aim to keep our prices similar to what you would pay in France for such products. In order to achieve that, we have decided to work with group orders : every month, our clients receive the order form which they have a week to complete and return. Their orders will then all be shipped together from France at the same time and delivered to them 10 days after closing of the orders. It allows us to better negotiate purchasing and logistic costs and also eliminate waste.

With WHAT'sIN, our focus are fresh, seasonal, and mostly organic, fruits and vegetables delivered in surprise boxes. We love that we can use our boxes to introduce fruits and vegetables that might not been so well know, we see it as a way to educate people on terroir and seasons. It's also a very convenient service because we take away the hustle of shopping for fresh vegetables and fruits from you by having everything delivered straight to your door.

Jacques: we first started with WHAT'sIN but when we launched we were doing B2B only, importing Reunion Island's fresh tropical fruits for hotels and high-end supermarkets. This is how we realized local consumers hardly have access to fresh, seasonal, organic and fairly priced fruits and vegetables in Hong Kong.

Normann: after launching WHAT'sIN, we had in mind to extend our offer but never really imagined our next products would be cheese. When I married in Hong Kong, we sourced artisan cheeses from France and our friends loved it so much that they start asking if they could order their cheese from us. At first, it was just something we were doing for our friends but it quickly went out of this close circle and we had to create a clear offer.



Why did you decide not to open a physical shop?
Jacques: well, one word: rent. Our first goal is to offer fair prices for the products we bring to Hong Kong and having to pay for a shop would have made it impossible for us to stick to that goal.



How do you source your products?
Normann: first with always keeping in mind that we want quality and fair prices for our customers. In order to make it possible, we start with identifying what we think would be a great region to source a specific type of product from. Until very recently, we would then plan a trip there to meet people, visit the producers, taste the products … The current situation makes it impossible so today we rely mostly on samples tasting. We also think that having a close relationship with the producers is important so we choose to work with people we can trust and rely on as partners,

Jacques: the current restrictions on travel definitely make it hard for us. With both our brands being based on seasonality of the products we are always on the look for new products and lately it has not easy to source new products with not being able to travel to Europe. A good news is that even the small producers are transitioning to digital and we can now handle more of the business through WhatsApp.



Do you have any plans on further expanding your offer with new products? Or maybe launch Cheese Club and WHAT'sIN in other countries?
Normann: we do not have any plans on launching a new brand in a near future. As for exploring markets outside of Hong Kong it has been in the pipe but our priority is to be strong on the local market and anyway the current situation has put a hold on any expansion plans. Let's wait and see.



What would you say has been, so far, the deepest challenge in your entrepreneurial journey?
Jacques: I believe that, like many entrepreneurs, COVID-19 has been the biggest challenge we've had to deal with. The freight rates have risen significantly and it's impacting our margins a lot because we have decided not to reflect this on our prices. Sourcing our products has not been easy and we have been facing some shortages when France was in a lockdown situation. Overall, the current times are very stressful.



And the greatest reward?
Normann; the trust from our customers. We are always happy to hear positive feedbacks from them, this is what is keeping us going in challenging times. And even if they don't feedback directly to us, seeing our customers base expand is a great reward too. Cheese Club is generating a lot of enthusiasm every month and that is very rewarding.



You both have babies and toddlers. How is it like to run a business with such young kids? What does a typical day in your life look like those days?
Jacques: I am not gonna lie, having three very young kids and a quick-expanding business isn't an easy combination and I barely have time for personal hobbies and social events.

Normann: there is no secret and we are just like any other parents, lacking a lot of sleep and feeling like 24h isn't enough hours in one day. To keep up, you need some "little pleasure" moments, mine is every morning, rather early, when I seat for breakfast with my family and enjoy my fruits and yogurt. Fruits from WHAT'sIn and yogurt from Cheese Club, obviously!



One last question because I know you both like a good meal, what are your favourite places in Hong Kong for:

Jacques:
A business lunch: Feather & Bone
A dinner date: Métropolitain
A drink (or two) with friends: Le Tambour
A good cheese platter (when not at home enjoy cheeses from a Cheese Club's order): Le Bistro Winebeast
Where to buy a bottle of wine to pair with a cheese platter from Cheese Club: French Flair

Normann:
A family brunch

:
Little Creatures
A business lunch: Indonesian Restaurant 1968
A dinner date: the now closed Pierre, by Michelin star chef Pierre Gagnaire, which unfortunately recently closed its doors at Mandarin Oriental. I now have to find a new place for a romantic date with my wife.
A drink (or two) with friends: Ping Pong 129 – Gintoneria
A good cheese platter (when not at home enjoy cheeses from a Cheese Club's order): Le Comptoir
Where to buy a bottle of wine to pair with a cheese platter from Cheese Club: Premier Cru