by Aude Camus
How many of us have a passion? A passion that can sometimes "go out of hands" to quote Amit Oz, founder of
Conspiracy Chocolate
with Celine Herren, and become a business. I am one of those. And let me tell you that running a passion business on top of having a full time job and a personal life does require a hell lot of passion (and organisation). So I can't help but being inspired by entrepreneurial stories such as the one of Céline and Amit, a Swiss-Israelian couple who met in Hong Kong, discovered a common passion for food and nutrition and decided to embark on a tasty adventure. A conspiracy as they call it. I'd better warn you, the below content is both highly inspiring and mouthwatering and you might wanna grab a chocolate square or two before continuing reading.
Hey Céline, Amit, thanks so much for taking the time to answer those few questions. Let's start with a bit of background: what brought you guys to Hong Kong? How did you meet?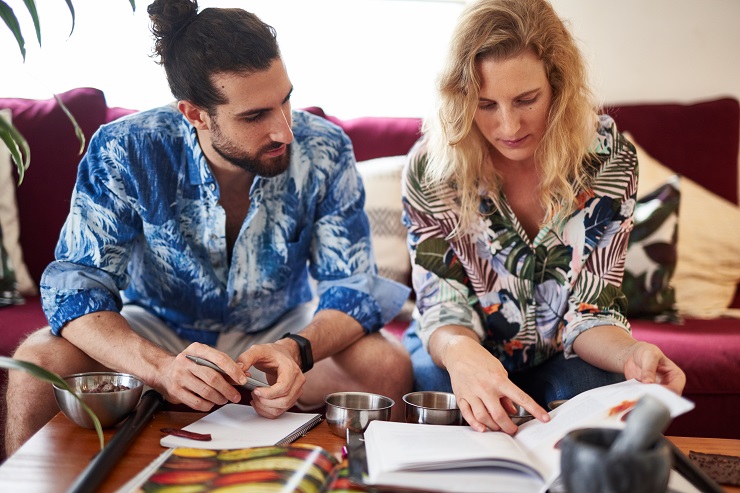 Amit: I'm Israeli but grew up in Hong Kong. After graduating from high school, I joined the Israeli army and then moved back to Hong Kong. I first worked in bars and restaurants before moving to a recruitment firm.
Celine: I first came to Hong Kong in 2014 for a university exchange and fell in love with the city. I decided to came back after completing my degree and my first role here was as a management trainee in a Swiss company. I then joined a start-up accelerator.

We met 4 years ago and soon realised food was a common obsession. Not just the food in itself but also nutrition and cooking experiments and I think it pushed us to further explore this common passion. Until chocolate came our way …


Is this the reason why you started a chocolate business? Is it true that it all started in your little kitchen in Sai Ying Pun?
At first, we had no intention of starting a food business. Neither of us was particularly into desserts either. But we both grew up eating chocolate! I am Swiss and Amit's grandfather had a restaurant and would always bring him boxes of chocolate. But in Hong Kong, the chocolate offer isn't so great and back then we didn't know about Sweet World (editor's note: a candy and craft chocolate store in Hong Kong) so our only option was pretty much Lindt. There was definitely room to experience with chocolate. And that's what we did. We started to melt Lindt chocolate bars and add spices such as Rosemary or Chilli. We then experimented with the bean-to-bar process and it would took us months to learn the process. It was a whole new world opening in front of us and it was fascinating, more like a game. And yes, all the experiments were happening in our own little kitchen in Sai Ying Pun.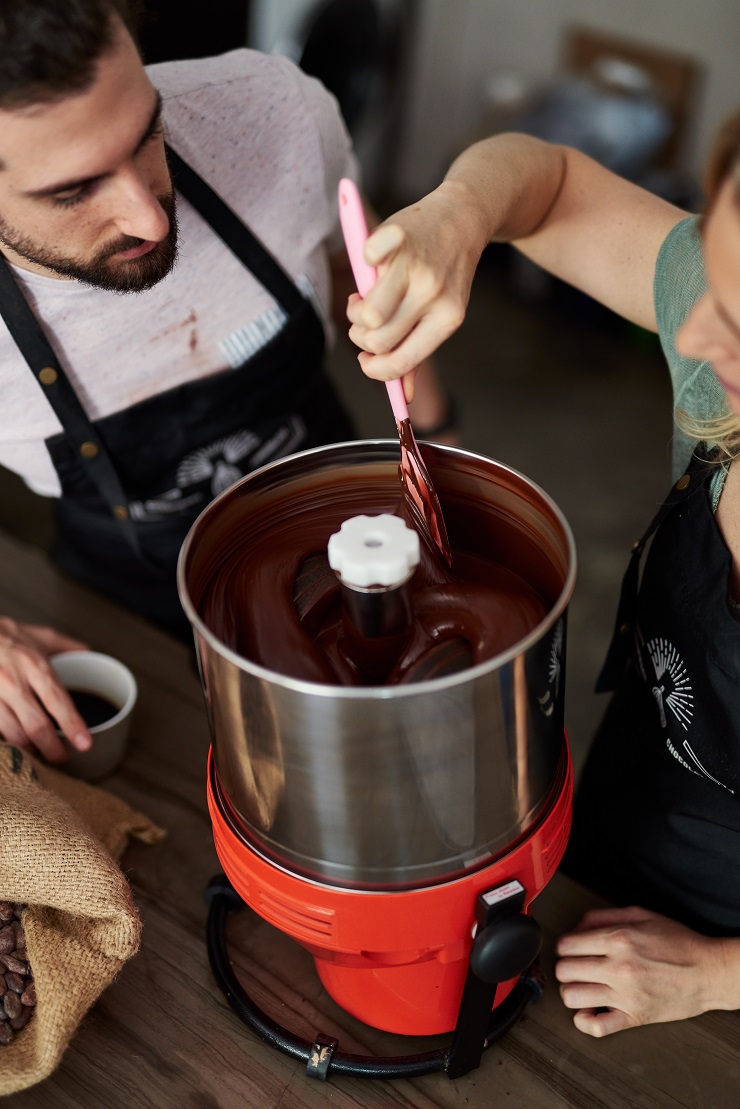 We were total rookies back then and learning everything about chocolate took us down the rabbit hole. But a friend of ours, who is an entrepreneur, encouraged us to have a business vision and sell our products, so we started to take things more seriously and I went back to Switzerland to learn the delicate art of making chocolate. We spend 8 months learning how to craft our chocolate bars before we started selling our products on Sunday markets. After receiving a few orders the professional adventure was on.

Amit: I would say it's a passion that got out of hands.


Are you still crafting your chocolate bars in your little kitchen?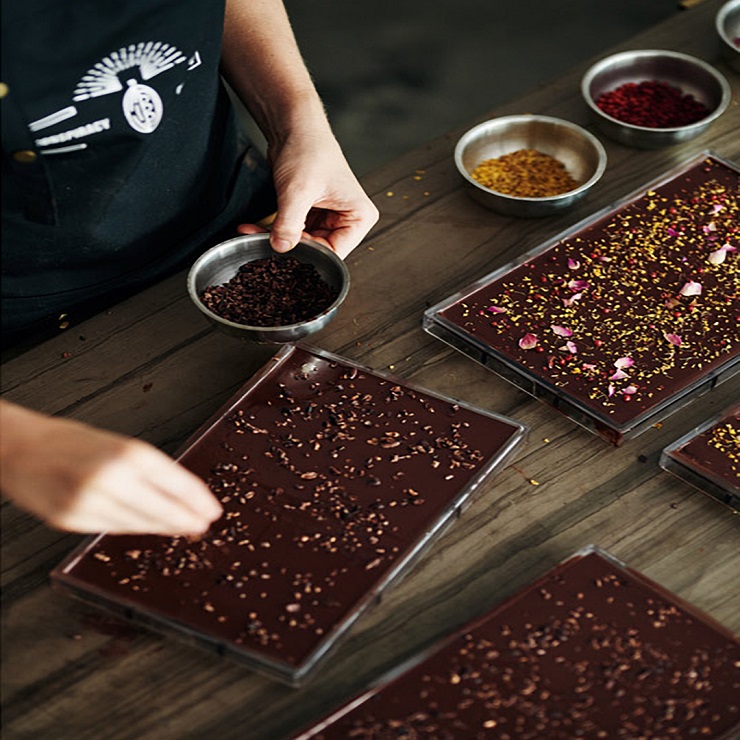 It is still the two of us handling the entire production, but we are now doing it from a shared kitchen not far from where we live. We also have a roasting partner, and this has been a significant step towards being able to roast more cacao at one time. We are growing and buying new machines, bigger ones, but we are growing slowly as our bars are still handcrafted.


What about that intriguing name, Conspiracy Chocolate?
It's a conspiracy, we cannot tell you.


There is no shortage of chocolate brands on the market. What are you aiming at doing differently with Conspiracy Chocolate?
Conspiracy Chocolate is not just any chocolate, it's bean-to-bar chocolate and within that already quite niche category we are very unique.
Bean-to-bar is a style of chocolate aiming at highlighting the unique terroir of a cacao bean. Unlike commercial chocolate, bean-to-bar chocolate can't have a consistent taste because, just like wine, the product is the result of the land and flavours are driven by natural elements such as soil components, natural fermentation … Bean-to-bar chocolate has a unique personality. Each cacao bag we get will be slightly different from the other ones meaning that we also have to slightly adapt our process every time we craft a new bunch of bars.

Today, we use cacao beans from a small family farm from the region of Dak Lak in Vietnam. The small farm is beautiful, and they use a combination of local farming techniques and scientific ones to grow, ferment and dry the most incredibly nutty, earthy cacao beans.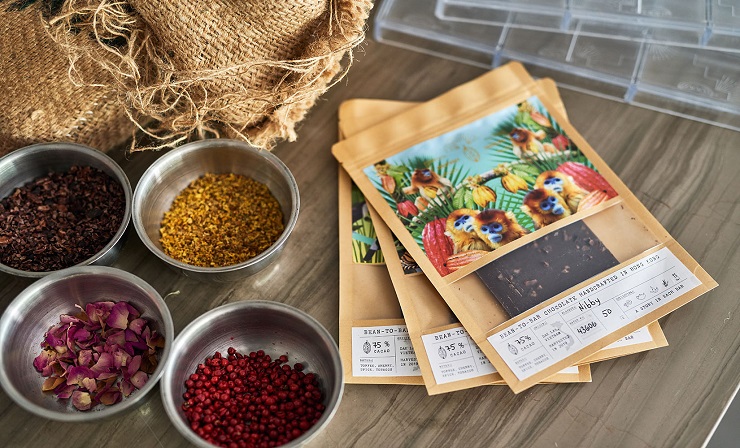 What makes our chocolate different within that bean-to-bar chocolate niche are the surprising combination we create using flavours and ingredients from savoury gastronomy and therefore blurring the line between sweet and savoury. We also play a lot with natural fermentation of our ingredients. Our R&D process is very playful yet scientific and our recipes have nothing to do with what you could buy in a supermarket. It has happened many times that people who do not like dark chocolate because of its bitterness have told us our dark chocolate has no bitterness in it but instead a complexity of flavours (editor's note: I am one of those people!).


Where do you find the inspiration for new flavours?
Savoury recipes are our main source of inspiration. It could be a dish we tried in a restaurant, a spice combination we like to use when cooking at home or something we've just read about … Then we just experiment and play.

Chocolate is an amazing canvas for exploration. Its nutty and deep flavours will carry and put forward some specific notes of the spices and herbs, notes that you wouldn't taste in a savoury dish. Chillies and peppers are a great example of that: chocolate tames down the most obvious notes to instead highlight delicate notes and have you taste chillies and peppers in a whole different way.


What would be one of your personal fav Conspiracy Chocolate's bar?
Amit: it used to be Nibby but it's now Sourdough. Nibby is topped with our roasted, fermented cacao allowing you to enjoy the taste of the chocolate before and after processing which I find to be a great way to reconnect with the original taste of the coca bean. Sourdough has been quite a challenging recipe to come up with. It took us 6 months of R&D and many back and forths with our harshest critics, including the baker providing us with the sourdough and who would only accept working with us should the flavours would honestly come true, asking them not to hold back. It took 1% of cacao butter, Himalayan salt and a combination of big and small chunks of dehydrated sourdough bread to finally get the tasting experience we were looking for: the feeling of eating a slice of good bread with salted butter.

Celine: I can't just choose one! But Hazelnut definitely is one of my favourites and so is Kashmiri Chilli, a very special chilli that is not too spicy and has amazing saffron back notes. Earl Grey was recently suggested by one of our customers and I have to say it is divine! We originally made it just for her but it was so good that we decided to release it to everyone.


And a bestseller?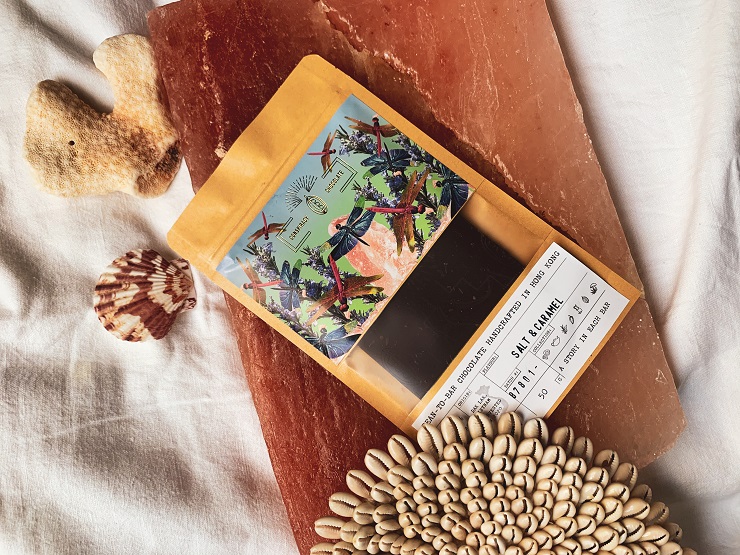 Salt & Caramel has been our bestselling bar from the very beginning with its addictive combination of sweet, salty and umami flavours that makes you crave another bite. Sichuan Pepper is not far behind, the numbing effect of the pepper makes every bite a new experience.


What would you say has been, so far, the deepest challenge in this entrepreneurial journey?
Even though we were total rookies, learning this new craft never felt like a challenge. But wanting our chocolate to be financially accessible and produced in Hong Kong despite the high rents is a challenge and we are currently rolling a ball up a hill through creative means until we grow to a volume where we can afford our own production kitchen and full time involvement in the company.


And the greatest reward?
Seeing our creation hit the market and seeing our own experience inspires people to proceed on their culinary adventure has been highly rewarding. During our first sale on a Sunday market, an old man from China told us the Sichuan bar reminds him of his mother's cooking. Recently a friend started a food busines, following our lead. Being able to have this kind of impact is the greatest reward.


Any exciting project coming-up for Conspiracy Chocolate?
We are in the process of setting up our own ground-floor open kitchen to grow production and invite chocolate lovers to visit. We are also designing new functional products which will tune in with our interest for nutrition.


Could you share your favourite spots in Hong Kong for:
A business lunch

: 208
in Sheung Wan
A romantic date

: La Brata
because good handmade pasta and good wine is all we need
A few drinks with friends

: Stazione Novella
or
Bella Lee
for their Italian Aperitivo
A weekend brunch

: 14 South Lane
Grocery shopping

: Wet market
and other local specialists, we like to avoid the shelf-life-driven food distribution model