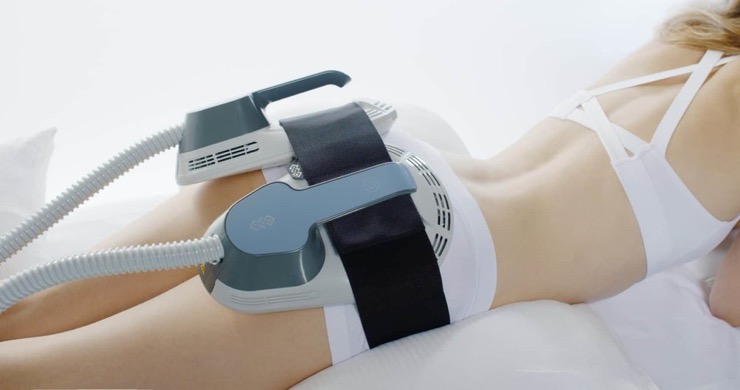 by Aude Camus
I'm pretty sure we all have a body part we tend to fixate on. Mine is my stomach. Nothing surprising would you say, knowing that I attend an average of 4 media tastings a week. I just can't say no to food. But I do try and balance it with a quite active lifestyle, hitting the gym no less than 5 days a week. I've been working out at Barre 2 Barre on an almost daily basis for two years now and have seen many improvements on my thighs, butt and overall body shape. Only my stomach is far from what I would like it to look like. And I can't help but fixating on it. So, decided to explore alternative ways of building muscles and burn stomach fat (ways which wouldn't imply quitting my job and stopping going to media dinners because I just love it too much) and while researching it, I read about this quite new treatment -
EMSCULPTTM
- promising to help build muscles, burn fat and improve the shape of your stomach or buttocks. Had to give it a go!
What is EMSCULPT
TM
? It's a nonsurgical (very important for me) treatment which can be used on abdomen or butt for body contouring effect. Basically, a machine using high-intensity focused electromagnetic technology to create 20,000 muscle contractions in 30 minutes. Something close to doing 20,000 crunches …
Was I skeptical about it? Not really. I do truly believe technology can help, when it comes as a plus and not as a replacement. Again, I'm hitting the gym every day so it's not like I'm not doing anything and just hoping for technology to work its magic on me. But always welcome a bit of extra help. And I do believe in science and studies, studies which have shown that after 4 sessions of EMSCULPT
TM
, the average reduction of fat is 19% while abdominal muscle thickness increases by 16%. So here I was, booking myself for a 30 min EMSCULPT
TM
session at Princess Brows, on Lyndhurst Terrace.
The overall process is really smooth and easy. All you have to do is lie down in your underwear and let the machine do its work. Your first start at low power and the practitioner slowly increases the power based on your sensations and recommendations. For this first session, I went up to 80%. I wouldn't say it's painful but it's not entirely painless either. It's actually a bit of a weird sensation, like a super-intense vibration shaking-up your body and reaching your deep core. The first 10 min were not the most comfortable ones for me, but I eventually did manage to relax.
Was my stomach totally different at the end of this first session? Of course not. I only did 1 session when they recommend starting with 4 sessions, 2 times per week, for 2 weeks. But I did observe a few encouraging results. The next two days, my muscles were quite sore, like they haven't been in a while, as if I have done a pretty hardcore gym class (the kind of class which I usually tend to avoid). Then, during the abs part of the barre classes, I felt like my whole core was stronger and I was able to do more abs, at a deeper intensity. My stomach does feel tighter after this only first session.
The only downside of this treatment, if you ask me, is the cost. But it all makes senses when you learn how much cost the machine (approx. USD 250,000). And investing in my body, like I've did over the past two years with my unlimited Barre 2 Barre membership but also different wellness treatments, has proven to have amazing results on both my overall shape and soul so this is definitely something I'm keen on continuing doing.
EMSCULPTTM
HKD 5,400/1 session
Special packages for several sessions to be discussed with Princess Brows' team:
info@princessbrows.com
Princess Brows
Unit 1604-05, Car Po Commercial Building, 18-20 Lyndhurst Terrace – Central
This write-up is based on a complementary EMSCULPTTMsession offered by Princess Brows with no monetary compensation.