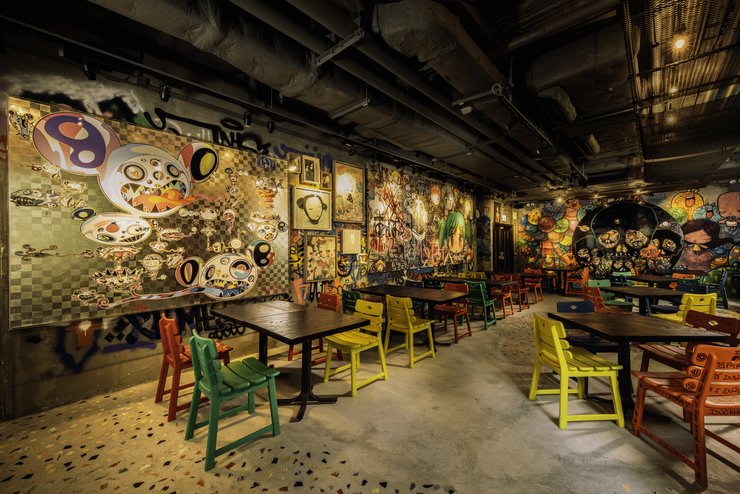 By Aude
Wan Chai did not use to be my "go to place" for yummy and funky evenings, I have long considered that ladies night and shabby bars were not really my things … But I must confess, Wan Chai has been surprising me lately! In September w/
22 Ships
new menu (I must confess a real love for Ship Streep – such a foodie street) and few days ago w/ Djapa. Djapa? The latest baby from Le Comptoir (Bibo, Tri, The Ocean …) and not just any baby a Brazilian/Japanese one. Interesting mix right? Ready to find out what this baby got in its plates?
The place is absolutely stunning. If you walk down Lee Tung Avenue you cannot missed it, fully open on the streets with an impressive bar – more than 300 whiskies (mostly Japanese ones) including super rare bottles bought from a recent auction and that cannot find anywhere else - and super pop art pieces. Nothing like a Murakami's art piece – The Dream Lion- to properly welcome you somewhere, right?
Let's go up on first floor for dinner, shall we? Before you can ever spot your table, you will be distracted by other crazy art pieces. More Murakami's on the walls, pieces by Yayoi Kusama – Starry Pumpkin … look at this incredible golden giant pumpkin! - Hajime Sorayama and crazy beautiful mural art by Brazilian duo Bicicleta sem Freio. Even the tableware are to die for, I mean who would say no to Murano glasses?
Starting things fresh with raw fish 3 ways: the salmon mikan w/ mandarin and yuzu, the turbot yuzu – a surprising grape flavored ceviche - and the snapper passion w/ shallot and lime – love it, it tasted almost like a sweet candy. Do it tapas style, order as much dishes as possible and share them all. You definitely wanna try as much dishes as possible.
Hot dishes include the so tasty and comforting Bobó de Camarão – cachaça shrimp, squash and pineapple served in a whole cutty pumpkin - and the so yummy seafood rice (I might had more that my share of this one). And you can definitely not miss the skewers. I mean Brazilian restaurant but no meat? No way! The Robata (skewers) way you have to go. And believe me, you won't regret it … this beef is like crazy tender.
The most surprising dish of the night? The suntanned crabs … I mean, I never thought I would ever eat a full crab with its shell (ok, a super tiny one) and actually crave for more!
Stunning place, cool vibes, super yummy food and funky cocktails … Wan Chai, you are going to see more of me.
https://www.facebook.com/hkdjapa/
Shops G18-20, G/F
Lee Tung Avenue, 200 Queen's Road East, Wan Chai