by Aude Camus

I've been back in Hong Kong for already a month now, but I definitely lost my heart in Cape Town! Waking-up every morning in my teeny tiny flat and wishing I was either in my room at the beachside villa or in the vineyards instead. God, does any of you also suffer from major post holidays depression from time to time? But cheer up, I love Hong Kong and I'll soon enough be so busy that holidays will seem like a distant memory. Allow me to share one last South African memory with you guys before really moving on (and preparing my next trip to another beautiful destination … the ultimate remedy to post holidays depression definitely is planning the next holiday!). The last memory but definitely not the least because today am taking you to the most beautiful hotel I've ever staid at: Delaire Graff Estate.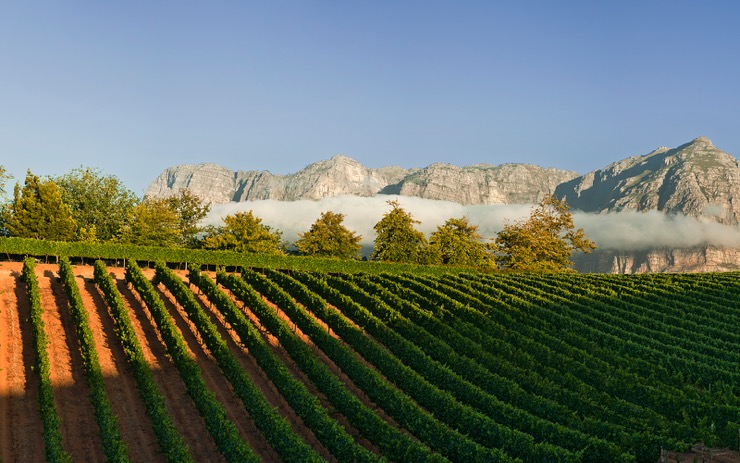 Does the name of the estate sound familiar to you? Yep, you got it perfectly right, Graff like the diamonds. The estate was opened in 2009 by Laurence Graff, avid modern and contemporary art collector but also founder of Graff Diamonds. No wonder why the estate is today a true jewel nestled in Cape Winelands. It's actually one of the very few, 8 in total, Relais & Châteaux (a global association gathering exceptional luxury properties and restaurants owned and operated individually all around the globe) in South Africa.

May I take you with me on a quick tour of the estate before discovering our lodge for the night? No matter where you look at, you'll be graced with breathtaking views of the Stellenbosch Valley. Oh, and don't be surprised if you encountered many art pieces while strolling around the estate. Original art from Laurence Graff's personal collection are displayed both in the gardens and in the interiors giving a very unique feel to the estate.

A glass of wine maybe? We are in the middle of Cape Winelands after all and Delaire Graff is also famous for its award-winning wines. Just like the other estates in Stellenbosch, Delaire Graff's vineyards receives a cool Atlantic sea breeze bringing rich intensity to the fruit. The estate also enjoys a unique terroir making its wine quite unique.

Hong Kong Madame fav: I can't get enough of Delaire Graff's white wines!

Let's sit on the Wine Lounge terrace and go for a wine tasting, shall we?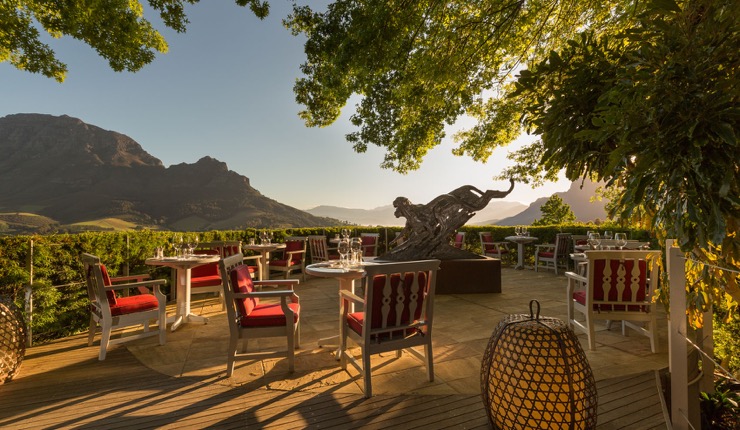 Madame's tips: you'll have to choose between two wine tastings. If you are more than one, order both options (for example 1 each if you are two), you'll get to discover a greater variety of wine knowing than even the less premium tasting features some very nice wines. No worries, the service is great, and they will arrange things perfectly. They are actually the ones who recommended me to share like this the first time I was there (must admit I have had a few wine tastings at Delaire Graff over the past few years … but who's counting anyway?).
Just relax, chill, enjoy the wine, enjoy the view … and feel free to order some nibbles if you are up to it. On my side, am saving appetite for dinner tonight at
Indochine
, the estate's Asian-inspired restaurant, offering sweeping views over Table Mountain and delicate Asian-influenced cuisine cooked with ingredients coming straight from the Estate's own greenhouse.
Well, isn't it time to discover the lodges now? Yes, because on top of being an amazingly beautiful wine estate, Delaire Graff is also a
luxury hotel
.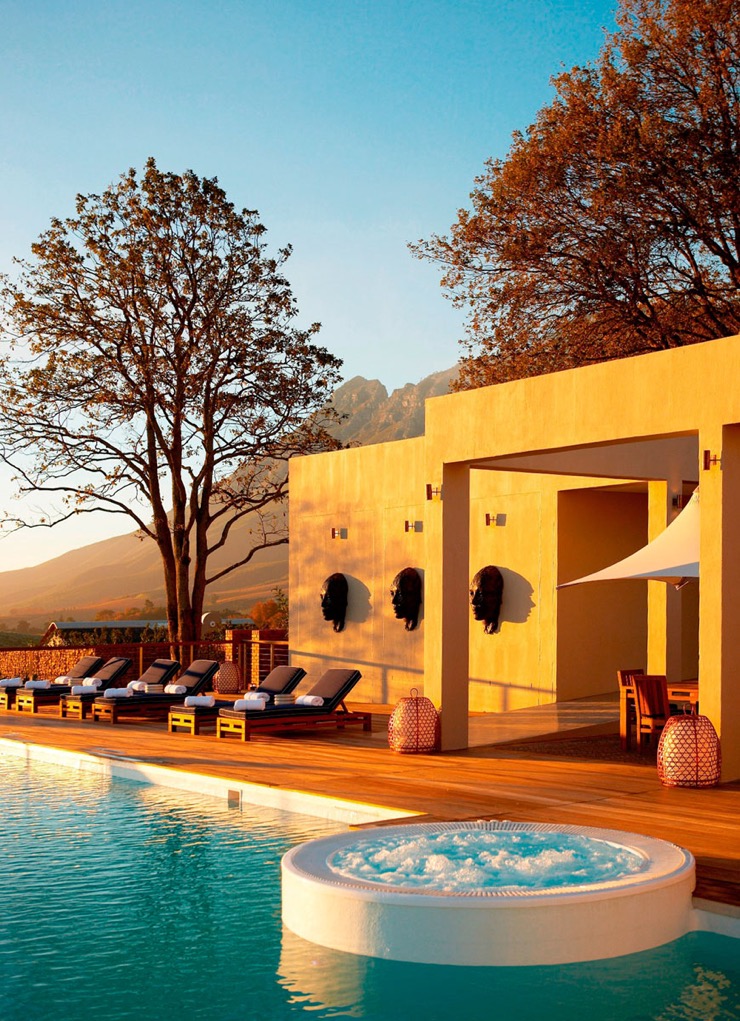 Aren't this pool and jacuzzi quite attractive. And this light! Amazing, isn't it. But I'm sorry to tell you, you will most likely not spend a lot of time by this pool. Why so? Because each of the lodge has its very own private sundeck with heated plunge pool!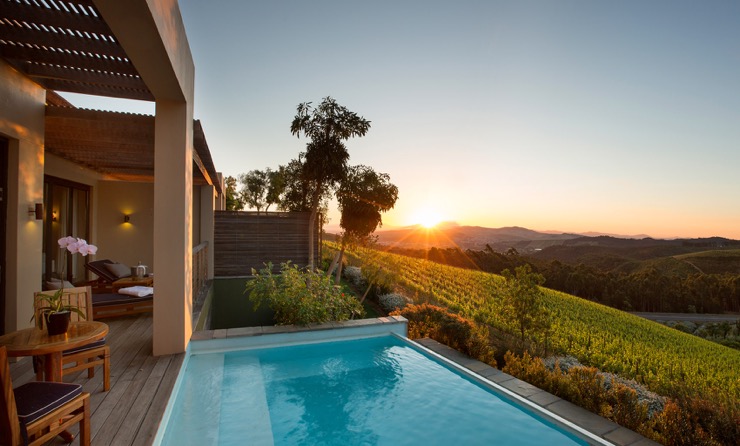 Havens in which to relax and unwind.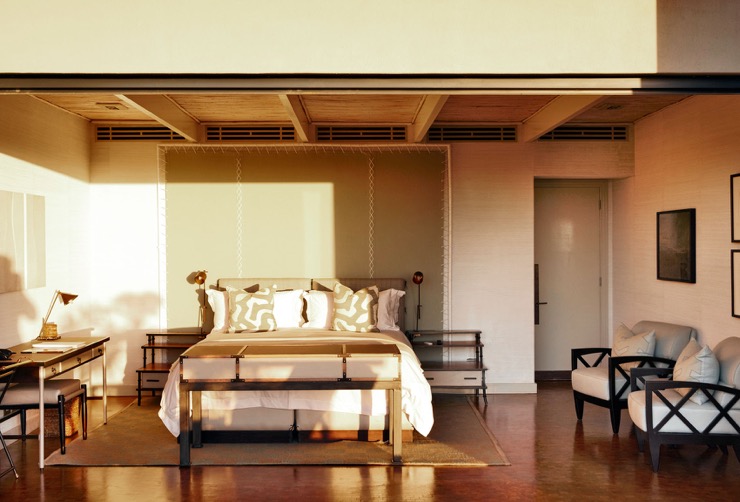 Imagine waking-up in the morning in such a comfy bed and with that, again, amazing (and very unique to South Africa) light, knowing that you'll be treated to amazing views over the vineyards as soon as you open the curtains. Having breakfast by your very own private pool in the middle of the vineyards definitely is the most satisfying way to kick-off a day.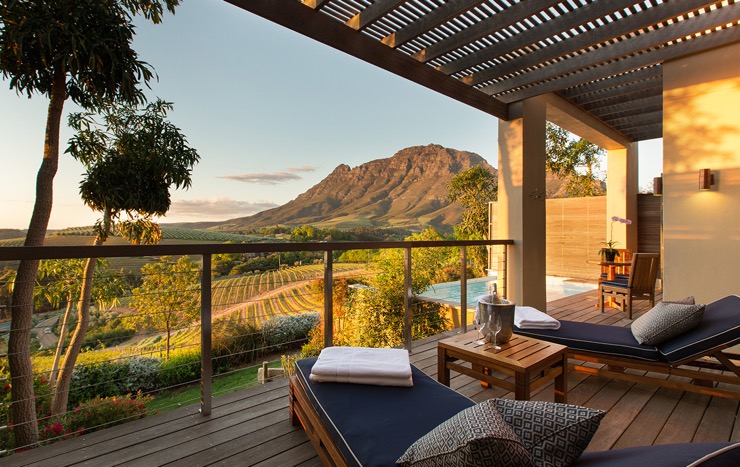 I could easily carry-on for hours, telling you more about the beautiful interior-design of the lodges with subtle and elegant South African accents, the perfect service, the amazing in-room dining menu, the perfect bathroom amenities, the hotel private cinema, the restorative spa … but you know what? I think it's time for me to close this enchanting break … until my next trip to South Africa!
Delaire Graff Estate
Helshoogte Pass. Stellenbosch