by Aude Camus

Over the past four years, 108 Hollywood Road has been home of the much-loved Grassroots Pantry, an address well known from health-conscious gourmet and a pioneering restaurant founded by chef Peggy Chan who introduced local dinners to the possibilities of plant-based cuisine. Her contribution to grow awareness among the consumers and making vegan and vegetarian eating accessible (but also yummy and trendy) has been significant and it didn't really come as a surprise to hear she has decided to push the boundaries a little further and explore greater ambitions by closing successful Grassroots Pantry (bold move!) and opening up her next generation restaurant: Nectar.

If you've been reading my "Women of Hong Kong" series of interviews, you know I love an inspiring, bold woman and won't be surprised to hear I was dying to hear more about the Peggy's way and share it with you.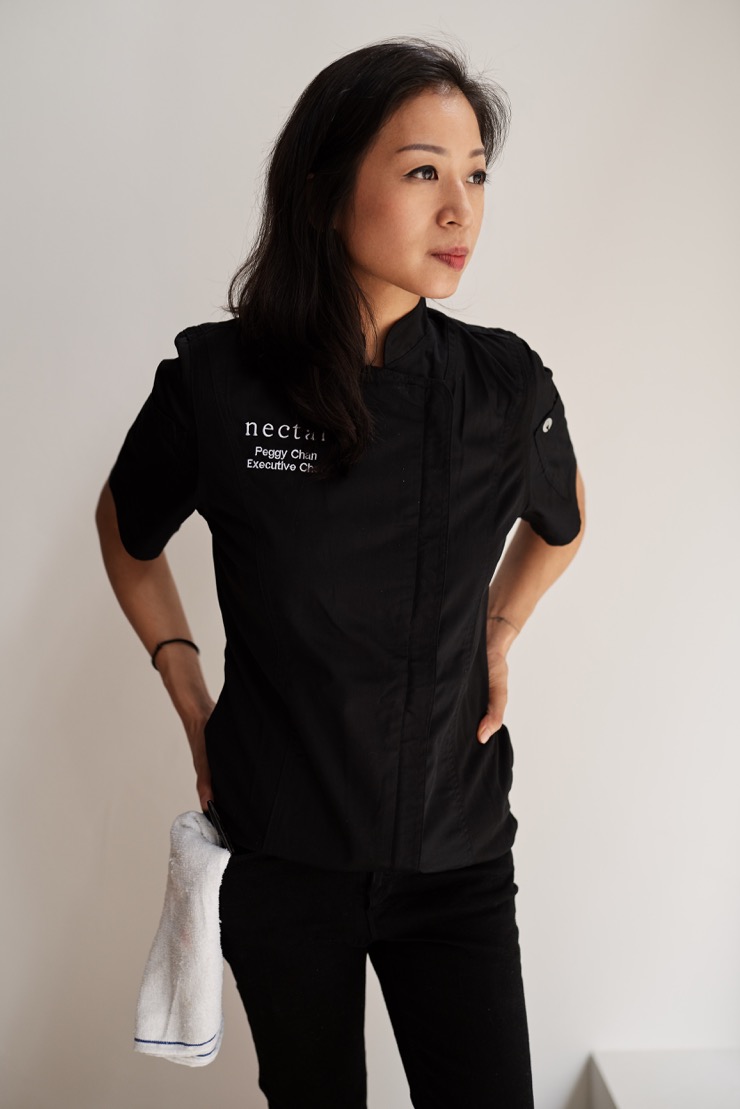 Hi Peggy, nice to meet you here. Can you tell me a bit more about yourself? Who are you? Where do you come from and what made you open pioneering plant-based restaurant Grassroots Pantry few years ago?
I was born Hong Kong, raised in Canada and my culinary adventure started while I was a university student in Canada when my guidance counsellor from Hong Kong, who was basically like my guardian angel, visited me and other students who had all moved out there to study. I had them over at my place for dinner and cooked up a fantastic meal as a gesture of gratitude. He sensed my passion for the culinary arts and enjoyed my cooking so much that he encouraged me to apply to Le Cordon Bleu (editor's note: international chain of hospitality and culinary schools teaching French cuisine) ……and the rest is history!
After training and working full time as a chef at various fine dining restaurants in hotels around the world and some extensive soul-searching, I finally found the confidence to open Grassroots Pantry in 2012 to share my passion for organic, plant-based food with the world. I had dreamed about opening my own restaurant for the longest time. I was, and still am on a mission of providing nutritious plant-based food with a dose of environmental awareness.


Why now opening-up a new culinary chapter and replacing Grassroots Pantry by Nectar?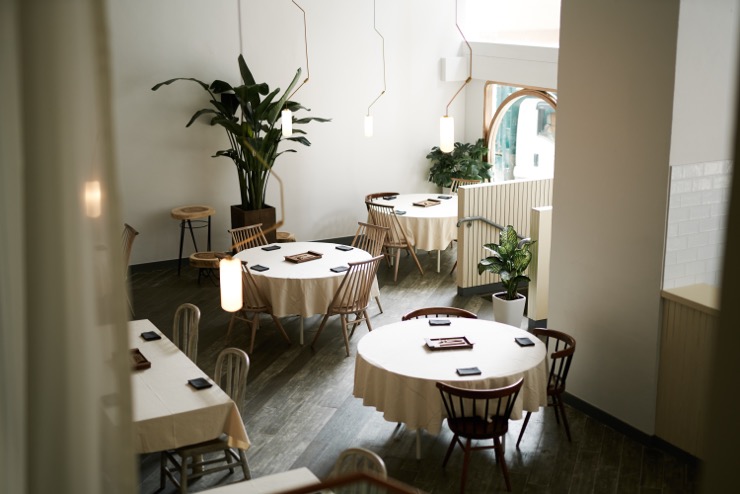 Grassroots Pantry was always at the forefront of plant-based cuisine in Hong Kong; but we began to realize that the model we were working off of at Grassroots was becoming more and more mainstream. This is excellent as we've made vegan and vegetarian eating accessible. Towards the end of last year, we simply had to acknowledge that our job in this middle market was complete, despite how comfortable we have become.
After having operated Grassroots Pantry for the last seven years, I feel that it is time for us to leave the platform we have built – and allowed others to follow – to explore bigger ambitions with Nectar. Times have changed and diners' demands and eating habits have evolved. To stay stagnant in a place of comfort is to refuse to grow. As a chef and restaurant owner, I am inclined to continuously create and evolve. It's all a very natural progression.


How is nectar different from Grassroots Pantry?
Nectar truly represents my evolution as a chef. Personally, my goal is to continuously challenge myself in my craft. Nectar provides us with an opportunity to further expand our menu and offer diners an elevated dining experience. With Nectar's seasonal tasting menus, we have new opportunities to educate customers on the possibilities of locally-sourced organic ingredients.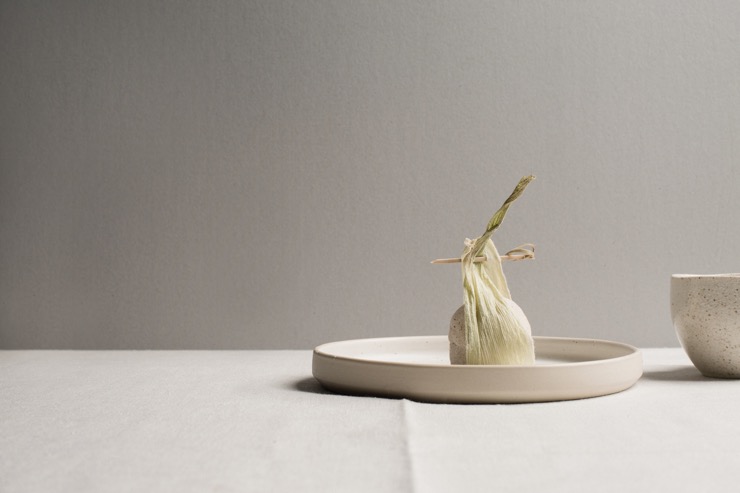 My mission with Nectar is to create the leading high-end and educational plant-based restaurant in Asia.


The FnB industry isn't exactly known for being a pioneer when it comes to reducing waste. How is it like to explore food waste reduction as a restaurant owner in Hong Kong (a city which is also quite behind in terms of waste reduction)?
Everyone who is familiar with my work knows that I am impassioned by animal welfare, social justice issues and achieving equality in our food system. I actively support local, organic agriculture, sustainable development, reducing waste and consumption through collaboration and working alongside those that holds genuine integrity. My philosophy is that delicious food doesn't have to be bad for your health and the planet's health; I wish that others in Hong Kong would feel the same!


Why would you say is the deepest challenge being an entrepreneur in Hong Kong? And being a food entrepreneur more specifically?
I'd say that the deepest challenge of being an entrepreneur are all the hurdles you will likely face from all angles and the necessary sacrifices you'll have to make to resolve these bumps down the road. Sacrifices may equal to time spent in the industry and really living through the hardships - the hours, the heat, the physical pain, and the feeling that you are going nowhere, and not nearly fast enough. Sacrifices can also mean understanding that you will no longer have a social life, and that you may lose quite a number of friends who do not understand or support your purpose. At the end of the day, you've really got to have a business savvy, creative, resilient & persistent mindset to be an entrepreneur. With the food industry being so competitive in Hong Kong, your integrity, experience, and connections are necessities that you will need to keep your business afloat and thriving.


And the greatest reward?
Seeing my hard work come into fruition and making a meaningful contribution towards our community. Plant-based foods are considered a norm now and consumers much more conscious about their habits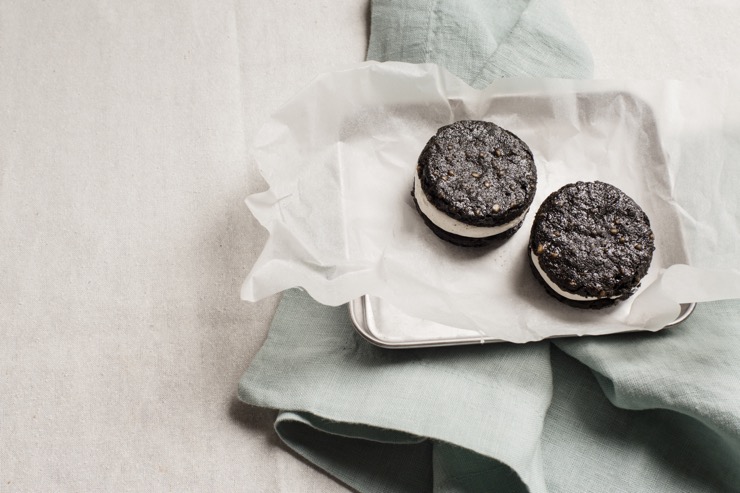 I am content with my achievements and successes, of who I am and how I got here; and am truly grateful that I have earned the respect from my peers and colleagues not merely through speech, but through action. I hope I can continue to inspire and leave the world a better place than I found it.


One dish you are really proud of having on the menu at Nectar and why so?
Wow……tough question, I'm so proud of all our dishes! To single out one dish, I'm really proud of is the Nectar Cheese Course. We serve plant-based cheeses made 100% in-house. Even the wooden cheese boards we serve them on are original creations! We salvaged log pieces from trees that were destroyed by typhoon Mangkhut and transformed them into useful statement pieces for the restaurant.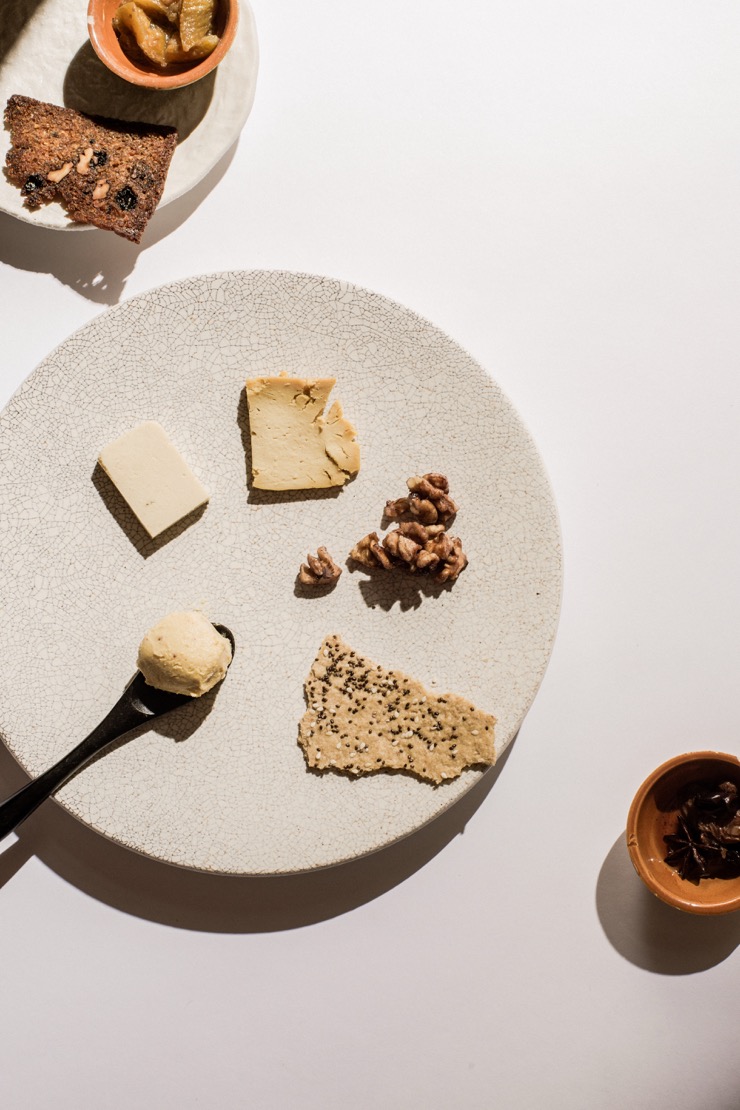 Off the top of my head, three notable cheeses include the Tofu Gorgonzola, made with tofu and miso, we replicate the appearance of mold using spirulina. There's also the Aged Cheddar, made with cashew, cultured for 2-3 days, aged for 5-7 days in a dehydrator. One of my personal favorites is the Pink Peppercorn Goat Cheese, made with macadamia and pine nut, studded with pink peppercorn.
We typically rotate the selection and allow diners to try different cheeses every day, so come and try them all for yourself!
Your fav places in Hong Kong for: lunch with friends / romantic nights / weekend brunch / drinks
One of my regular spots in Hong Kong would be the
Cafe Gray Deluxe
at The Upper House in Admiralty. Their staff can still remember my personal preferences when it comes to breakfast options and the lemon water that I always start off with! I really enjoy their flax sourdough recipe, which is absolutely addictive served beside some Greek yogurt, cumin spices and olive oil.
Posto Pubblico
has the best arrabiata in town. The guys at Posto and Homegrown Foods have become second family to me and coming here for a quiet solo meal is nothing less than special, especially when chef Tofiq gifts you flowers on V-day and serenades you with their chocolate cake on your birthday. Good memories!
Nectar
G/F, Centre Stage, 108 Hollywood Road – Sheung Wan