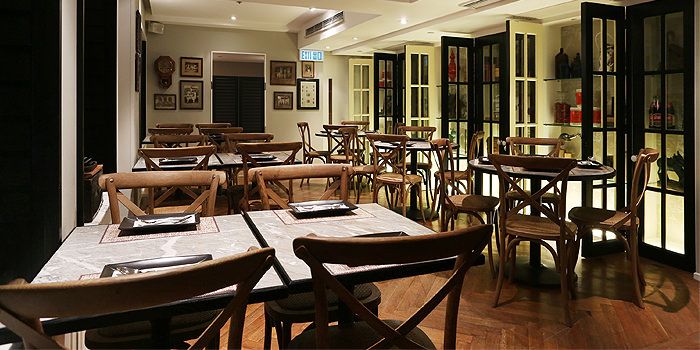 By Delphine
I am sure you passed this place a couple of times, if you never entered, that's a big mistake! Especially if, just like me, you are fond of thai food.
Spicy and flavored just as it should be, it simply means happiness for me.
Hard to choose between the green papaya salad or the pomelo one, two signature dishes. I go for the first one and has no regret at all. The Tom Yum soup with its big prawns is also perfect (trust me, I know what I'm talking about). Currys don't kill your palate but nicely warm you up. Time to challenge the chef, I order the grilled whole squid. It has to be tender but not chewy. Might be a bit tricky but the chef successfully pass the test. Let's continue with the huge poached asparagus, not stringy at all. Stir-fried broccolis with garlic are very light and crispy. What about a small fruits platter to end on a healthy note? Not small at all, they are incredibly fresh.
Quiet, modern and trendy, this place keeps you zen in this busy area.
Calm, delicious and very affordable, a perfect spot for lunch or dinner in the heart of LKF.
NB : If you're looking for a drink only, I recommend their famous smoothies and Mekong Margaritas. To die for!
Address
: 2-3/F, 21d'Aguilar Street, Central
Phone: +
852 2851 4803
More info : http://www.cafesiam.com.hk/
Opening hours
: Monday-saturday: noon-2:30pm / Monday-sunday: 6:30pm-11pm (11:30pm on Fri-Sat)
Bill for 2: 853 HK$
1 virgin cocktail: 58HK$
1 lemongrass tea: 48HK$
1 green papaya salad: 98HK$
1 tom yum soup: 98HK$
1 salmon curry: 206HK$
1 grilled squid: 135HK$
1 rice thai: 19HK$
1 poached asparagus: 103HK$
-