by Aude Camus

There are brands which name belongs to history and has always been synonymous of timeless luxury and craftmanship. French crystal manufacturer Baccarat, founded in 1764, is one of those. But did you know that, since 2015 and just a few steps away from the legendary Fifth Avenue and across the street from the MoMA, there was a five-star hotel glowing inside out in Crystal Baccarat? Welcome to Baccarat Hotel New York!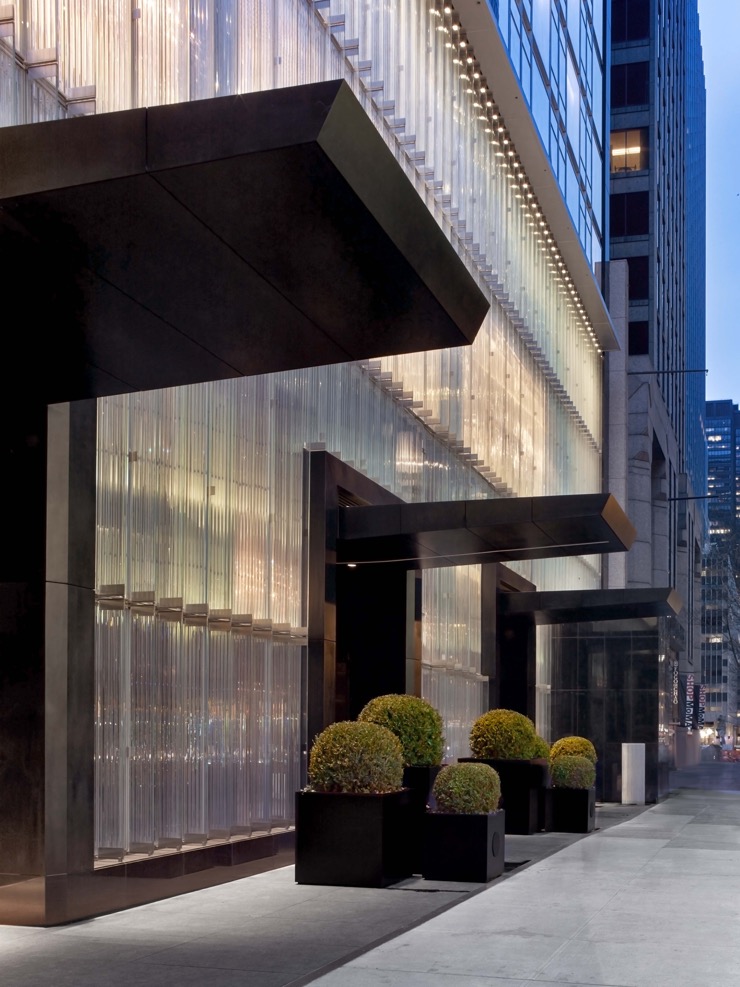 Walking on West 53rdStreet, you can't help but being fascinated by the prismatic glass façade which fittingly recalls the radiance of Baccarat crystal and subtly reflects and refracts light across its 50 stories. If you are lucky enough to discover it under a bright shining sun like I did, it's fair to say you are in for a sparkling first impression of the hotel.

The minute you step inside the building you know you are in for something quite unique. I mean, how often can you see a LED lights illuminated wall formed with 1,824 crystal glasses?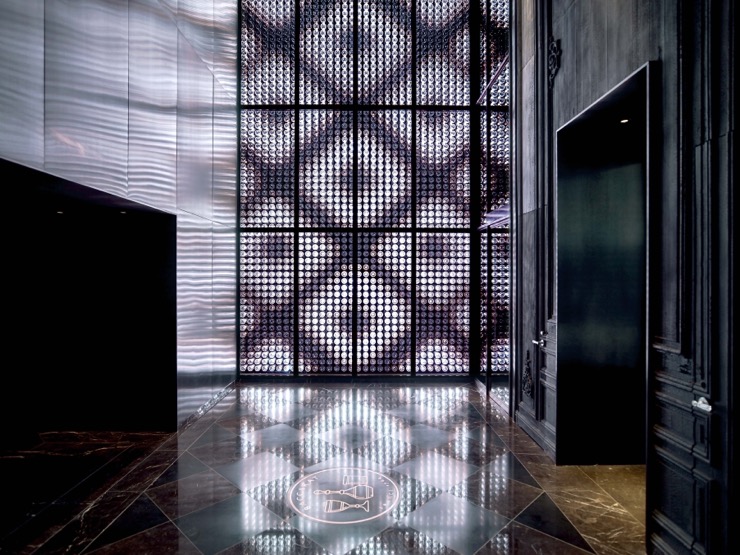 And not just any crystal glasses but actually Harcourt glasses, Harcourt being the oldest and most iconic Baccarat's design. Hop on the elevator, it will take you to the check-in area on second floor. You might be surprised by the contrast between the very modern downstairs lobby and the French 18thcentury aesthetic of the elevator and check-in lobby. The entire hotel, designed by French duos Dorothée Boissiers and Patrick Gilles, is an elegant mix of French 18thcentury refined aesthetic and welcoming 21th century vibes paying tribute to both Baccarat timeless elegance and the modernity and vibrant atmosphere of New York city.

While we are on second floor, let me show you the Grand Salon and the Petit Salon before we go up and discover our room.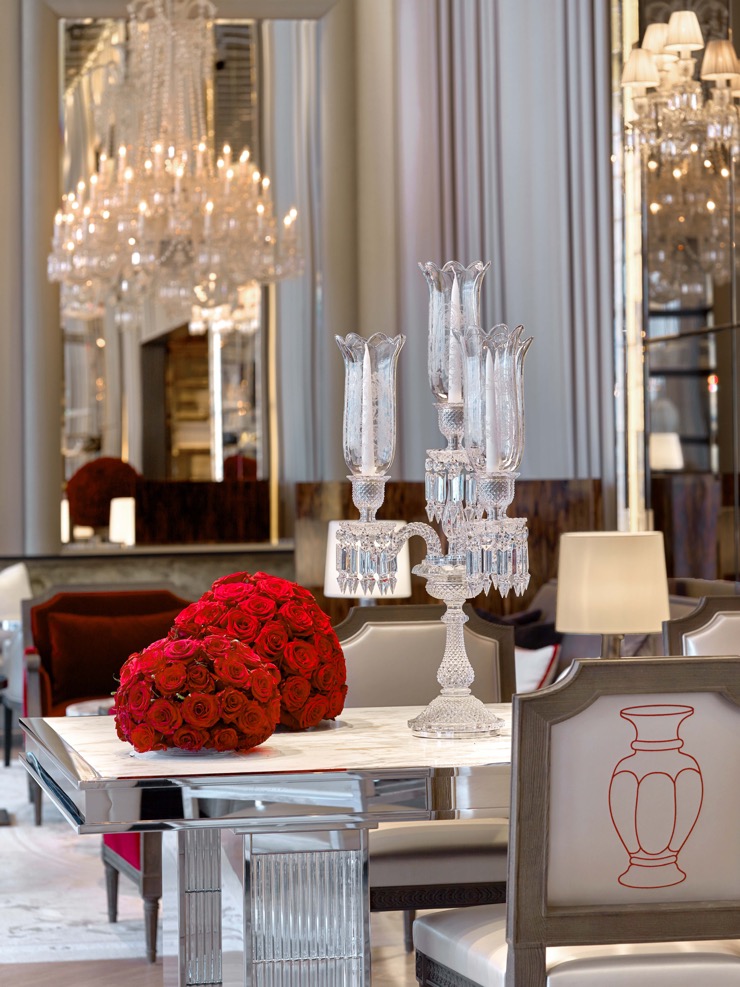 The
Grand Salon
is probably the chicest and plushest lounge in town with its 35-foot ceiling, custom-made crystal chandeliers, re-contextualized crystal elements incorporated art installations and rich materials such as pleated silk and silver-leafed boiserie. See this intriguing all white library?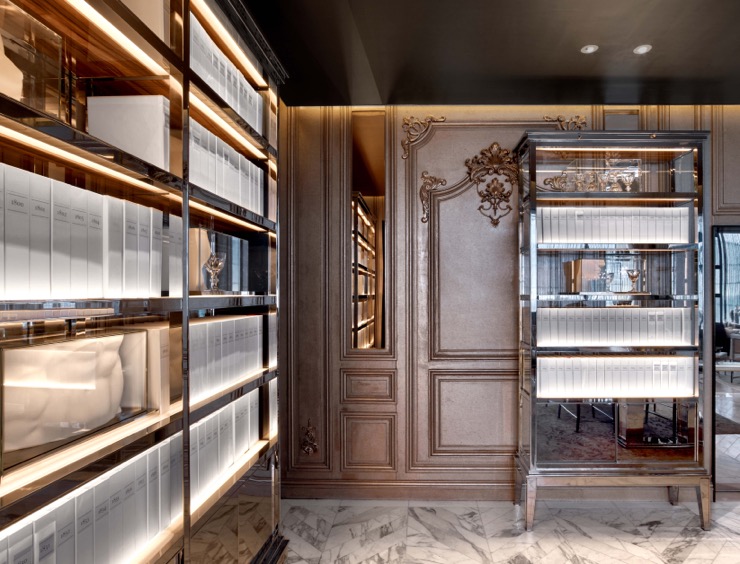 Each book is marked with a different year tag, starting from 1764, founding year of Baccarat, to today. Pick a book, leave a secret message for someone you know will be visiting New York soon and tell him/her to go and visit Baccarat Hotel and have a look at the corresponding yearbook. If you happen to be in New York somedays, I did leave you a little note in the 2010's book (year of my first visit ever to New York).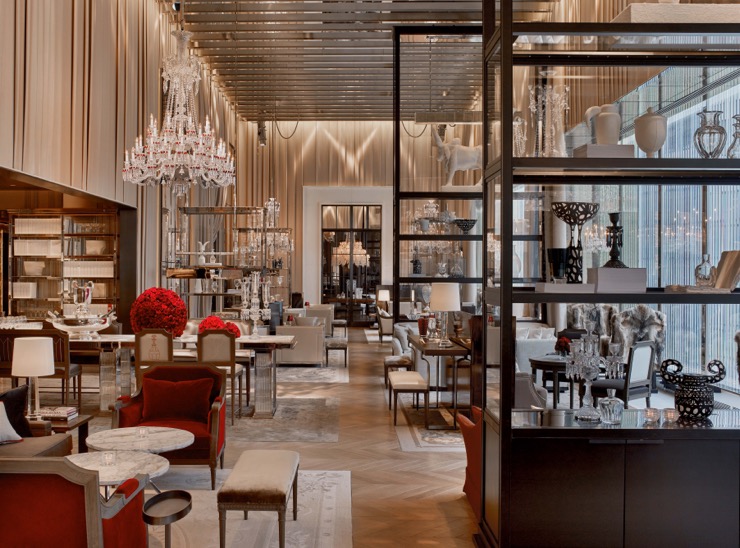 Speaking of the
Grand Salon
, it is opened to both hotel guests and outside visitors who will be treated to Michelin Star chef Gabriel Kreuther's French-inspired cuisine featuring both exclusive dishes and Alsatian signatures from the chef namesake Gabriel Kreuther Restaurant (2 Michelin Star restaurant). Not lying when telling you craftmanship and elegance lays in all details at Baccarat Hotel.
The Grand Salon is still a very confidential address but it can get slightly busy at breakfast and for Afternoon Tea so if you are a hotel guest and looking for peace and quiet, you can always decide to seat in the adjacent Petit Salon which is not open to outside visitors and welcomes you in the comfort of its smoked oak walls and emerald green velvet settees.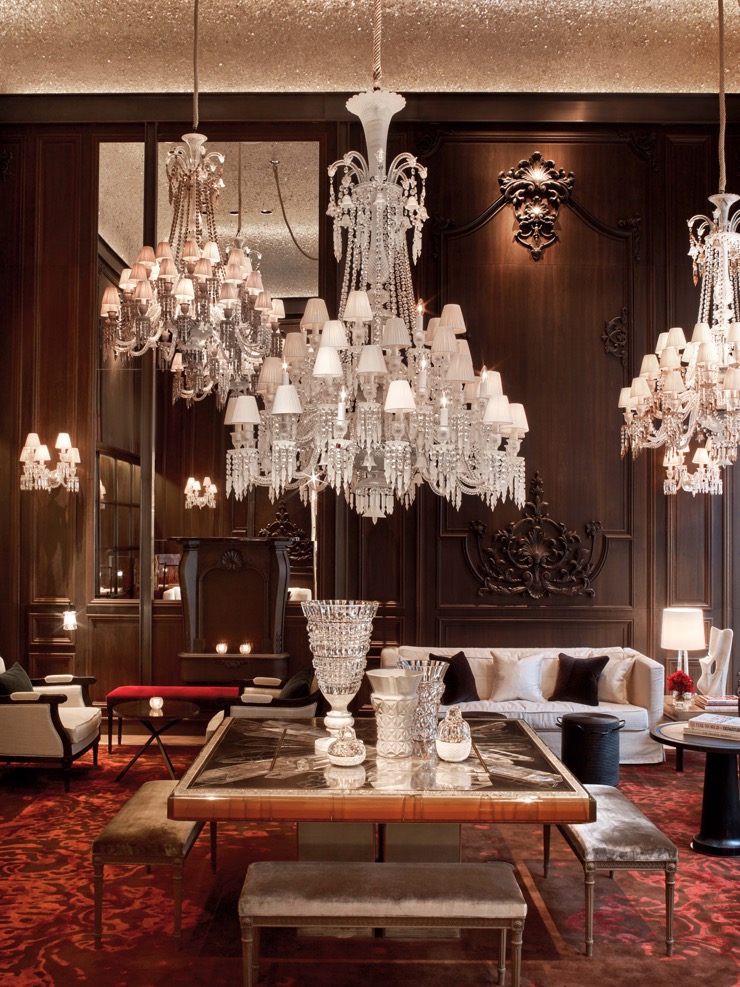 There is also The Bar on this floor but it's maybe still a bit early in the afternoon for a drink (anyway the bar doesn't open before 4 pm) so let's go and discover our room and we will be back later to visit this one and enjoy a cocktail.
Before I open the door and unveil the beauty of our
Classic King room
, just want you to have a look at this statuette in the vitrine at the landing of the room.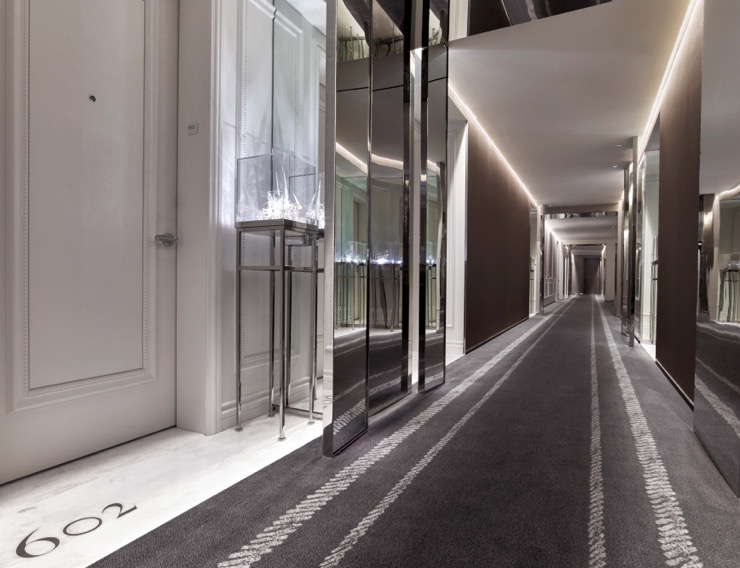 You will find similar ones at the landing of each guest room as 11 artists have been commissioned to revisit the Harcourt glass. Art truly is at the heart of the hotel's design with more than 100 custom designed works of art being displayed throughout the hallways and public areas.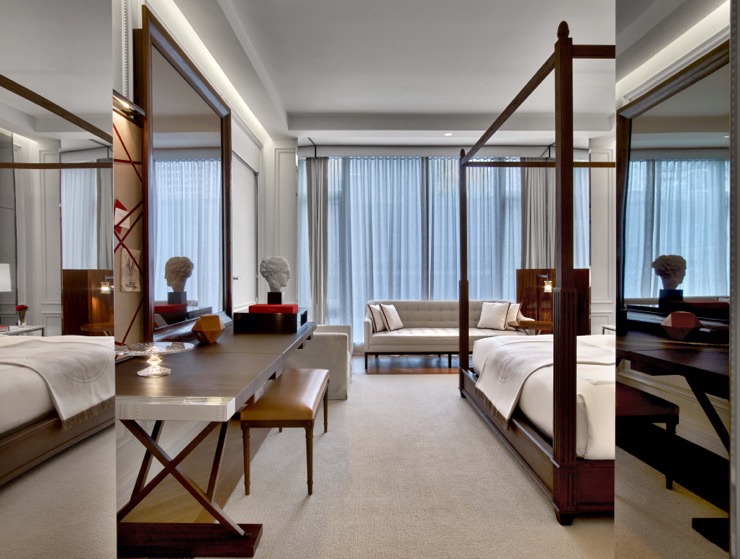 Just like all the others 114 rooms and suites, the design of our Classic King one is homey but elegant featuring custom desk, scones and table lamps by Baccarat. I am loving all the luxurious details: the custom jacquard linens by Mascioni, the "Champagne" button on the telephone which allows you to order of bottle of your favorite vintage accompanied by signature Baccarat fluted glasses, the lavish custom-designed Baccarat-red enamel minibar offering Baccarat glasses and Ladurée treats and the exclusive amenities imagined by Parisian perfumer Maison Francis Kurkdjian.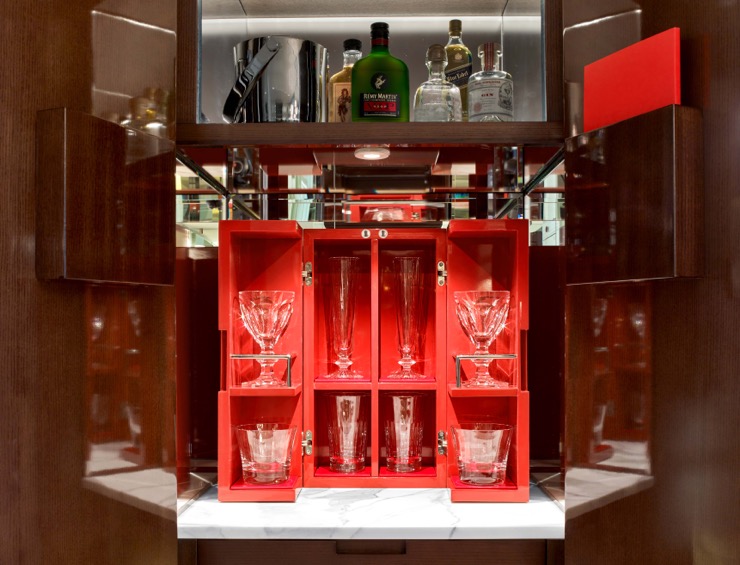 The epitome of chic.
I know the Big Apple is waiting for us but there's something about this hotel which makes you lose track of the time and wanna stay in. Let's make a deal. Given that it's already late afternoon, I suggest we enjoy a free time of 2h before meeting at The Bar, having a drink and then going out for dinner and some window shopping on the Fifth Avenue. Deal? How will you spend your free 2 hours? You'll find me at the basement, being lazy on one of the canopied day beds sitting by the 50-foot swimming pool. I am just too lazy to hit the gym today, no matter how beautiful and perfectly equipped it is. If you are in the mood for ultimate indulgence, you might wanna book yourself in for a treatment at
Spa de la Mer
, the first (and so far only) spa dedicated to luxury skincare brand La Mer in the US.
And it's already time for our pre-dinner drink at
The Bar
.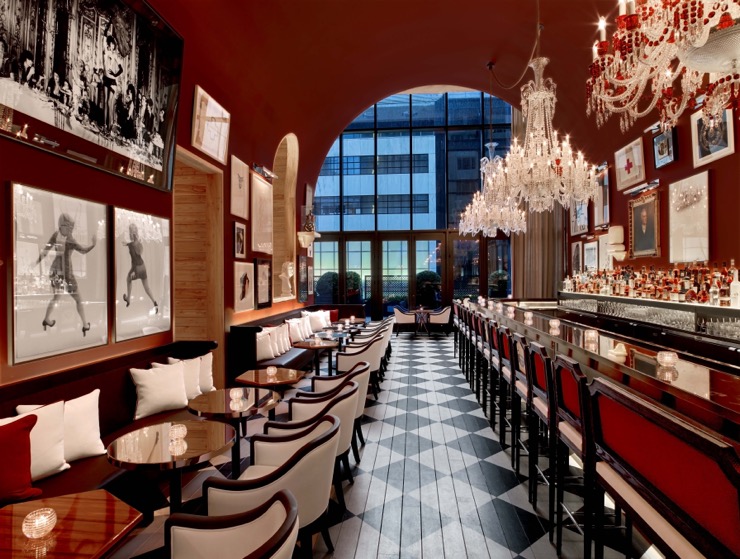 How beautiful is the design of this room inspired by the stables of Versailles? Look at those chandeliers! See all those art pieces? They have been carefully selected by French curators Stéphanie and Frédéric Chambre who have created a one-of-a-kind art collection spanning important aesthetic movements since 1764, founding year of Baccarat. If weather allows, you might also choose to seat on the terrace overlooking the MoMA.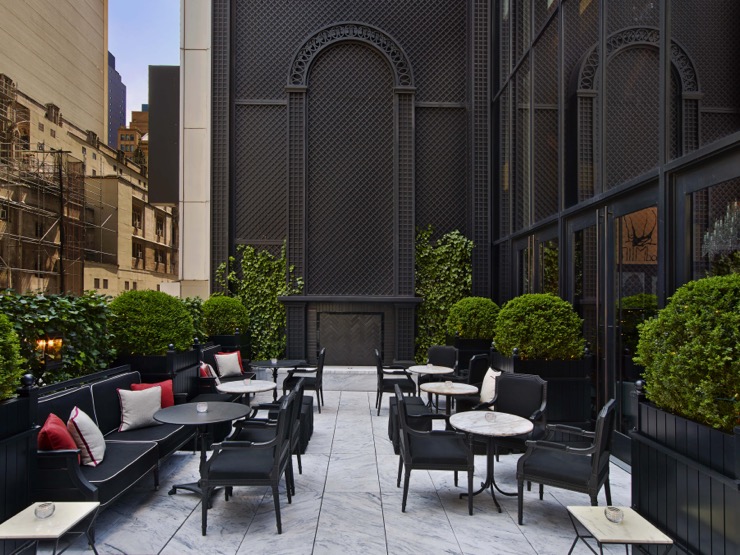 Let's order a drink, sip it and relax. We will then go out for dinner and will be back for a luxurious night in our room. You'll then have plenty of additional time to explore the hotel tomorrow!
Baccarat Hotel New York
28 W 53rdStreet – New York

This write-up is based on a complementary 1-night stay offered by Baccarat Hotel New York. No money has been paid by the hotel for publishing this review.