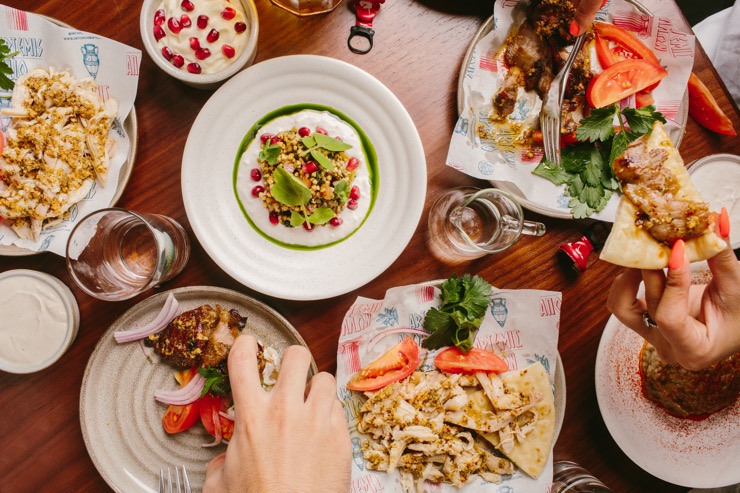 by Aude Camus
Summer is approaching and I'm working hard on organizing my summer break. Hopefully Summer 2019 will treat me as well as Summer 2018 which I got to enjoy in Greece, on the paradisiac island of Chios. The best part of this trip, beside the turquoise water and perfect weather? The food! I mean, I basically spent 10 days stuffing myself with tzatziki, pita bread, fresh grilled octopus and fish, taramasalata, souvlaki and Greek salad. God it was good! Which made me realized, once back in Hong Kong, that, despite hosting an incredibly wide variety of restaurants, the 852 was definitely lacking a good old hearty Greek taverna!
Well, you know what they say "great minds speak alike" and just a few months later,
Black Sheep Restaurants
was opening
Artemis & Apollo
in Wan Chai. It did take me a few months before visiting the taverna but the Greek tzatziki craving eventually became too strong for me to further postpone my visit to the goddess of the hunt and the god of music. Who's in for a Greek night on Moon Street?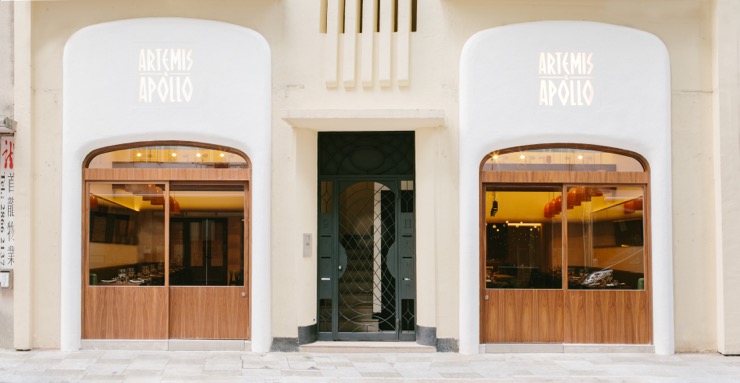 Baby it's hot outside today and I wouldn't say no to something fresh. What about a nice glass of ice-cold Ouzo (dry anise-flavored aperitif originated from Greece)? Yum!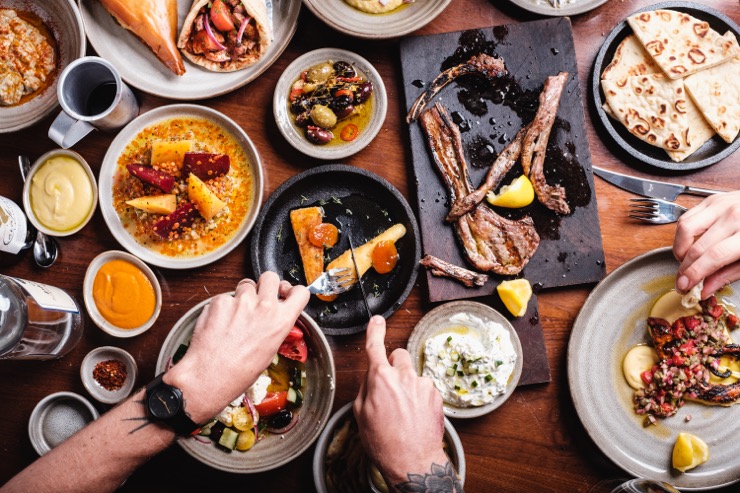 If the place definitely is a modern take on traditional Greek taverna, the short and super fresh menu only features very classic dishes. Let's order a few mezzes to start with. Cold ones: pita bread and a big bowl of
Tzatziki
(
HKD 38
), my fav, plus a bowl of
Hummus
(
HKD 48
). Shit, that hummus is good! Chickpeas are mixed with a massive quantity of garlic and some smooth and creamy Greek tahini creating the smoothest, yummiest rich hummus. And hot ones: the super tasty daily special
Zucchini Fritters
and the absolutely pornfood moreish fried
Saganaki Platanos
(
HKD 118
) cheese. For the main, you can either decide to go for something from the sea or something from the land. I had to order the traditional
Souvlaki
(
HKD 98
): marinated pork or chicken, loaded onto a horizontal spit and slowly rotated over almond wood and charcoal before being wrapped in a pita bread that has been brushed in Greek olive oil, sprinkled with sea salt and heated over the wood fire, giving a smoky charred crust on the outside and a soft fluffy interior. You could, of course, decide to pair it with a classic Greek salad here known as
Greek Village
(
HKD 168
) but you might also wanna give a go to the
Cypriot Salad
(
HKD 98
) with its surprising crunchy grain texture and its creamy yogurt sauce. Artemis & Apollo definitely get it perfectly right: simple dishes full of flavors, the very essence of Greek cuisine.
Another thing I loved about the place is its commitment to only serve Greek wines. After all, wine culture was born in Ancient Greece, is pointing out my date of the night.
Ouzo-fuelled evenings and endless nights of Greek mezzes and wines were definitely lacking in Hong Kong. Efcharisto Black Sheep Restaurants for bringing it to the 852.
Looking for a quick Greek escape at lunch time? You definitely wanna check their
lunch menu
, available everyday from 12 pm to 2.30 pm: HKD 168 for a mezze, a Cypriot Salad and a Souvlaki.
Artemis & Apollo
G/F, 9-11 Moon Street – Wan Chai

This write-up is based on a complementary tasting dinner hosted by Artemis & Apollo (no monetary compensation)