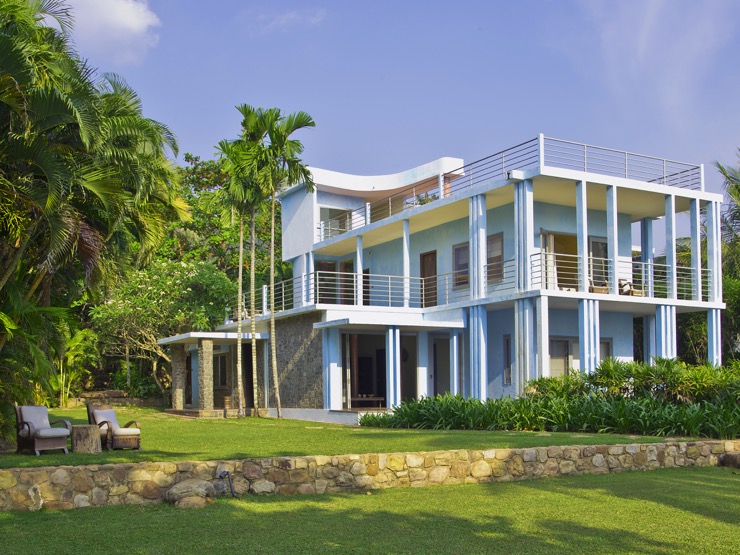 by Gayatri Bhaumik
Think about Cambodia and the temples of Siem Reap, beaches of Sihanoukville and historical sites of Phnom Penh come to mind. But few people have heard of Kep. Located on Cambodia's southern coast, Kep was the go-to vacation spot for local elites and expats during the country's French colonial period. It's less popular now, but discerning travellers that make it here will be rewarded with a relaxing stay at
Knai Bang Chatt,
a charming property that's part of the Mr and Mrs Smith collection.
I arrive at this charming property on a blazingly hot afternoon in April, worn out from a long bus journey that started at 8am and was interrupted by a 30-minute breakdown somewhere in the Cambodian countryside. But stepping through the gates and into this lush oasis was just the thing to revive my spirits.
After breezing through check-in, I'm given a quick tour of the property to get my bearings. There are three villas here, each of which was built between 1962 and 1965 by protégés of renowned Cambodian architect Vann Molyvann, who was himself a student of France's Le Corbusier.
Each villa sports its own look and comes with its own history. The blue building was once owned by Kep's governor; the grey one by a relative of the Cambodian King; and the red villa by the country's former Head of Customs. To bring them into the 21
st
century, each building was carefully restored by Françoise Lavielle. The buildings – and indeed, the property as a whole – are the epitome of barefoot luxury, where simplicity and sustainability come together to create a truly escapist retreat.
There are just 18 rooms at Knai Bang Chatt, each of which is a calming oasis.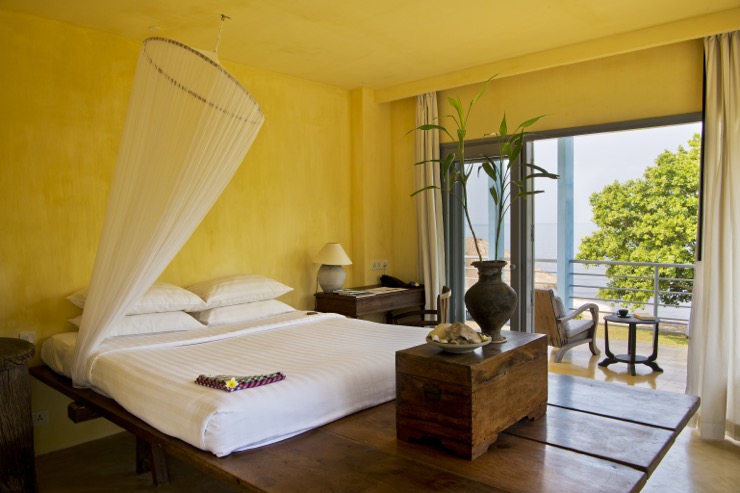 There may not be many mod-cons here, but rooms are cosy, comfortable and exactly right for an off-the-grid getaway – there are no TVs and wifi is spotty, so this is the perfect time for a digital detox. A cosy double bed draped in a mosquito-net canopy dominates the room, which also features a vintage-look wooden desk and chair, and walls dressed with natural, earth-toned paints. In the granite bathroom, there's a large vanity, open wardrobe and walk-in shower.
In a nod to sustainability, a stone by the room door functions as a "do not disturb" indicator, while at the minibar, glass bottles are regularly topped up with filtered water, and chic green glasses are made onsite from recycled Perrier bottles.
Sustainability is an integral part of the Knai Bang Chatt ethos, and what I find in my guest room are just a few manifestations of this. The resort puts a lot of thought into protecting the environment and helping the local community, and this permeates every part of the property. Any paints used here are made from natural dyes; there's an organic garden which grows 70% of the produce used in the hotel's restaurants; and there's even a fledgling recycling and composting program.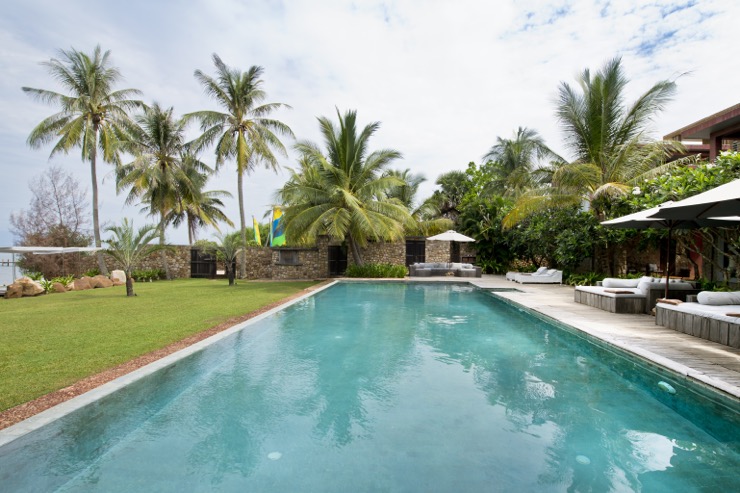 A stay at Knai Bang Chatt is whatever you make of it, and it's all too easy to allow the afternoon to slip away while reading on day beds by the pool and enjoying ocean views from the cabanas that sit on the property's edge.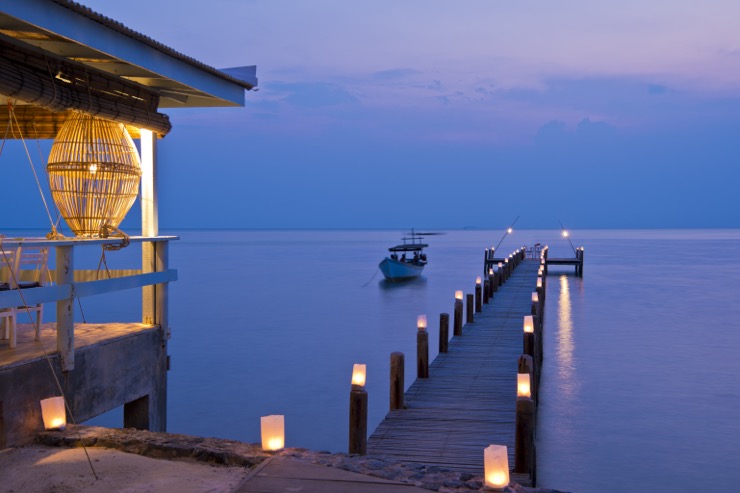 If you're feeling more active, the onsite Discovery Centre can organise a range of activities and excursions, from fishing and sailing to explorations of the nearby national park. You'd be well advised to book ahead though – I wasn't able to secure anything for the next day.
One of Kep's main draws, Rabbit Island, sits 20 minutes off the mainland and is a mostly-deserted spot that's a great escape from the 21
st
century – albeit with the camaraderie of a few fellow intrepid travellers. Early the next morning, I catch a boat over with a lovely French family; when we get to the island, I practice my admittedly rusty French with them over lunch at one of the shacks selling cooked-to-order seafood. I spend the day snoozing in a hammock on the beach, getting a massage in a little shack with ocean views, and cooling off with dips in the sea. It's utterly blissful – especially since I get no cell service.
Back at Knai Bang Chat, I manage to slip into the spa for a bit of pre-dinner pampering. With one of the most extensive treatment menus in town, the resort's spa has everything from Khmer massages to skin-soothing facials – there are even private or join-in meditation or yoga sessions on offer. My herbal compress massage – yes, my second of the day – is a locally-inspired wellness ritual that puts a little pep in my step for the rest of the evening.
There are two restaurants open to guests at Knai Bang Chatt.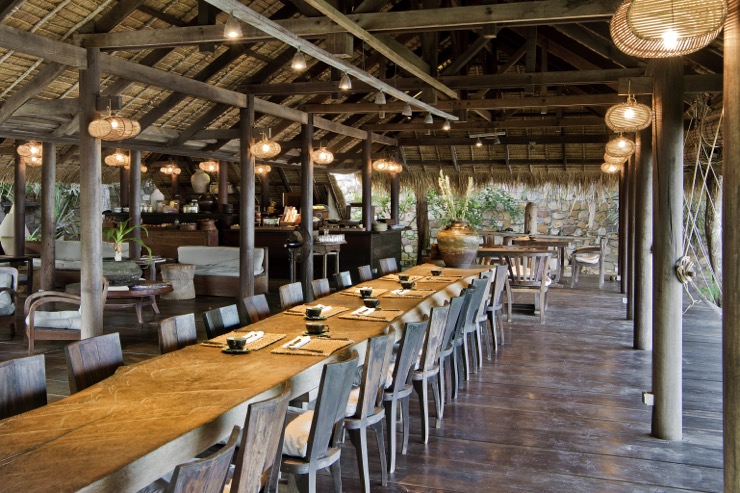 The Strand offers a menu that blends Asian and European flavours and is known as one of the best fine-dining destinations in town; next door, The Sailing Club offers a full range of local and international dishes and has a fully-stocked bar called The Lounge. I watch the sunset over a three-course meal at The Strand – the tiger prawn and crab dish I had as a main was utterly decadent – and then head to the Lounge for a nightcap.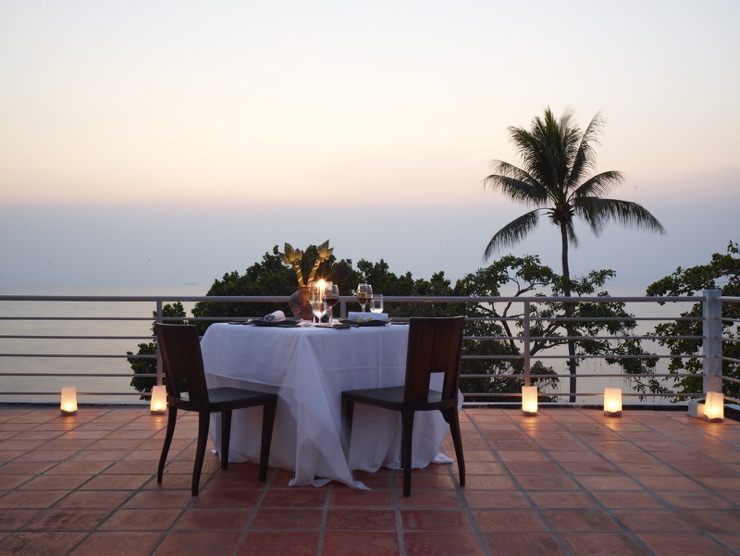 It's a suitably indulgent end to a day dedicated to doing absolutely nothing.
As I board the bus back to Phnom Penh early the next morning, I'm feeling more at peace than I have in months. And therein lies the magic of Knai Bang Chatt. In our fast-paced, 24-7 lives, it's all too easy to get caught up in being "busy" and forget to take a moment for ourselves. But at this tranquil property on the Cambodian coast, guests can rest, recharge, and return to their daily lives ready to take on the world.
Kwai Bang Chatt


Kong Kraeb - Cambodia
The author stayed as a guest of Knai Bang Chatt and Mr & Mrs Smith.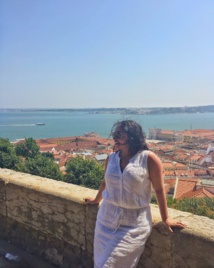 About Gayatri Bhaumik

Always ready for her next adventure, Gayatri Bhaumik took her first flight at 10 days old and hasn't looked back since. After long stints in Bangkok, Melbourne and London, she's now based in Hong Kong when she isn't globetrotting. She contributes travel and lifestyle content to titles like The Loop HK, Buro 24/7 Singapore, Elite Traveler, Forbes Travel Guide, RBS ContentLive and Destination Deluxe.